Cagey Third Madagascar a Colorful Animated Animal
I'm a fan of the first two Madagascar films, especially 2008's raucous sequel Escape 2 Africa. I've found them extremely pleasant and easy to watch, my involvement with the quartet of characters, lion Alex (voiced by Ben Stiller), zebra Marty (Chris Rock), hippopotamus Gloria (Jada Pinkett Smith) and giraffe Melman (David Schwimmer), as well as my affinity for the cadre of selfishly creative penguins, being far more all-encompassing than I should probably admit it to being.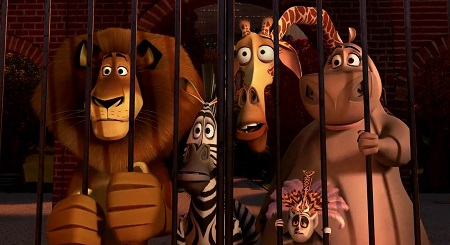 But it isn't like either film is an animated classic. More importantly, unlike most of the Pixar catalog and a great number of the other entries in the DreamWorks canon, I can't say I've returned to either film in quite some time. I've been happy to let them sit in my mind as a happy memory, not wanting to potentially ruin my enthusiasm for either by taking the time to sit through them for a second time.
What I'm trying to say here is that, even though I enjoyed the first two, I didn't think another sequel was necessary. What's the point? Hadn't Eric Darnell and Tom McGrath, the creative duo behind the first two, already taken things as far as they could go? Sure, the second film ended with a bit of a cliffhanger, but that didn't mean I needed to see Alex, Marty and company attempt to get back to New York and out of the African wilds. I was content, and for my part I liked to believe the majority of moviegoers who liked these films were with me on that.
It's probably a good thing that Darnell and McGrath don't take advice from me, because along with new co-director Conrad Vernon (Monsters vs. Aliens) and co-writer Noah Baumbach (Fantastic Mr. Fox, Greenberg), with Madagascar 3: Europe's Most Wanted the filmmakers have created the best entry in the series so far. This is a funny, smart and inspired adventure featuring all the old favorite characters as well as some niftily inspired newcomers, and I was smiling ear-to-ear for most of this sequel's running time.
Most. But not all. The opening sequence didn't get things off on the right foot. Still stranded in Madagascar, Alex, Marty, Gloria and Melman, along with King Julien (Sacha Baron Cohen), Maurice (Cedric the Entertainer) and Mort (Andy Richter), take it upon themselves to head to Monte Carlo to find out what the penguins and their cadre of monkeys are up to. This meeting is a headache-inducing mess, so wildly frenetic and out of control, so devoid of decent ideas, I almost couldn't comprehend what it was I had suddenly walked into. For a good 15 minutes I wanted to call it a day and get up and leave, the whole enterprise the type of Disney Channel or Nickelodeon-inspired swill I have trouble believing children of actually enjoy.
But a funny thing happens on this whirlwind trek towards doom and disaster. Darnell, McGrath, Vernon and Baumbach somehow, someway manage to right the ship. Starting with the introduction of a train filled with zoo animals, proceeding forward towards an international trek filled with both imagination and honest emotion, the movie comes to life in a way the previous chapters were not able to achieve. This third chapter, for all its chaos, for all its weirdly absurdist flights of fancy, still becomes the most relatable, dare I say the most human, of the trilogy, something I never would have expected before the movie started.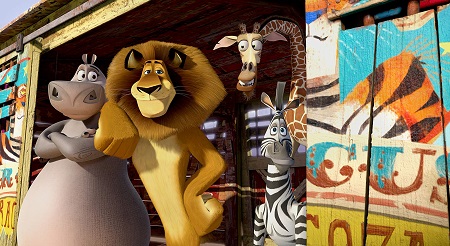 It helps immeasurably that three of the four principal newcomers – the less, sadly, said about French animal control officer Capitaine Chantel DuBois (Frances McDormand) the better – are some of the best characters the folks at DreamWorks have created in quite some time. Down on their luck circus mainstays tiger Vitaly (Bryan Cranston), leopard Gia (Jessica Chastain) and seal Stefano (Martin Short) are each wonderful, the three of them giving the story a much-needed kick in the tailfeathers it could not have achieved without them.
I'm not sure any of this means I'm going to return to Madagascar 3: Europe's Most Wanted with any more frequency than I have its predecessors. I severely detested that opening sequence, and as much as I reveled in all the subtle nuances and colorfully creative explosions of life and emotion the next two-thirds had to offer I still can't say I was moved to the point of effervescent euphoria. But Darnell, McGrath and company prove there is plenty of life pumping through this animated animal's veins, and if the pair decide to bring the crew back for a fourth adventure I'll happily leave my reticence at home where it belongs and joyfully head to the theatre to give their film a look.
Film Rating: 2½ (out of 4)