Spirited Ride Like a Girl an Inspiring Tale of Victory
The feature-length directorial debut of actress Rachel Griffiths, Ride Like a Girl tells the story of Australian jockey Michelle Payne, the first woman to ever win the prestigious Melbourne Cup. Beautifully portrayed by actress Teresa Palmer in one of the best performances of her career, Payne's story is one of perseverance, courage, hardship and family that I found impossible to resist. Griffiths showcases a level of dramatic restraint that gives her movie an extra layer of authenticity that's splendid, and as familiar as many of the thematic beats might be that doesn't make this inspirational sports story any less entertaining.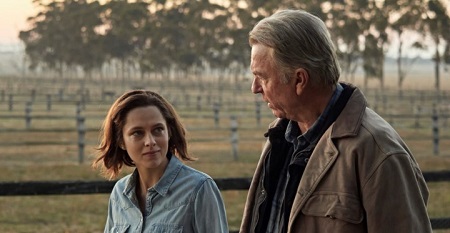 The youngest of ten kids, all of whom were raised by their respected horse trainer single father Paddy (Sam Neill) after the tragic death of their mother and most of which have had careers as jockeys, Michelle Payne might just be the one most focused on achieving lasting success. Constantly training, always working with their family's horses, learning everything she can about being a jockey at the expense of her schoolwork, Michelle showcases a fearless tenacity that if it were properly focused could transform her into one of the best jockeys of her generation.
When one of her sisters, Brigid (Anneliese Apps), dies after a fall during a race, Paddy is understandably shaken. He begins to worry that Michelle takes too many risks and isn't ready to enter the world of professional horse racing. But she defies her father, setting out on her own in an attempt to prove she doesn't need to wait and has what it takes to be champion rider now and not at some fabled point in the unknown future. It's a risk to do this without Paddy's blessing, yet it is one Michelle feels she has to take, and if she can get anything close to consistent work the young jockey is certain she'll show everyone, including her father, how wrong they were to doubt her.
There are admittedly not a ton of surprises. It's how Griffiths handles Andrew Knight (Hacksaw Ridge) and Elise McCredie's (Strange Fits of Passion) efficient, if hardly imaginative, screenplay that is most impressive. The director doesn't sugarcoat any of the story's more upsetting aspects, most notably the estrangement between Michelle and Paddy that occurs after she defies his orders. Griffiths understands that Michelle Payne doesn't need to be depicted as a saint, and by making her so multidimensional it substantively increased how much I ended up relating to her life story.
Another aspect of the film I appreciated was how it rarely wallowed in maudlin sentiment or forced melodrama. When Michelle gets injured during a race, Knight and McCredie don't spend wasted energy chronicling the length and difficulty of her recovery. Instead, they jump forward and allow Griffiths the freedom to chronicle the highs and lows of the jockey's early career as she sees fit, the athlete's bruises and scars speaking volumes more than any Rocky-style training montage ever could have. The director emphasizes Michelle's ultimate destination and her resilience to achieve this supposed impossibility on her terms and in her own way, making the climactic Melbourne Cup all the more thrilling in the process.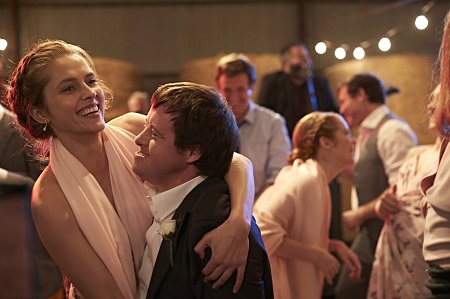 Not to say there are any surprises as to where all of this ends up. We know going in that Michelle Payne riding astride the six-year-old gelding Prince of Penzance won the Melbourne Cup in 2015. We also know she is going to overcome all of the injuries, travails and gender-related injustices that are thrown in front of her like a concrete roadblock redirecting traffic down some unpaved side street. All of this is public record, so it's safe to say at least some of the suspense driving this story forward has been diluted through no fault of the filmmakers.
Yet Griffiths refusal to make a glossy biopic and present things in such an unvarnished fashion works in the film's favor. Additionally, as already stated Palmer is outstanding, the actress delivering a delicately nuanced and emotionally refined performance I was continually impressed by. Add in bravura supporting work from Neill and an even more enchantingly intoxicating turn from Stevie Payne, Michelle's real-life older brother who has Down syndrome, and there's precious little about Ride Like a Girl that I can find any lasting fault in. Griffiths' debut is a victorious gem, sprinting to the finish line with a gleeful enthusiasm that's downright infectious.
Film Rating: 3 (out of 4)