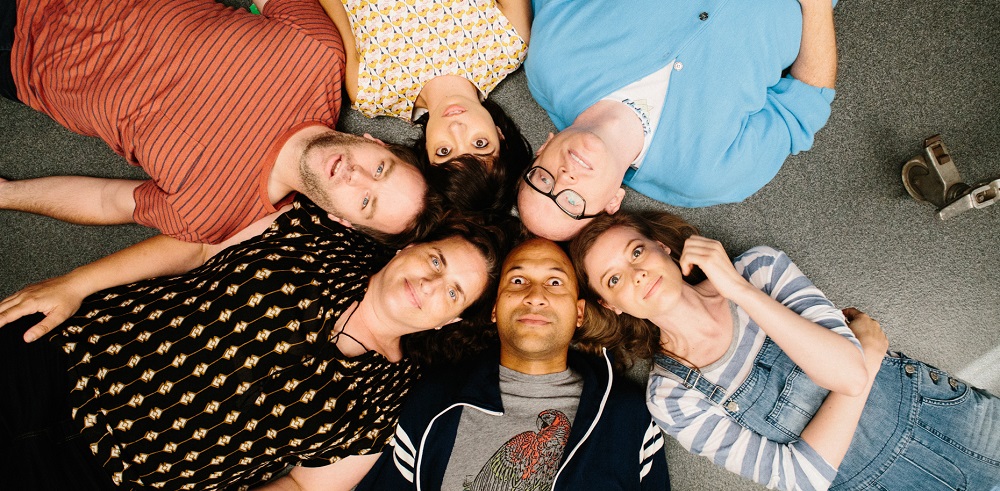 a SIFF 2016 review
Birbiglia's Twice a Thoughtfully Perceptive Ensemble Gem
For the past eleven years the improvisational comedy troupe known as The Commune has happily entertained the citizens of New York, each night hoping some talent scout or casting agent will catch their show and make each and every one of them a star. But the restaurant they've called their home for over a decade is shutting down, and considering the cutthroat world of Big Apple nightlife the chances they'll find an affordable new home are rather slight. Still, friends Miles (Mike Birbiglia), Samantha (Gillian Jacobs), Jack (Keegan-Michael Key), Allison (Kate Micucci), Lindsay (Tami Sagher) and Bill (Chris Gethard) remain hopeful, especially once they learn the producer of late night television's premier sketch comedy series is coming to a show sometime soon to check out their act.
But whereas Jack and Samantha get invitations to come in and test for a spot on the show as part-time guest actors, the rest of the members of The Commune aren't so lucky, this bit of good news for two of their members still having a profound effect on the group's personal and working relationships. Straining things even more is when one of the two actually secures the job while the other does not, and considering the pair are in a romantic relationship this plants a mighty big roadblock right smack dab in the middle of the freeway leading to future happiness.
Written and directed by Birbiglia (Sleepwalk with Me), the moving, emotionally complex comedy-drama Don't Think Twice is the kind of movie I knew I liked exiting the theatre but didn't realize just how much so until I'd had a few extra days to ponder all its narrative nuances. It's a beautiful, character-driven affair, and while the introspective observations the filmmaker toys with are hardly revelatory that still doesn't make them any less profound or affecting. This is the kind of movie that sticks with you, gives the viewer so much to mull on and ponder they feel almost lucky they were given the opportunity to give it a look, the story a thoughtful, warts-and-all look at art, romance, dreams and friendship that's virtually impossible to resist.
Birbiglia has cast things beautifully, each actor given multiple moments to shine, all of these recognizable faces bringing each of their respective characters to life with winsomely authentic determination and grace. It's no shock he's cast Key as the breakout talent just waiting for his big break, and he rises to the occasion beautifully, delivering a performance that's without a doubt the most complex and introspective of his career up to this point. But it is Jacobs, a scene-stealer most known for her small screen work on shows like "Community" and "Girls," who pops off the screen the most, her Samantha a fragile enigma who falters at the worst time only to discover talents and aspirations she'd never have been able to realize if not for some serious, seemingly misguided missteps. The actress commanded my attention like no one else, and had this movie been made and released in the 1970s or '80s it's likely she'd have garnered a richly deserved Academy Award nomination for her charismatically multifaceted efforts.
All the same, the insights Birbiglia is trading in aren't exactly original. There were moments I felt like I was watching a feature-length variation on the party scenes that transpired in Sydney Pollack's Tootsie, the observations and insights very similar to those discussed by Dustin Hoffman, Teri Garr and Bill Murray in the 1982 classic. Comparisons can also be made to David Seltzer's Punchline and Judd Apatow's Funny People, both of those tromping down a cinematic path that looks a lot like the one this film happens to be exuberantly walking upon.
Still, the director's handling of the material is elegantly precise, having a light if still confident air to it that reminded me of John Sayles or Woody Allen in their primes. While I'd never compare Don't Think Twice to Return of the Secaucus Seven or Broadway Danny Rose the fact I'm mentioning it in the same breath as the both of them does speak volumes, and I can only imagine Birbiglia has a story lurking inside of him that will rise to such thrilling heights. I really liked this ensemble gem, and if discerning audiences decided to turn it into a surprise summertime art house hit I wouldn't complain one tiny little bit.
Review reprinted courtesy of the SGN in Seattle
Film Rating: 3 (out of 4)