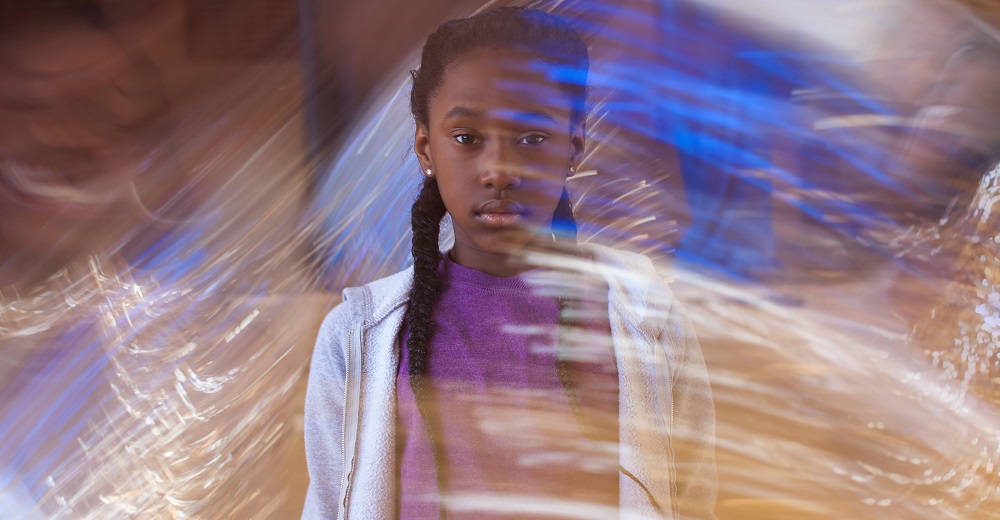 a SIFF 2016 review
Sincere Fits a Stunning, Emotionally Pure Tour de Force
Growing up in Cincinnati's West End neighborhood, spending her time at the local community center working out alongside her boxing enthusiast older brother Jermaine (Da'Sean Minor), 11-year-old tomboy Toni (Royalty Hightower) becomes obsessed with the award-winning Lionesses Dance Team. While making friends with a few of the other newcomers, the youngster throws herself into learning the team's choreography with the same passion she showcases in the gym training with her brother. But when some of her fellow teammates descend into a series of fainting spells and seizure-like convulsions, Toni begins to wonder what exactly it is she has signed up for, the line between fitting in with the others and remaining true to her own personal convictions blurring into invisibility.
The Fits is a hard movie to pigeonhole. While the basic scenario is relatively straightforward, the mechanics of director Anna Rose Holmer's (Twelve Ways to Sunday) feature-length narrative debut end up being anything but routine. Working alongside co-writers Saela Davis (Ballet 422) and Lisa Kjerulff (Northern Light), Holmer's film is a coming-of-age excursion the likes of which I've rarely experienced before, the level of bracing, documentary-like exactitude as it pertains to the emotional center of the drama flabbergasting. It is a strong, thought-provoking opus that is open to multiple interpretations, all of it building to a powerhouse finale that knocked my socks off.
Toni is a fascinating character. You learn so much about her just by the way she wanders around the community center, the way she attacks her training and the back-and-forth interactions she has with Jermaine. I felt like I understood the mechanics of her world with startling intimacy even though the basics of her home life and what she is doing in school are left fairly ephemeral. A combination of the way Holmer constructs her heroine's journey the superb, fiercely internalized performance of her young star, Toni is a complex, emotionally determined youngster unlike any other adolescent character I've seen in a 2016 motion picture up to now.
Hightower is a find. From the first moment we see her throwing punches with Minor, to how she cannily responds to the influx of fainting spells that suddenly assaults the entirety of the Lionesses Dance Team, the young actress finds a way to make each moment feel pure and distinctly genuine. Her budding friendship with two of her fellow teammates happens with simple elegance, while her reactions to their willingness to do whatever it takes to be accepted as part of the troupe drip with poignant melancholy. Hightower is fierce, showing an interior resolve that is often broadcast without the use of words, her expressive eyes and the physicality of her body movements doing the majority of the speaking for her. It's a marvelous performance, the actress bringing things full circle in a way that shattered my heart, yet in a fashion that also had me smiling just as broadly as Toni herself as the screen faded to black.
Holmer directs with supreme confidence, allowing the film to build to a boil at its own measured pace but not in a way that ever feels slow or drawn out. If anything, The Fits is over almost as soon as it begins; its brief 72 minutes go by in the blink of that metaphorical eye, the director, along with her two fellow screenwriters, getting rid of all of the story's fat in order to keep the focus and spotlight shining directly upon Toni which is exactly as it should be. The themes lurking at the center, what it is talking about in regards to race, education, peer pressure, gender and just growing up in general, all of it comes through marvelously, the finished feature a stunning achievement all involved should be proud to have had a hand in creating.
Film Rating: 3½ (out of 4)