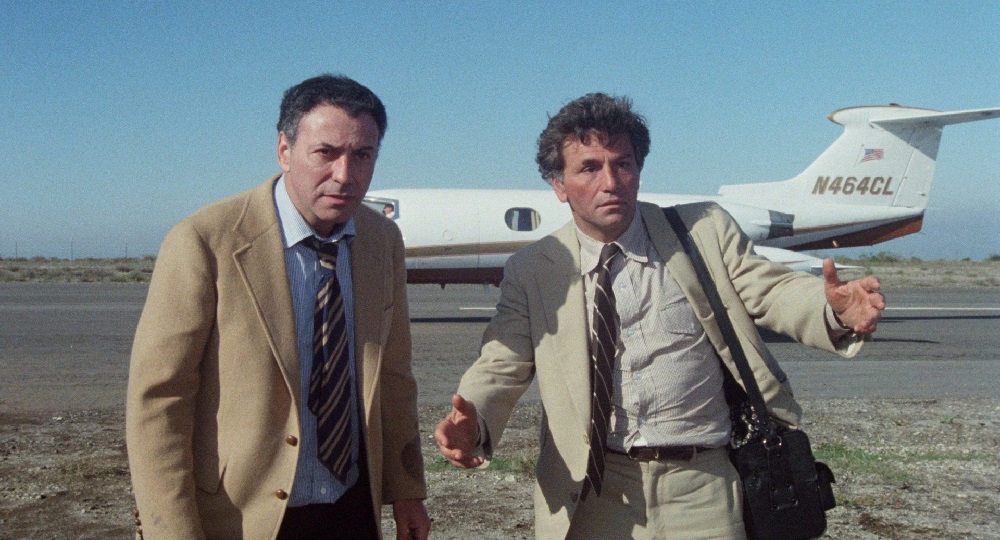 How does the Blu-ray/DVD Disc stack up? (all ratings out of 10.)
Movie
Video
Audio
Extras
Overall
SYNOPSIS
"There's no reason to shoot at me, I'm a dentist."
CRITIQUE
When his beloved daughter Barbara (Penny Peyser) brings home the parents of her fiancé Tommy Ricardo (Michael Lembeck), New York dentist Sheldon Kornpett (Alan Arkin) is immediately leery of the young man's secretive father Vince (Peter Falk). There's just something about the guy, his strange behavior making him wonder what the heck is wrong with him. But Sheldon loves his daughter, and as such he's going to try and do what's best for her, and if that means putting up with Vince's idiosyncratic weirdness so be it.
Director Arthur Hiller and screenwriter Andrew Bergman hit one out of the park with their 1979 buddy comedy The In-Laws, crafting an outlandish adventure that's never, ever quite as simple as one might initially assume it to be. Centered on a pair of all-time awesome performances from Arkin and especially Falk, littered with scene-stealing supporting work from the likes of Richard Libertini, Ed Begley Jr., James Hong and David Paymer, the movie is an out-and-out hoot that is as fresh and as vital today as it ever was 37 years ago.
What's always been so refreshing about this one is just how easygoing it all is. Following Falk's lead, Hiller allows things to happen as they want to, almost as if by whim, the narrative orchestrations shockingly subtle for a story involving stolen Federal Reserve money plates, gun-toting CIA henchman and a whacked-out Honduran dictator. It meanders here and there, but always with direction, the place where things end up feeling entirely natural and organic no matter how outlandish that path getting there might have appeared.
The chemistry between Falk and Arkin is sublime, while the final act in Honduras with Libertini is a giggly riot that just gets better and better as the sequence progresses to its heart-stopping (and undeniably silly) conclusion featuring firing squads, blindfolds, last cigarettes and several millions in missing cash. It's a confident movie, one that knows exactly what it is and what it is doing, and as such Hiller is in complete control first frame to last. If anything, even with Albert Brooks and Michael Douglas in the lead roles these are the exact things the misbegotten 2003 remake directed by Andrew Fleming lacks, showing that even if you cast the right actors if the behind-the-scenes talent do not have confidence in what it is they are doing chances of success are relatively nonexistent.
Thankfully, those who made the original version of The In-Laws, namely Hiller and Bergman, do not have anything near the same hang-ups, both men working at the absolute tops of their respective games as far as this comedy is concerned. With Falk and Arkin doing the majority of the heavy lifting, filled to the brim with one memorable sequence one after the other, without a doubt this is one of the great buddy comedies ever made, and for those who have never seen it I suggest giving the film a look right away.
THE VIDEO
The In-Laws is presented on a 50GB Blu-ray MPEG-4 AVC Video with a 1.85:1 1080p transfer. As stated in the included booklet: "This digital transfer was created in 2K resolution on a Director film scanner from the 35mm interpositive. Thousands of instances of dirt, debris, scratches, splices, and warps were manually removed using MTI Film's DRS, while Digital Vision's Phoenix was used for small dirt , grain, noise management, jitter, and flicker."
THE AUDIO
This Blu-ray features an English LPCM Mono track and includes optional English SDH subtitles. Again, from the included booklet: "The original monaural soundtrack was remastered from the original 35mm magnetic tracks. Clicks, thumps, hiss, hum, and crackle were manually removed using Pro Tools HD and iZotope RX 4."
THE EXTRAS
Extras here include:
Audio Commentary with director Arthur Hiller, actors Alan Arkin and Peter Falk, and writer Andrew Bergman – Recorded back in 2003, this is a fine, amusingly informative commentary track with Falk, not too surprisingly, stealing the spotlight time and time again.
Alan Arkin Interview (24:08) – Recently recorded interview with the actor (and executive producer), Arkin's memories of the film and his time working with Falk and Hiller exceedingly sharp. He also spends a lot of time chatting about the actors who influenced him when he was just starting out, including Charlie Chaplin, Jean Gabin, Marlon Brando and Spencer Tracey. Just excellent.
In Support of "The In-Laws" (34:07) – Wonderful, newly recorded interview piece featuring actors Ed Begley Jr., Nancy Dussault, James Hong and David Paymer, all of whom are more than happy to talk about the film and what it was like to be on set with Peter Falk and Alan Arkin.
Original Theatrical Trailer (2:47)
Also included is a Collectible Illustrated Booklet featuring an essay by comedy writer Stephen Winer and a 2011 recollection of the making of the film by Arthur Hiller. 
FINAL THOUGHTS
Arthur Hiller's The In-Laws is one of the great buddy comedies ever made. Peter Falk and Alan Arkin are a sensational team, while Andrew Bergman's outlandish script is a heck of a lot smarter and more complex than an initial glance might lead one to believe. Criterion's Blu-ray release is downright superb, fans of the film urged to snatch it up for their personal collections at their earliest convenience. And, remember, serpentine. Always serpentine.