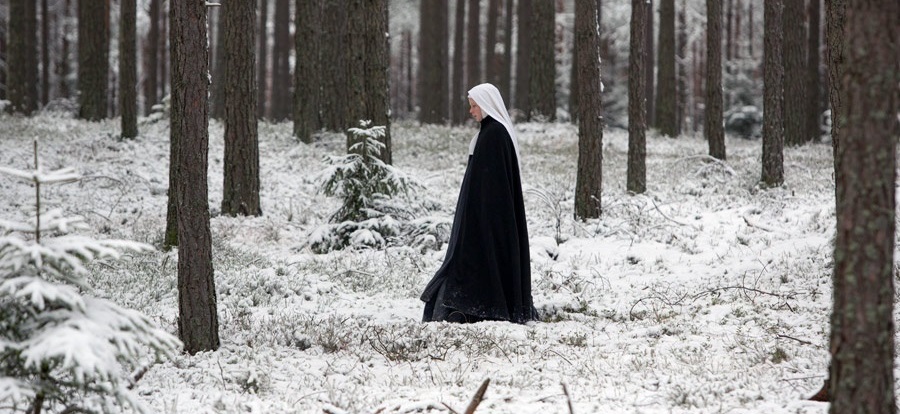 a SIFF 2016 review
Fontaine's The Innocents a Spiritually Rapturous Triumph
I watched director Anne Fontaine's (Gemma Bovery) post-WWII drama The Innocents (Les innocents) is a state of perpetual awe. From the early, eerie, unquestionably haunting images of a young nun traipsing through a barren, snow-covered Polish countryside going who knows where, to a moment of communal redemption hidden under the shroud of unthinkable secrecy and unimaginable sacrifice, the movie is a consistent triumph, achieving an overwhelming aura of brilliance that it manages to sustain first second to last. Not only is this Fontaine's crowning achievement behind the camera, it is without question one of 2016's most mind-blowing achievements, and I seriously doubt I'll see many of a similar ilk at any point over the next six months.
It is December of 1945 and the ravages of war still reverberate throughout Poland. A doctor working for the French Red Cross, Mathilde Beaulieu (Lou de Laâge) cannot turn a blind eye with a Polish Benedictine nun, Irena (Joanna Kulig), arrives out of the wilderness begging for help. When she arrives at the convent, she discovers something beyond the pale, a member of this holy sisterhood on the verge of giving birth. Delivering the baby, Mathilde is next presented to the order's authoritarian Reverend Mother (Agata Kulesza) by her trusted second Maria (Agata Buzek), the pair revealing to the doctor a shocking secret that stops her blood cold.
Loosely based on a real-life incident involving Red Cross doctor Madeleine Pauliac, what Mathilde finds herself smack-dab in the middle of is an incident so disturbing just the thought that even an ounce of it is true is an enough to scar a person right down to the marrow. After being brutalized by the Germans, these Polish nuns were then raped and murdered by the Soviet forces who had supposedly had arrived to liberate them. Many of the survivors turned out to be pregnant, causing a crisis of identity and faith that put all the believed in and cherished to an inconceivable test.
The Innocents is essentially a tale of two wildly different women, Mathilde and the Rev. Mother, trying to understand one another as they come up with what they feel is the best solution to the problems facing the nuns. One is a woman of science, a person who left God behind long ago as she watched the ravages and horrors of war run rampant across to the globe. The other, a woman so devout she is willing to sacrifice her own immortal soul if she believes it will sanctify a place in heaven for her fellow Benedictine sisters, doesn't so much fight against the doctor as try to diminish her influence upon the convent. Both have their hearts in the right place, both understand the other is only doing what she feels is best. Yet the paths they take couldn't be more divergent, and it is that deviation upon which Fontaine builds her film's foundation.
Standing in-between them is Maria, a nun who believes just as fervently as her beloved Rev. Mother yet is also a woman who sees the wisdom in what it is Mathilde is trying to accomplish. She is the one who will have her faith tested the most, the one who most grapple with all of the many layers of this ghastly situation. As such, it is her transformation that matters, the one that is the most intimately affecting, watching her find the strength to carry on, do the right thing and still maintain her relationship with the God she holds dear magnificent to behold.
All three actresses deliver superb, award-worthy performances. Kulesza, so stunning in Oscar-winner Ida, is equally amazing here. The subtly of her work, the dexterity of the emotions she traverses through as she plays them all so close to the vest, everything hid behind a cloak of piety she has clung to for so long she no longer knows how to remove it. Equally wonderful is de Laâge. So memorable in The Wait and in Breathe, she brings a calm sincerity to Mathilde that is mesmerizing, and watching her traverse through so many emotional minefields while attempting to keep this painfully destructive secret is truly incredible.
It is Buzek who most impresses, however, the way she brings Maria to life sublime. This nun is asked to do the impossible, and in the process finds her most intimate beliefs put to the ultimate test. Buzek conveys every step of this journey with notable specificity, every turn of phrase, nod of the head or gentle caress leading to a greater realization that can only come by journeys end. But what is most impressive is how she manages to express all of this in a way that stays true to the nun's spiritual convictions, allowing the film to be a truer treatise on religion than any so-called "faith-based" feature could ever hope to emulate.
Fontaine has made some very good motion pictures in her directorial career, most notably last year's Gemma Bovery and 2008's The Girl from Monaco, but she's never come close to this sort of brilliance, her steady hand steering things to their finish with a level of confidence that's tremendous. She is aided in no small part by Caroline Champetier's (Holy Motors) superlative cinematography, her depictions of this austere landscape ravaged by war recalling the melancholic intimacy of films like Andrzej Wajda's Ashes and Diamonds and Agnieszka Holland's Europa Europa.
As strong as the technical aspects are, it is the emotional component that makes The Innocents a potential instant classic. Fontaine allows horror and catastrophe to intermingle with hope and salvation, shaping things in a way that allows the spiritual components to take root as if they had been burrowing deep into this story's cinematic soil for multiple generations. The balance is always spot-on, and when tragedy strikes it does so right alongside redemption, in the process painting a fuller picture of religious complexities amongst the pious and the non-believer that is extraordinary. This movie is a one-of-a-kind experience, watching it a divine revelation I'll likely be preaching the virtues of for a long time to come.
Film Rating: 4 (out of 4)