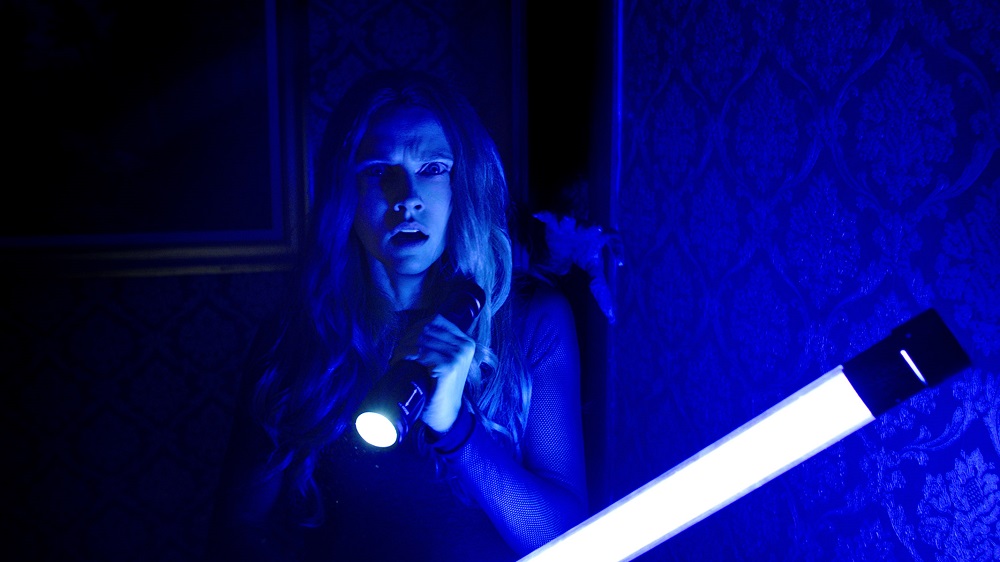 Intense Lights Out a Frightfully Spooky Supernatural Thriller
When Rebecca (Teresa Palmer) was a child, she was afraid of the dark. There was something, maybe someone, living inside of it, and as such sleep was hard to come by. Worse, it felt as if her psychologically unbalanced mother Sophie (Maria Bello) knew what was going on but wouldn't talk with anyone about it, a perplexing situation that as a youngster Rebecca wasn't mature enough to make heads or tails out of.
Years later, now a young woman with a boyfriend, Bret (Alexander DiPersia), who would love to take their relationship to the next level, Rebecca is called back home when her young half-brother Martin (Gabriel Bateman) begins to have so much trouble sleeping through the night. A recent family tragedy has sent Sophie closer to the edge than ever, and as such she's once again speaking to an odd, otherworldly specter haunting the darkened hallways of their home. But the truth is even more disturbing, and even more deadly, than anyone knows, Rebecca quickly realizing her old childhood traumas weren't as imaginary as she was originally led to believe.
Based on director David F. Sandberg's award-winning short film of the same name, the supernatural horror-thriller Lights Out is a solid scary story to be told in the dark audiences are almost certain to be thrilled by. Working from a solid, smartly nuanced script by Eric Heisserer (Final Destination 5), the movie never betrays its premise, laying out its own internal machinations with a nice mixture of brevity and clarity that's surprisingly strong. Better, it never betrays its well-crafted mythology, building with honest intensity to the only satisfying conclusion open to it. This allows the picture to have a beginning, middle and an end, something of a rarity as it pertains to many similar B-grade genre efforts such as this.
Not that it will come as a shock to anyone, there is something in the dark, an entity that does not like the light and, for whatever reason, is intimately connected to Sophie to the point it will do just about anything to make sure the bond between them is never broken. This includes the haunting of Rebecca and Martin, its feelings of malice only growing the more they take it upon themselves to see their mother brought back to full health. As such this makes the danger they are both facing positively lethal, brother and sister needing to work together if they are going to find a solution to this supernatural enigma and help their mother conquer demons more literal than they are figurative.
It all works, mainly because Sandberg doesn't pander, taking things just seriously enough to matter yet also with a loose enough hand that gentle laughs littered throughout feel somewhat intentional. He and Heisserer seem to get the absurdity of their scenario and because of this refuse to overplay their hand at any point during the proceedings, the film's crisp 81 minutes passing with a succinct effortlessness that's close to perfect. While there are a handful of jump scares, they are organic to the material and not just unleashed for effect, and I like that much of the exposition necessary to make the more transient plot points clear are delivered inside the action and not by characters stopping for no rational reason to extrapolate upon them only because a lesser script would require them to.
The performances are solid, Bello, in particular, making the most of what easily could have been a disposable character, allowing Sophie layers of pathos and depth that grow in potency as things progress. It's also handsomely shot by Marc Spicer (Furious 7), while both Jennifer Spence's (Insidious: Chapter 3) production design and Shannon Kemp's (We Are Your Friends) are both pleasingly top-notch. I'm not going to make any statements proclaiming Lights Out to be anything more than what it is. At the same time, that doesn't make this nifty little horror opus any less wonderful. As far as thrills and chills go, Sanberg's feature-length debut revels in both of them, making this a spooky little endeavor I'm frightfully happy to say I enjoyed.
Review reprinted courtesy of the SGN in Seattle
Film Rating: 3 (out of 4)