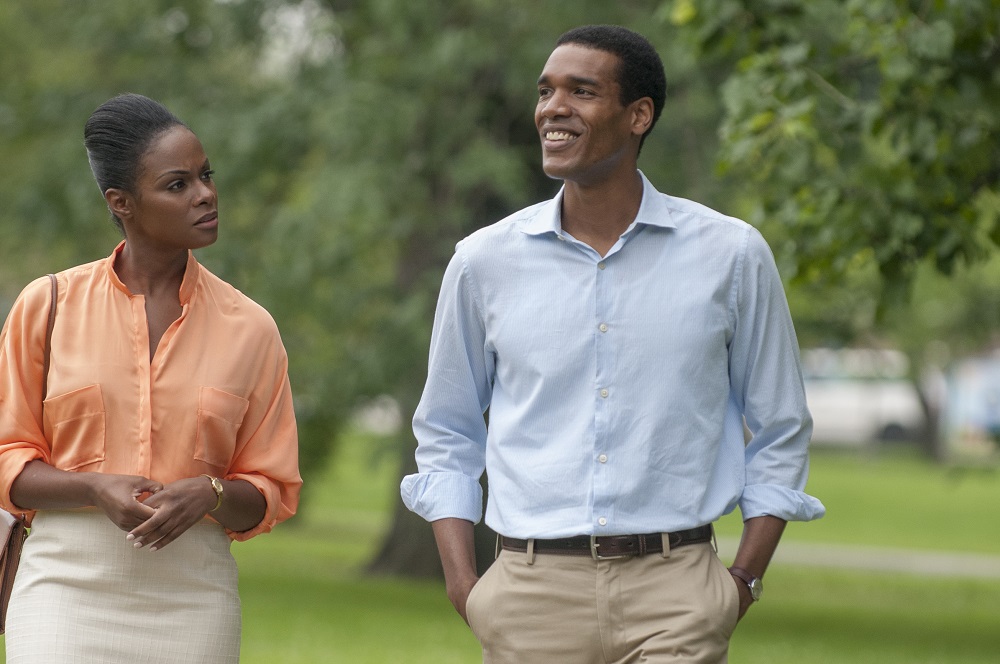 a SIFF 2016 review
Tender Southside a Presidential Love Story
It is the summer of 1989, and Chicago couldn't be hotter. Still, attorney Michelle Robinson (Tika Sumpter) goes against her initial instincts and decides to spend the day with a young law associate who just started at her firm named Barack Obama (Parker Sawyers). He's going to a community meeting later that afternoon and has asked her if she'd like to attend. In other words, it's not a date, just a day of genial conversation and varying activities between two co-workers and friends. But still, as Michelle makes sure to keep pointing out, not a date, not a date at all.
Writer/director Richard Tanne's Southside with You is inspired by accounts by Barack Obama and his wife Michelle in regards to their first date during a daylong trek throughout Chicago's South Side. The film is basically a dialogue-driven, two-character romance reminiscent of independent gems like Before Sunrise and Once, not some big statement about the President of the United States. As such, Tanne's feature-length narrative debut could be about any two people, anyone at all, the filmmaker attempting to show how this one moment in the lives of the President and his First Lady are universally relatable to all no matter what their political leanings might prove to be.
First things first, Southside with You is terrific. Tanne's dialogue is sharp, vibrant and full of energy, having a relaxed, anything goes eloquence that feels naturally authentic. At a brisk 84 minutes, the movie was over almost before I knew it, and watching Barak and Michelle wander around Chicago was an absolute joy. There is no fat here, no embellishment, the resulting film a soulful aria to intelligent conversation, selfless honesty and romantic longing viewers owe it to themselves to seek out and experience.
The rub, of course, is that by making the movie explicitly about the Obamas, there is a section of the potential viewership that will stay away only because their feelings towards the President make them predisposed to think they'll hate the movie no matter what anyone like me has to say about. They will refuse to believe that Tanne's romantic frolic could be apolitical, that, while Barack and Michelle Obama's liberal leanings are hardly hidden, that they are also not the be-all, end-all of this endeavor.
This will be their loss. There easygoing nature of this story, the universality of the give-and-take between the two principals, all of it is kind of glorious. There are some tremendous moments littered throughout, everything building to a stupendous moment where Michelle realizes, that for all his constant chitter-chatter, Barack has indeed been observing her, been listening to all she has been saying. It's the kind of perceptively subtle chestnut that will soften the hardest heart while bringing an authentically realized tear, a bit of understanding and kindness so sincere I likely let out an audible gasp of gleeful rapture the very moment it happened.
Sumpter, on the verge of breaking out for quite some time thanks to memorable supporting performances in films like Get On Up, Sparkle and Think like a Man, is extraordinary. So full of life and energy, yet also cagey, prone to hide her feelings and somewhat wary of this charming man's intentions, the actress is amazing, her transformation the key to the film's ultimate success. The actress does so much while appearing to do so little, and whether reacting to her costar giving a passionate, if somewhat professorial, speech to a room full of community activists or detailing her thoughts as to what it is like for a Black woman working as a lawyer in a primarily White Chicago firm she's mesmerizing every step of the way. The modulation of this performance is breathtaking, Sumpter delivering on every level, her work as Michelle simply out of this world.
Newcomer Sawyers is also excellent, but safe to say he's got in some ways the more difficult task, Barack Obama's mannerisms and speech patterns so familiar there are moments where his performance can feel more like a finely-tuned impersonation than it does anything else. But, when it is most necessary, he still manages to find the heart of both the character as well as the narrative itself, the young actor sharing such strong, naturalistic chemistry with his costar any missteps there might be are quickly forgotten as the story progresses towards its conclusion.
People need to see Southside with You. It's a wonderful romance. Wistful, ebullient, full of energy and life, Tanne's movie crosses races and political boundaries. It is instantly relatable on a multitude of levels, presenting a day-in-the-life love story that I found incredibly easy to become enamored with. So here's hoping those predisposed to stay away because the "Obama" name is associated with the film have second thoughts as far as those are concerned; they might just be surprised to discover just how blissfully entertaining this particular story ends up proving to be.
Review reprinted courtesy of the SGN in Seattle
Film Rating: 3 (out of 4)
Additional Link:
Interview with writer/director Richard Tanne