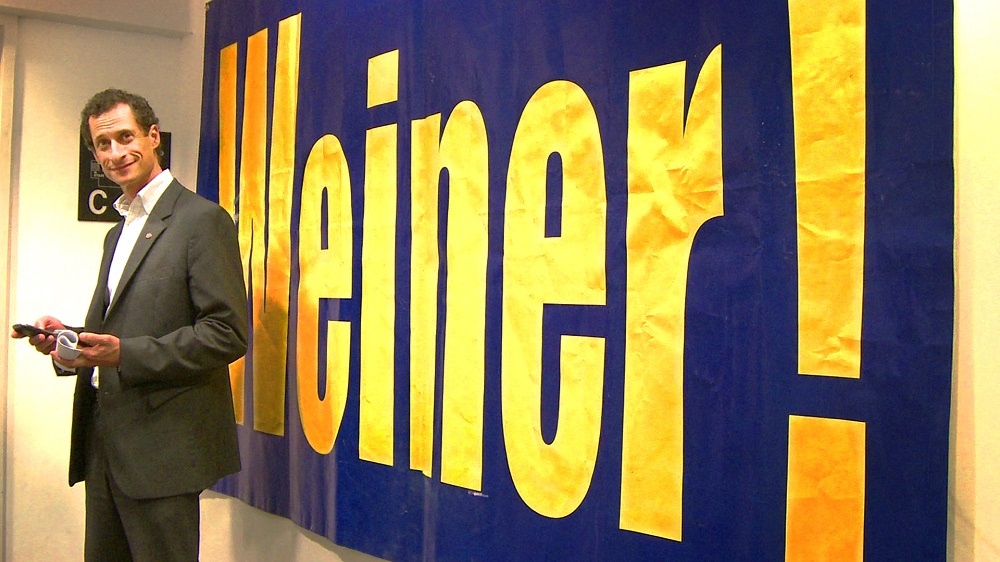 a SIFF 2016 review
Hubris and Narcissism Run Amok in Captivating Weiner
At a certain point in the illuminating, uncomfortably honest documentary Weiner, director Josh Kriegman is overheard asking his subject, former U.S. Congressman and 2013 New York City mayoral candidate Anthony Weiner, why it is he ever allowed he and his co-director  Elyse Steinberg to document his campaign. The look on Weiner's face is devastating, filled with anguish and heartbreak, all of it brought on by his own actions, speaking volumes, the answer to the question painfully obvious and incontrovertibly perplexing both at the exact same time.
The congressman's initial fall from grace is the stuff of legend. His 2011 sexting scandal along with his bizarre, clueless attempts at covering it up, first by saying his Twitter account was hacked, next by lying about the images being sent, then saying he wouldn't resign, then saying he would, then going back and forth who knows how many more times before ultimately stepping down from office, it was political suicide broadcast live for all to see. Yet, two years later it appeared as if Weiner had somehow put it all behind him, saving his marriage to Hillary Clinton confidant Huma Abedin while at the same time making it appear as if he were a viable Democratic candidate for New York City mayor.
It was a given his sexting scandal would end up becoming a part of the campaign. What wasn't was that Weiner would find himself embroiled in a whole different version of it, more women, texts and pictures coming into the light of day just as it appears he had redeemed himself in the public eye. Yet it is what happens next that truly throws Kriegman and Steinberg's documentary into the land of the surreal. Allowed unprecedented access to the candidate, his staff and, most of all, his family, the meltdown that happens in the campaign is positively massive, Weiner become a prime example of truth being stranger than fiction on an almost unimaginable scale.
Did Weiner break any laws? No. Did anything he do rise to the same level as what Dennis Hastert or John Edwards were caught doing? No. Did he run off to Central America with a mistress and then lie about it to his constituency? No. Were any of his actual political points made less valid by his indiscretions? No. Even so, Weiner was, maybe still is, his own worst enemy, his inability to talk coherently about his problems, get professional help for addictions and, most of all, just stop texting images of himself to women from the waist down who were not his wife unsurprisingly leading directly to his downfall.
Weiner works best as political theater, not as an incisive, thought-provoking analysis of modern campaigns. In other words, The War Room this is not. Granted, the chances that it could have been are derailed the moment a new round of texts and images come to light and the candidate and his staff fumble about trying to figure out what to do. As such, Kriegman and Steinberg end up with a bird's eye view of hubris and narcissism run amok, their subject melting down so completely those around him, including his wife Abedin, a woman who likes to run things from the sidelines and not be caught standing in the center of the spotlight herself, are in virtual awe that he can be this enormously clueless.
And so that moment comes, a brief little aside when reality appears to be finally dawning on Weiner and Kriegman can't help but ask why he was allowed to keep shooting, he and Steinberg given an unprecedented level of access even as the campaign itself had disintegrated into a laughingstock. The candidate can't answer, doesn't know how to answer, his inability to put two thoughts together and come up with a coherent response speaking volumes. Weiner shows, without embellishment, without cinematic sleight of hand, that a person's worst enemy remains themselves; and no matter how good the ideas might be or how righteous the convictions to help those in need undeniably are, all of that and more can be made instantaneously irrelevant just by the push of a cell phone button.
Film Rating: 3½ (out of 4)