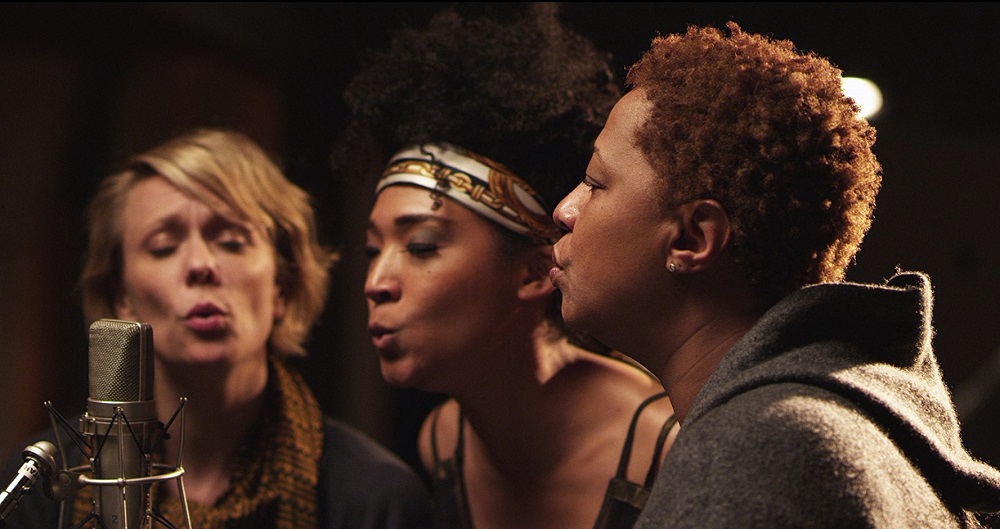 a SIFF 2013 review
20 Feet Backup Singers Get Their Turn as Stars
Watching 20 Feet from Stardom you slowly come to realize that, more often than not, the backup singers you can hardly remember the faces of tend to be even more talented than the superstar headliners they're supporting. They're singing for the likes of The Rolling Stones, Aretha Frankin, Elton John, David Bowie, Sam Cook, Sting, Joe Cocker, Bruce Springsteen and Frank Sinatra, every headliner knowing exactly what it is these singers have added to their recordings.
Documentarian Morgan Neville profiles many of these background entertainers with a steady, steadfast gaze, allowing vocalists like Tata Vega, Darlene Love (arguably the most recognizable face amongst these women), Lynn Maybry, Lisa Fischer, Mable John, Susaye Greene, Judith Hill, Janice Pendarvis and Merry Clayton to let their collective stories (and their stellar voices) speak for themselves. He intermixes both new and archival interviews with many of their more famous collaborators, painting a vivid picture of stardom and its glare the likes of which those outside of the business seldom get to see. These talents all sit as close to bone fide celebrity as anyone in the world ever has, all of them wanting to experience this stardom for themselves, only able to get the slightest taste of its elixir by standing a few paces behind the figure in the spotlight ticketholders have paid to see.
Things we learn early on include that the majority of these singers all got their starts singing in Gospel choirs, honing their talents in a way that was engineered and structured to find balance and harmony at the perfect pitch. We also learn that, down the line, almost to a one, each of these women still dreams of becoming a headliner themselves, dreaming of others backing them up while they're fronting a hit song catapulting up the Billboard charts. Heck, in the case of Fischer, she's won her very own Grammy, the fact she's done so for an album that didn't sell a ton of copies not lost on the gifted vocalist.
Because of this, some of what's talked about can be on the depressing side. Dreams aren't so much crushed as they are perennially ongoing, everyone still grasping for the brass ring even though the chances they'll someday snatch it grows more and more infinitesimal as the years go by. Additionally, stories about how some of these singers were robbed of their opportunities by record label powers that be are particularly infuriating, an industry icon like Phil Spector coming across like an especially odious villain, especially as it pertains to Love.
Yet the uplift factor remains high. While diva attitudes aren't entirely held in check, the work ethic on display, the pride each singer feels as they embrace their gift, the sheer magnitude of their collective talents, all of it adds together spectacularly. 20 Feet from Stardom has style, it has pizzazz and most of all its got power, it's saga of singers at the cusp of success continually giving every ounce of themselves to make it happen for someone else a universal inspirational daydream in every way that matters.
Film Rating: 3 (out of 4)