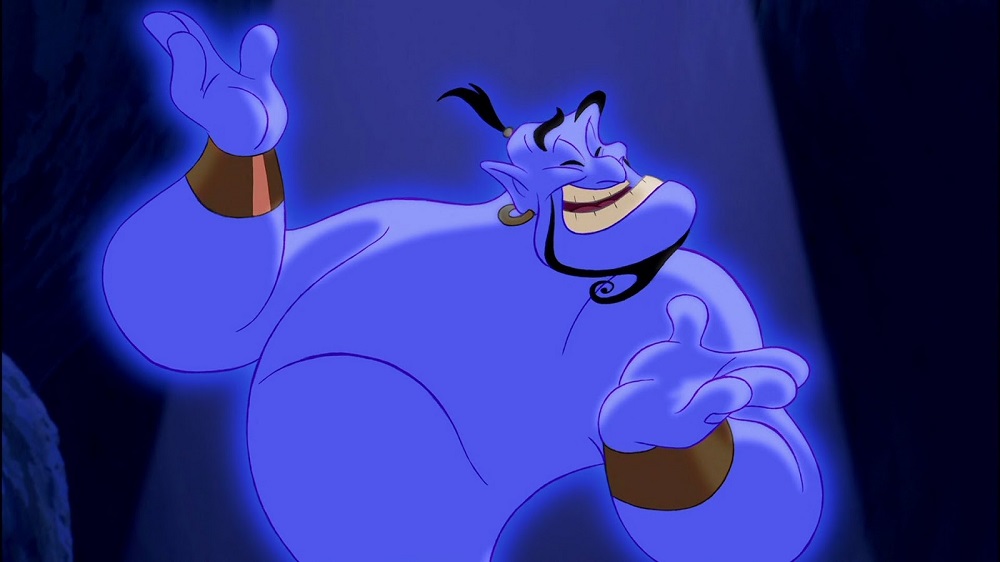 How does the Blu-ray/DVD Disc stack up? (all ratings out of 10.)
Movie
Video
Audio
Extras
Overall
SYNOPSIS
"You ain't never had a friend like me!"
–      Genie
CRITIQUE
I actually never thought Disney's massively successful 1992 animated treasurer Aladdin was going to hold up near as well as a number of the studio's other classics, especially ones from the late '80s thru mid '90s renaissance, a fertile period that produced The Little Mermaid, Beauty & the Beast and The Lion King. As brilliant as Robin Williams might have been as the all-powerful Genie who arrives to help "street rat" Aladdin (voiced by Scott Weinger) woo the beautiful and headstrong Princess Jasmine (Linda Larkin), the film is littered with so many mid-to-late 20th century pop culture references I wasn't at all positive they'd hold up as the years went by.
How nice it is, then, to revisit Aladdin and discover that, while some of the pop culture gags are indeed dated, the movie itself holds up spectacularly well. One gets to look at directors John Musker and Ron Clements' film with pristine eyes, gets to view the complex character dynamics and the hyper-intelligent narrative constructions as if they'd never set eyes on them before. More than that, they get to revel in just how magnificent a villain the dastardly Jafar (Jonathan Freeman) ultimately proves to be, his interactions with his feathered sidekick Iago (Gilbert Gottfried, probably the best he's ever been in anything, anything ever) far more amusing, and amusingly despicable, that I originally remembered them to be.
On top of that, the music by Alan Menken and the lyrics to all of the winning songs by Tim Rice and the late, great Howard Ashman (who passed while the film was in production) is as superb now as it ever was back in 1992, and I'm more than a little surprised by this. Maybe I'm getting old. Maybe I'm letting nostalgia get the better of me. But I don't think so. Aladdin is a wonderful comedic adventure, filled with wondrous sights and winning moments that stand on their own, timeless in and of themselves, all of it held together, not by Williams' brilliance (and he IS brilliant), by a marvelous script that brings it all so effortlessly to life.
THE VIDEO
Aladdin is presented on a dual-layer 50GB Blu-ray with a MPEG-4 AVC encode and a 1.85:1 1080p transfer.
THE AUDIO
This Blu-ray features an English DTS-HD Master Audio 7.1 soundtrack as well as an French and Spanish Dolby Digital 5.1 tracks and comes with optional English SDH, French and Spanish subtitles.
THE EXTRAS
The vast number of extras are ported over from previous DVD versions of the film (as like other Disney Diamond Edition Blu-rays) under the Classic Bonus Features tab, including the two superb Audio Commentaries, one with producers/directors John Musker and Ron Clements & co-producer Amy Pell, the other featuring supervising animators Andreas Deja, Will Finn, Eric Goldberg and Glen Keane. There's also the sensational 71-minute documentary A Diamond in the Rough: The Making of Aladdin, and it's without a doubt one of the best the studio has ever produced for one of its animated classics.
As for the new material, new extras created for this Blu-ray include:
The Genie Outtakes – The only extra that recognizes Robin Williams' tragic death (although the word "suicide" is unsurprisingly never said), John Musker, Ron Clements and Eric Goldberg introduce a number of family-friendly outtakes of the late, great comedian rocking and rolling through recording sessions as Genie, trying out a number of different rapid-fire ideas for a variety of familiar scenes and sequences. The featurette is capped off with a wonderful tribute to Williams that managed to generate a tear or three by the time it came to an end.
Ron & Jon: You Ain't Never Had a Friend Like Me – Directors Ron Clements and John Musker recollect on their friendship and their working relationship in this nice little featurette that's far more informative and entertaining than I expected it to be.
Aladdin: Creating Broadway Magic – Long (too long), almost 20 minutes, featurette looking at Disney's Broadway adaptation. Basically a very lengthy commercial.
Unboxing Aladdin – Disney Channel star Joey Bragg, he plays Joey Rooney in the show "Liv and Maddie," spends five minutes chronicling a number of the animated Easter Eggs found inside the film. Insufferable.
Genie 101 – Aladdin voice actor Scott Weinger talks pop culture, Middle Eastern history and literary origins in this fast, fun and informative extra that I actually would have liked to have run longer.
A code for a Digital HD Copy of the film along with a DVD version are included with this release.
FINAL THOUGHTS
Disney offers up another wonderful Diamond Edition, giving Aladdin a sensational hi-def makeover fans owe it to themselves to get a look at it. One of the best Blu-rays of 2015.