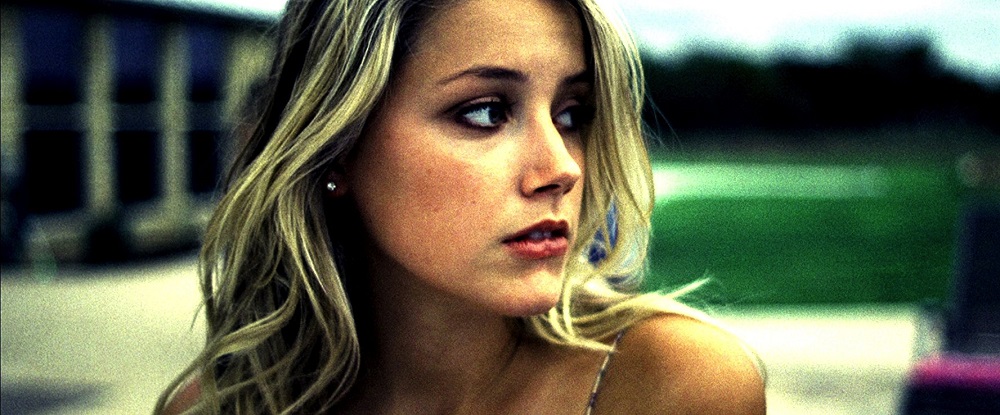 a SIFF 2013 review
Levine's Mandy Lane Worth the Wait
Mandy Lane (Amber Heard) is the teenage beauty all the boys at school secretly lust after. An orphan raised by a caring aunt (Peyton Hayslip), she tries to keep to herself, and along with best friend Emmet (Michael Welch) is comfortable being a social outcast. But things change after the two of them agree to head out to a party thrown by a group of the popular kids, a subsequent tragedy having a catastrophic impact on both their lives.
Fast forward and Mandy is now friends with those popular kids, and while she's just as prim, proper and virginal as ever, that doesn't mean she's above hanging out with the likes of Chloe (Whitney Able), Marlin (Melissa Price), Red (Aaron Himelstein), Bird (Edwin Hodge) and Jake (Luke Grimes) all the same. When the group heads out for a weekend away at Red's secluded Texas farm it is an opportunity for the boys to put the moves on their object of desire while the girls try to chip away at their new friend's angelic demeanor, everyone certain they can put Mandy's supposed purity to the test.
It's at that point the bloodshed starts. When that happens, all bets are off as far as the old school '70s-style slasher film All the Boys Love Mandy Lane is concerned. Directed by Jonathan Levine (Warm Bodies), with a script by Jacob Forman, the movie is a retro throwback presented with modernist flair and pizzazz making it something of a cross between a John Hughes comedy, Halloween, Slumber Party Massacre, Last House on the Left and Friday the 13th (with a dash of Scream thrown in for good measure). It has twists. It has turns. It has instances where characters are not entirely what the viewer is lead to believe. More importantly, it has an intelligent, character-driven wit that bellies the dastardly malevolent menace lurking at its core, Levine handling things with a confident blood-thirsty ferociousness that's honestly a moderate surprise.
Why surprising? The story behind the film's journey to domestic theaters is almost as interesting and as bizarre as the narrative itself prove to be, All the Boys Love Mandy Lane picked up for release in 2006 by brothers Bob and Harvey Weinstein before unceremoniously becoming part of a legal quagmire as Miramax and Disney began their divorce proceedings. This means this is Levine's first film, made before The Wackness, before 50/50, and while the fact he showed traits of being a great director with his freshman offering isn't that much of a shock, that he exhibited those traits inside a genre so completely divorced from either of his follow-up motion pictures somewhat is.
So why all the fuss now? What made this movie such a hot commodity the Weinstein's felt compelled to reacquire it and give it, if not a full theatrical blow-out, at least a limited release coupled with also being available via OnDemand? It's good, it's really that simple, the film playing on recognizable horror tropes but doing so in a way that is compelling, suspenseful and a heck of a lot of fun. It is also a great showcase for a filmmaker at the start of his career, Levine juggling the labyrinthine tangents of Forman's screenplay with a lethally intoxicating precision that's impressive.
Not that we're talking about some sort of earth-shattering game changer. The film follows a familiar path, and once the bodies start to pile up it's easy to guess who's going to fall prey to the murderer's blade next. Also, while the climactic turn of events are nicely staged and even more cleverly revealed, they're not exactly as big of a surprise as Levine, Forman or anyone else involved with the film's creation probably intended them to be.
Even so, this is a really good genre effort filled with solid performances (especially from Heard, in one of her first major roles, as well as Welch, Able and Anson Mount, playing the farm's mysteriously charismatic caretaker). The film also features marvelous camerawork from television vet Darren Genet (About Cherry, "Vampire Diaries"), his washed-out images giving things a suitable retro aesthetic I immediately responded to. It also contains a great, rip-roaringly visceral score by Mark Schulz, his musical codas augmenting the on-screen action flawlessly.
All the Boys Love Mandy Lane isn't some long lost classic; I'd be lying if I tried to claim that it was. But it just as surely didn't deserve the ignominious fate of being placed on the shelf for seven full years while two warring studios ironed out their differences. The fact it has taken this long for the film to finally see the light of day is relatively ghastly, and I feel bad for Levine, Forman, Heard and everyone else involved that this was the disappointing hand dealt to them. Happily, it all seems to have worked out for, if not the best, something close to it, this high school slasher existential throwback a descent into terror I can't wait to add to my own personal library sometime soon.
Film Rating: 3 (out of 4)