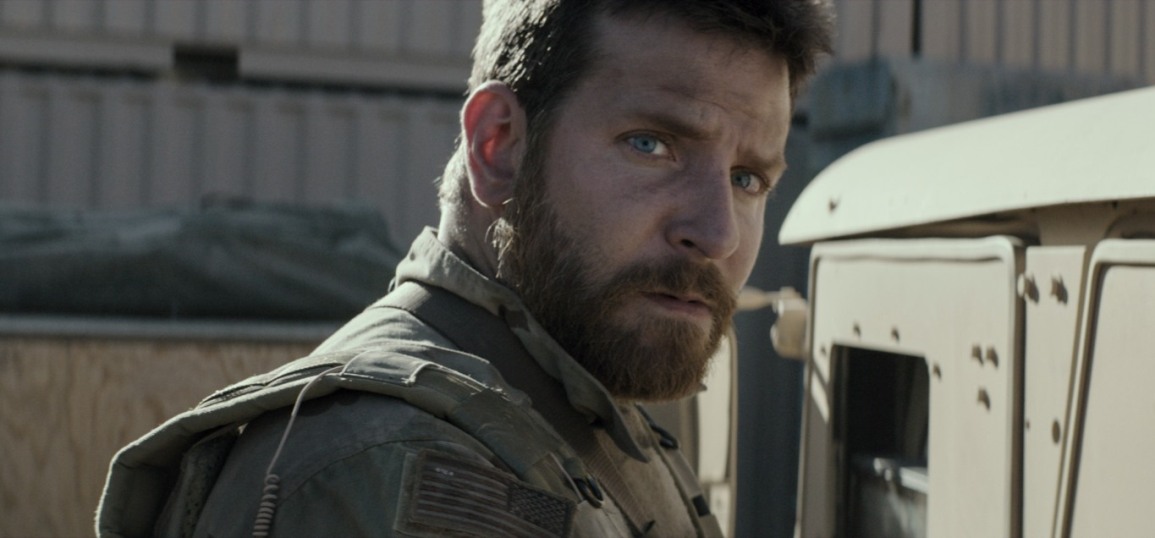 Immersive Sniper an Emotional Shot to the Heart
God. Country. Family. For Navy SEAL and pinpoint sniper Chris Kyle (Bradley Cooper) these aren't just words, they're a mantra, ideals he lives every second of his life keeping unambiguously sacrosanct. He heads to Iraq with one thing in mind: keep every U.S. soldier safe, go above and beyond no matter what the cost.
But after four stressful tours putting the battlefield behind him isn't so easy. It isn't the unfathomable volume of recorded kills. The most lethal sniper in U.S. military history, Kyle is given the nickname "The Legend" by his fellow servicemen, a moniker intended as both a badge of honor as well as signifier to strike fear in the minds of the enemy. Instead, it is the memories of those he couldn't save, those that died while he felt they were under his watchful eye, that's what gives the SEAL nightmares, so much so they're putting an unfathomable strain on his marriage to protective wife Taya (Sienna Miller) and causing his children to worry about their father's health.
Based on Kyle's autobiography written with the assistance of Scott McEwen and Jim DeFelice, Clint Eastwood's American Sniper makes a fine companion piece to the director's previous WWII epics Flags of Our Fathers and Letters from Iwo Jima. It would also make an almost perfect double-bill with Kathryn Bigelow's Academy Award-winning The Hurt Locker, the two films looking at the consequences and effects of battlefield violence with uncompromising, icily focused eloquence that's nerve-jangling.
But where that movie kept its attentions firmly rooted in what was happening on the ground in the Middle East only hinting at the personal emotional traumas to come on the homefront, Eastwood's effort splits its focus between the two, and whenever Kyle returns home to Texas the movie loses a great deal of its penetrating majesty. There is an odd uncertainty to these sojourns that's frustratingly incomplete and hurried, reducing Taya to the thinnest of dimensions painting her in borderline patronizing brushstrokes that drown the majority of the scenes between her and her husband in melodramatic cliché. It's a tonal imbalance the film almost can't overcome, Eastwood and screenwriter Jason Hall (Spread) coming perilously close to doing their subject a grave, close to insulting injustice.
Emphasis on 'Almost.' Because, truth be told, American Sniper is a powerful, compulsively energetic war drama that's more often than not impossible to take one's eyes off of. Everything going on in Iraq, all of the stuff immediately connected to what is happened (or had happened) on the battlefield is aggressively stunning, achieving a level of bludgeoning authenticity that's awe inspiring. Eastwood's exacting, documentary-like eye for detail allows Kyle's exploits to have an exactitude and honesty that is incredible, moments sprinkled throughout that sent shivers down my spine and planted a lump in my throat I felt in some ways would be there forever.
More importantly, the film's ace in the hole is Cooper, the two-time Oscar-nominee delivering a career-best performance that goes well beyond impersonation or caricature. He digs deep, disappearing completely into the role, his unwavering commitment to his fellow soldier radiantly paralleled with his indecisiveness and emotional distancing as it pertains to his wife and kids. It's an astonishingly balanced portrait, one that doesn't sugarcoat any aspect of Kyle's personality while at the same time doing full justice to his selfless service to the country he loved.
The film is stunningly shot by frequent Eastwood collaborator Tom Stern (Changeling, Million Dollar Baby), the images having a bright, sharply defined look that's disquieting. The sound design is also incredible, while editors Joel Cox (Unforgiven) and Gary Roach (Jersey Boys) do some extraordinary work where it comes to all of the sequences depicting Kyle's SEAL training as well as all of his experiences during those four tours in Iraq. In many ways it is one of the most immersive films of the director's long and storied career, achieving a level of intimate exactitude that's staggering.
All of which makes the failure to juxtapose the two sides of Kyle's life all the more disappointing. At the same time, even with this more than obvious shortcoming, American Sniper is a vital, organically poignant experience that got under my skin. Coupled with Cooper's magnificence, Eastwood has delivered another overall winning entry to his impressive oeuvre, this human story of survival and sacrifice a shot to the heart almost impossible to recover from.
Film Rating: 3 out of 4