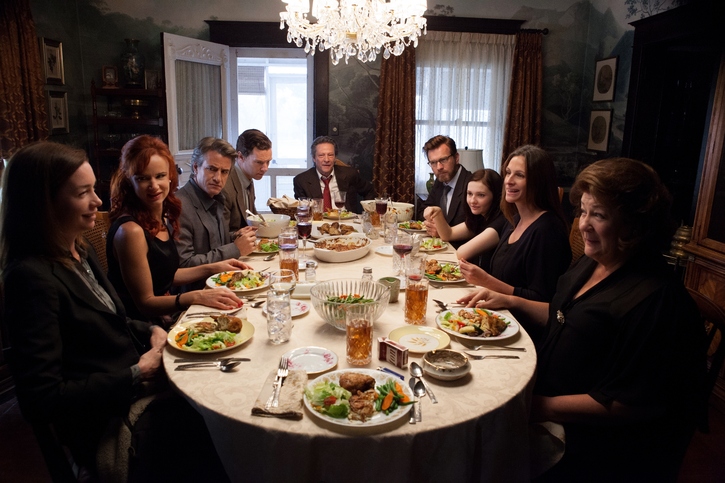 Cantankerous Osage County a Vitriolic Family Reunion
The Weston family has been reunited. Father and husband Beverly (Sam Shepard) has gone missing, his cantankerous headstrong wife Violet (Meryl Streep) not seeming particularly bothered by his mysterious absence. Youngest daughter Ivy (Julianne Nicholson) feels compelled to bring her sisters into the mix, calling estranged eldest child Barbara (Julia Roberts) in hopes she'll come back to the family homestead to help ease their mom's frazzled and fractured mind.
She arrives, husband Bill (Ewan McGregor) and daughter Jean (Abigail Breslin) in tow, but she doesn't want to be there. Certain things are not going tooverly well ay home, and the last thing she wants to be dealing with is her mother's mood swings especially if Vi has been indulging in her passion for painkillers once again. But when tragedy unexpectedly strikes Ivy discovers she's the one expected to take charge and keep the family moving forward, especially when flighty middle sister Karen (Juliette Lewis) arrives with her older fiancé Steve (Dermot Mulroney). When aunt Mattie Fae (Margo Martindale), her husband Charlie (Chris Cooper) and their son Little Charles (Benedict Cumberbatch) get thrown into the mix all sorts of chaos is bound to happen, the war between Violet and Ivy the ironic catalyst that could lead to reconciliation if everyone at the dinner table can somehow let bygones be bygones and allow past demons to rest in peace.
As if. Based on Tracy Letts' Tony award-winning play, director John Wells' (The Company Men) adaptation, scripted by the playwright, of August: Osage County isn't for the faint of heart as the family at the center of it all isn't exactly of the warm and fuzzy variety. There is love, yes, especially between the sisters, but the slithery demon who is the matriarch of the Weston clan seems intent on trying to gobble it all up for herself whether or not her children feel like giving it to her. She's not a good mother, needy and selfish, but she does care for her three daughters whether she cares to admit it to them (let alone herself), and while she's great at keeping the truth as it relates to herself at arm's length she's more than willing to vomit it upon everyone else at every opportunity.
But like a Tennessee Williams play drug through the Oklahoma mud, as despicable and as ugly as much of what transpires over a couple days with the Westons might be it's still a heck of a lot of fun to behold. Each character, no matter how brief the time they have on the screen, is a complicated morass of human frailties and failings, each trying their best to trudge their way through them as they look to find a semblance of happiness and peace they rarely get the opportunity to know. It's crackerjack stuff filled with snippy bits of dialogue and acid-drenched moments of brutal honesty that smacks the viewer across the face, and for those who like this sort of thing than this is a movie to see right away.
It helps that the all-star ensemble is each at the top of their respective games, Cooper, Martindale, Breslin, Lewis and Nicholson notable standouts giving performances worthy of as much acclaim and notice that can be thrown their respective ways. As for Roberts, it is possible that she's never been better, even her Oscar-winning turn in Erin Brokovich not quite as detailed or as crazily multifaceted as the character she's asked to inhabit here. Ivy is a wreck even if she doesn't fully comprehend that this is the case, the actress fearlessly diving into her more tyrannical aspects even as she manages to make her a compassionate woman of substance worth caring about at the exact same time.
Then there is Streep. What does one say about today's greatest living actress that hasn't been said a thousand times before? Vi Weston is a snake in matriarch's clothing, clutching her cigarette butt like six-shooter and holding onto her Adderall as if it were life itself. Is she over the top? Is she chewing the scenery? Is she traipsing through the film as if she's the end-all be-all of every single scene she happens to appear in? You bet she does, Streep unapologetically taking hold of the film's reins and not caring a lick what anyone else might think about it.
As great as she is, and she is magnificent, her titanic portrait does create something of a minor tonal imbalance in that the central thrust of the story is more concerned with Ivy than it is with her. Additionally, as detailed and character-driven as Letts' scenario might be, the melodramatic histrionics can get silly as things progress, some of the climactic revelations inherently absurd. This makes the focus on Violet, whether intentional or not, even more unfortunate, the emotional strengths of the drama minutely undermined because Streep dominates so completely.
Then there is the ending. The less said here the better, one doesn't want to ruin the climactic surprises, after all, but there is one major change that Letts and Wells make from the play that, even for those who have never seen the theatrical production and have no idea what I'm talking about, still feels like a misstep. You get the feeling that the movie understands just how dark it is, just how abhorrent the world it is exploring can be. As such it wants to ease the pain for the audience, leave them with a modicum of sparkle and hope that frankly isn't justified. While the final notes are well performed that doesn't make them any easier to swallow, and honestly I'm just not certain what it is the filmmakers hoped to accomplish by making this change from the source material.
Be that as it may, August: Osage County is certainly unlike most every other drama I've had the good fortune to see in 2013. It isn't afraid of darkness, doesn't mind going straight into the center of emotional mine fields risking total annihilation. Letts and Wells know audiences aren't as easily alienated as some might think, and when being treated with intelligence and respect are typically willing to be led into corners lesser filmmakers would be unwilling to tread. The movie is far from perfect, but that doesn't make it any less compelling or inherently mesmerizing, Streep and Roberts taking center stage with explosive aplomb delivering unforgettable performances fans of both actresses would be foolish to miss.
Film Rating: 3 (out of 4)