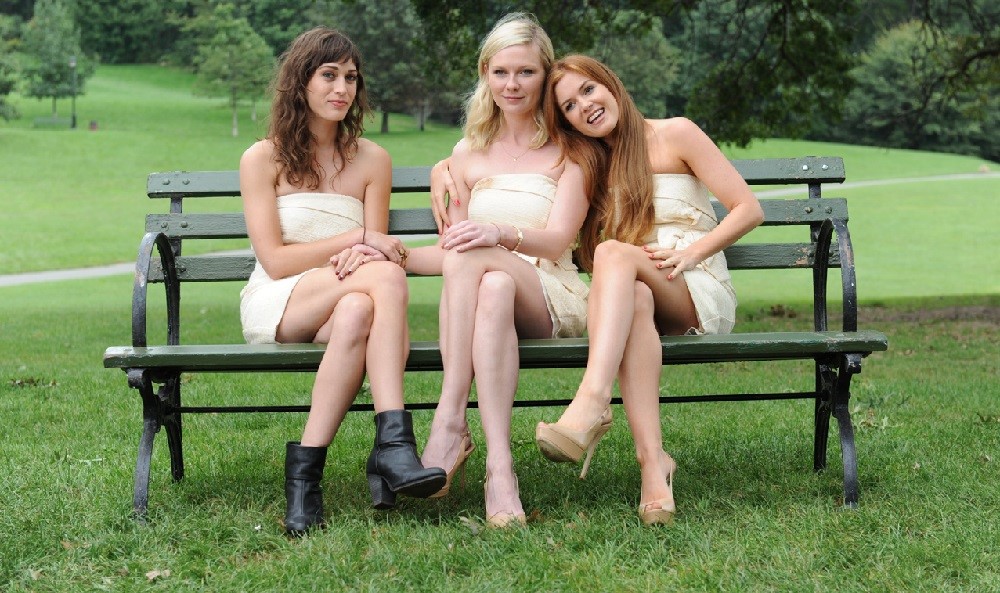 Raucous Bachelorette a Wild Walk Down the Aisle
Becky (Rebel Wilson) is getting married. She's brought old high school clique back together, asking former best friend Regan (Kirsten Dunst) to be her Maid of Honor. Also along for the ride are the sarcastically sexual Gena (Lizzy Caplan) and the ditzy-yet-lovable Katie (Isla Fisher). On paper, this group is a gaggle of complete opposites. In reality, they are as close-knit a group of friends as anyone is likely to ever be lucky enough to find.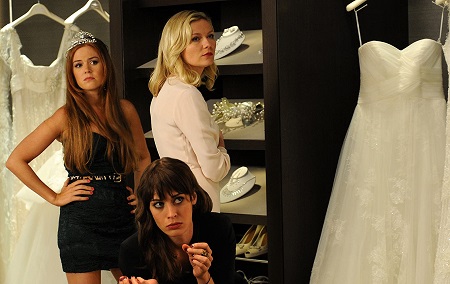 Not that this makes the night before the wedding any less chaotic. Regan is upset she's not the first to walk down the aisle, and she's intent on throwing a bachelorette party so spectacular it will become an instant legend. But Becky doesn't want that, and when she puts her foot down and stops it from happened her three bridesmaids clandestinely head into town for an after-hours shindig all their own.
Comparisons to The Hangover are unavoidable, both that hit comedy and Bachelorette dealing with a wild night gone wrong involving the friends of someone hours away from walking down the aisle. But writer/director Leslye Headland's debut is much more complicated than that, finding a ribald and risqué way to dive headfirst into female relationships, examining them in ways that few films, let alone comedies (including last year's smash Bridesmaids), seldom have. Adapting her own play, she's delivered a foul-mouthed exposé that's as hilarious as it is profound, touching as it is uncouth, and while the outcomes are never in doubt, getting there is so much fun the lack of anything original in regards to the climactic moments is nowhere near the problem it easily could have been.
Dunst is hysterical, but her ferocity is colored with a passionate depth of pain and self-inflicted suffering that's affectingly palpable. She's the sort of Type-A firebrand that's become something of a modern stereotype. Dunst makes Regan a relatable figure of insecure doubt a heck of a lot of us can sadly relate to. This is a naked performance, raw and emotionally unvarnished, the actress proving once again she's one of the more criminally underrated talents working in motion pictures today.
Caplan and Fisher also shine, but their characters don't have near as many shadings or prove to be quite as interesting as Dunst's Regan. The trio does have melodious chemistry with one another. Somewhat more surprisingly, they have it with their male co-stars, James Marsden, Kyle Bornheimer and Adam Scott, as well, each of them playing a part in their late-night debauchery. But this movie rightfully belongs to the women, and whether screaming obscenities, shouting off-color putdowns or embracing one another as sisters their journey resonated with me every step of the way.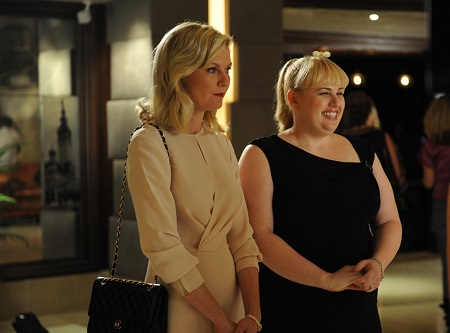 As great as these core relationships are, Headland's script doesn't go anywhere unexpected. The final scenes fall somewhat flat, partially muting the character-fueled hysterics that are so continually winning. Becky's wedding isn't so much a letdown as it is a bit of a snooze, and I'd be lying if I didn't admit to finding that more than a tad disappointing.
No matter. When Bachelorette gets things right, when it is running at full-speed barking out what's on its mind and presenting its trio of heroines as the sympathetic complex human messes they are, the comedy soars to heights that had me sitting in the theatre holding back cheers. Headland's confident filmmaking is intoxicating, and because of that so is her movie. When her next effort is comes courting I'll be first in line to walk down the aisle hand-in-hand no matter what it might be.
– Review reprinted courtesy of the SGN in Seattle
Film Rating: 3 (out of 4)