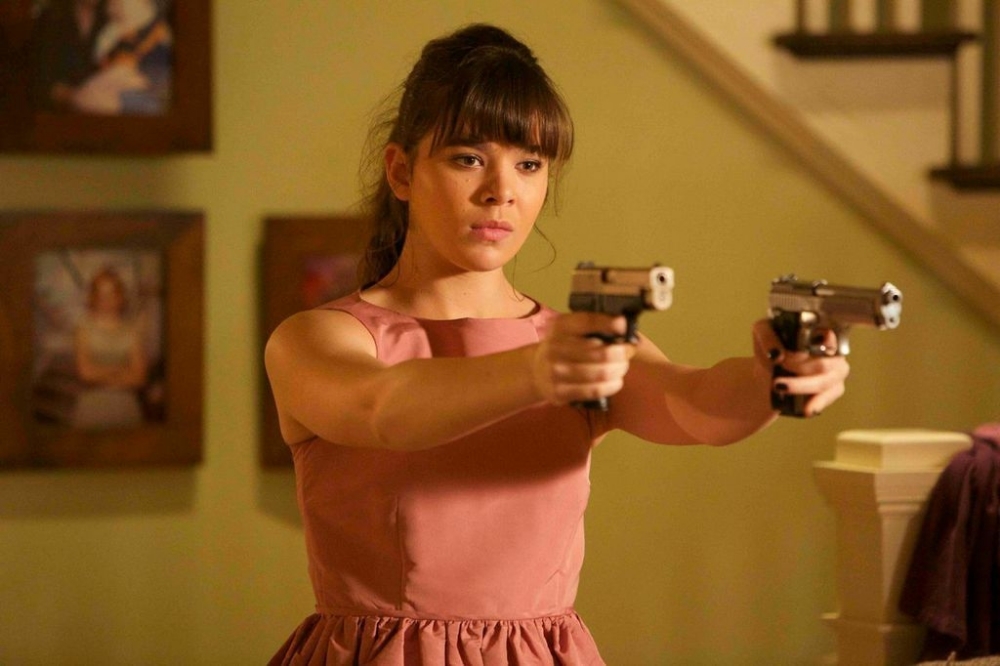 Barely Lethal Lacks a Killer Instinct
It's easy to wish Barely Lethal is a better movie than it actually is. It's got a winning cast full of talented young actresses including Oscar-nominee Hailee Steinfeld (True Grit), "Game of Thrones" favorite Sophie Turner and Disney Channel darling Dove Cameron ("Liv and Maddie"), gets winning comedic support from veteran Rachael Harris (Diary of a Wimpy Kid, The Hangover) and features a lithe and limber Jessica Alba more than willing to make as much fun of herself as she can. It even has Samuel L. Jackson in a central role, and while on the surface that's nothing too special (the guy isn't in everything, it just feels like he is) he still has enough winking fun to make his presence mean more than it by all accounts should.
But the movie is just too inconsequential, too simplistic (which is saying something considering the outlandish plot, but more on that in a second), feels too much like a Made-for-TV throwaway than it does a well thought out and competently assembled feature. John D'Arco's script is more content to drop High School movie comedy references than it is to forge its own unique path, while Kyle Newman's (Fanboys) direction is solid if a little on the reserved side, his imprint on what's happening ultimately rather insubstantial.
As to that crazy, if not original, plot, things revolve around Megan Walsh (Steinfeld), otherwise known as number 83 by her fellow students at the Prescott School for Girls. See, she was lucky enough to be an orphan, scooped up by academy superintendent Maxwell Hardman (Jackson) and raised to be an assassin and super spy for the good old U.S. of A whether she wants to be one or not.
Emphasis on "not." After successfully completing her mission to capture notorious arms dealer Victoria Knox (Alba), she manages to fake her own death in the process, leaving the bullet-riddled world of Prescott behind in order to assume the identity of your everyday average high school senior. She enrolls as an exchange student from Canada, planting roots with the Larson family hitting it off with the clan's matriarch (Harris) while also becoming a bit hit with youngest son Parker (Jason Ian Drucker) thanks in large part to their mutual love of martial arts. But eldest Liz (Cameron) isn't so sure about the new girl under their roof, something's just off, and if given enough time she's certain she'll be able to figure out exactly what that is.
Problems can't help but ensue. For one thing, everything Megan knows about being a teenager she's learned from watching movies like Mean Girls, Clueless, The Breakfast Club and 10 Things I Hate About You. For another, a video of her thwarting a rival school's prank has gone viral, her face all over YouTube meaning Hardman knows she isn't dead. When her former spy school rival Heather (Turner) arrives in town Megan just figures its her old mentor's way of saying he's keeping an eye on her, the two girls back to trading punches like the old days as they duke it out to be the date of the hottest boy in school (Toby Sebastian) to the Homecoming dance.
Things are even more convoluted than that, another kid, Roger (Thomas Mann), also catching Megan's fancy, while at the same time Victoria has broken out of Hardman's clutches, eager to get her revenge against the girl who captured her, but even so D'Arco's screenplay has little energy propelling it forward. It does nothing with any of the high school movie clichés it's supposedly mocking while at the same time has trouble developing its characters. Additionally, the film pulls ideas and inspiration from a variety of sources ranging from Fast Times at Ridgemont High to Heathers to She's All That to Mean Girls to D.E.B.S. yet fails to make a single one of them its own, the lack of urgency downright perplexing.
Thankfully the film's impressive cast keeps things somewhat on the right track, Steinfeld in particular a beacon of pure joy and vivacious enthusiasm who the camera can't help but adore. She and Cameron end up making a terrific team, their blossoming friendship coming to life with a pleasant gracefulness I responded to completely. Harris also has some wonderfully tender, believably humorous moments as a single mother trying to do her best for the children she loves, while Mann steals countless scenes as arguably the film's most heartfelt, well-rounded character.
Yet none of it matters, not a single second of it, the final confrontations lacking on all conceivable fronts. Newman stages action with a lackadaisical matter-of-factness that's somewhat depressing, even a long in coming fight between Steinfeld and Turner doing little if anything to raise the viewer's pulse in any measurable way. But because the cast is so good, because they all treat the material with far more respect than it deserves, I find myself wanting to like Barley Lethal far more than I maybe should admit. Problem is, even with that being the case I still don't like it, which is probably more damning than if I just had hated the darn thing all the way through start to finish.
Film Rating: 2 (out of 4)