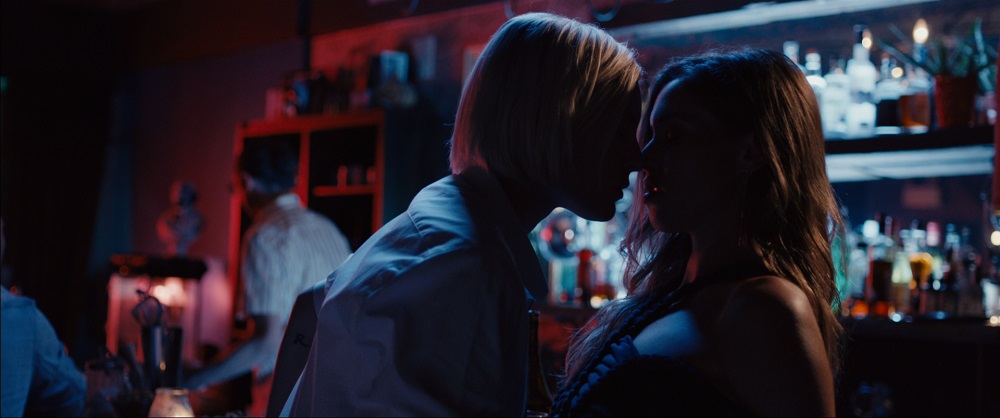 Sexually Adventurous Mouth Dramatically Underwhelming
Below Her Mouth is one of those films I'd almost rather not review if I could get away with it. Much like she hinted at with her 2015 revenge-thriller 88, actor-turned-director April Mullen continues to showcase real promise behind the camera, her sense of style, pacing and narrative urgency impressive. The movie also thrusts into the spotlight an almost all-female crew as far as the major behind-the-scenes technicians are concerned, Maya Bankovic's impressively sweat-drenched cinematography, Michelle Szemberg's kinetically enthralling editing and Faye Mullen's authentically expressive production design all worthy of mention. Then there are the powerhouse performances from the two primary stars, familiar character actor Natalie Krill and Swedish supermodel Erika Linder anchoring things with a graceful urgency that's naturalistic and pure.
So what's the problem? I just don't think the movie works. Not as a romance. Not as a drama. While Stephanie Fabrizi's script means well, in some ways feeling like a lesbian reworking of Louis Malle's 1992 erotic classic Damage as both pictures deal with the nature of instant romantic and sexual longing between strangers, most of what transpires is far too contrived and facile to ever pass as authentic. These aren't characters, they're archetypes going through the motions of passing as three-dimensional human beings, thus caring about what is happening to any of them at any given moment proves to be frustratingly impossible.
It's a fairly standard setup. Fashion editor Jasmine (Krill), engaged to marry the handsome Rile (Sebastian Pigott), finds herself strangely drawn to the mysterious Dallas (Linder), a roofer working on the house next door to her own. After an encounter at a predominately lesbian nightclub, the two women give into their mutual attraction, entering into a torrid affair that could easily spiral out of control. Torn between this powerful, confidently sexual woman who has suddenly entered into her life and the quiet, reservedly masculine everyman she was planning to spend the rest of her life with, Jasmine isn't sure what to do, things for her playing out in a manner that's as confusing as it is complicated.
Much like it sadly was for many as it pertained to 2013's Blue is the Warmest Color, the major selling point as far as this film is concerned is going to be the high volume of explicit sex scenes, some of which might not be simulated. Unlike that Cannes Film Festival prize-winner, however, there is no complexity to the overarching scenario, the characters themselves thinly conceived caricatures who aren't particularly easy to relate to. More, the third act shenanigans involving Rile do not work, the man's actions being what they are more to add heated conflict to a story solely for the sake of putting it there, this hint of violent reprisal never coming from a place of value or authenticity.
What's annoying is that Mullen's delicate handling of things is impressive, the early passages where she visually develops the growing attraction between Jasmine and Dallas dripping in passionate longing. Her framing of certain sequences reminding me of the couplings in Lilly and Lana Wachowski's Bound and Patricia Rozema's When Night Is Falling, yet they also held their own distinctively idiosyncratic intensity I found undeniably captivating. But she shows no ability to soften or make worthwhile any of the more melodramatic and ponderous plot elements, and while things continually look terrific the emotional components barely have any pulse whatsoever.
Don't blame either Krill or Linder. Both actresses give themselves over completely to the material, doing all that is asked of them and more. The former has a winsome gracefulness that's enchanting, while the latter oozes carnivorous sensuality that's undeniably palpable. The two of them together are a dynamic pair, and it's easy to become enthralled by them, each woman doing what she can to make her respective character come alive in ways the script itself barely hints at.
I wish I felt differently about Below Her Mouth. It pains me to extol so many of its virtues yet in the same breadth state I don't think it's all that worthwhile as cinematic entertainment. The filmmakers are attempting something great here, and I applaud the efforts of Mullen and her talented crew on a number of levels. But I just didn't care what happened to either Jasmine or Dallas, wasn't interested in seeing whether or not their passionate affair was going to lead someplace other than tragic regret, wasn't curious to know if they'd end up together. This movie, for all its merits, did not work for me, and other than being a pretty, sexually adventurous calling card for the director, her creative team and the actresses at the center of the drama, I'm not sure there's a lot more to talk about.
– Review reprinted courtesy of the SGN in Seattle
Film Rating: 2 (out of 4)