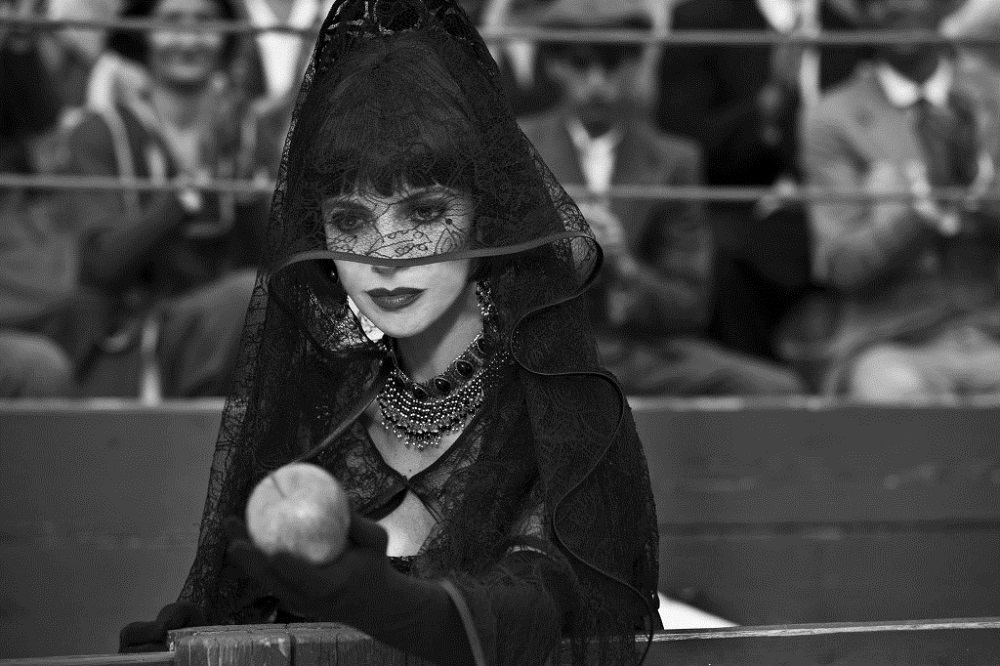 Silent Blancanieves Does Grimm Brothers Proud
A tragic accident in the ring has left celebrated Spanish bullfighter Antonio Villalta (Daniel Giménez Cacho) paralyzed. Watching him run down so violently has sent his wife into premature labor, the young woman dying in childbirth. This turn of events, however, has not gone unnoticed by Encarna (Maribel Verdú), the sexy femme fatale taking this as her opportunity to change her fortune and gain a position of power in Seville society.
A few years later the young girl, Carmencita (Sofía Oria), has been sent to live in the home of her still ailing father, a man she hasn't ever met. Dominating the household is Encarna, now her stepmother, and not wanting to be replaced she orders the child to work as a maid in order to earn her keep. But, unknown to her, Carmencita manages to sneak inside Antonio's bedroom, her presence bringing him back to life and giving him joys he thought had vanished forever.
Fast-forward again. Carmen (Macarena García), no a beautiful young woman, is still living within her own home as nothing more than a servant to the powerfully vindictive Encarna. After her father's mysterious death, she is led into the woods by her stepmother's chauffeur Genaro (Pere Ponce), his orders to facilitate her disappearance thus leaving his boss, and secret lover, the sole inheritor of Antonio's massive fortune.
But things do not go as planned. Carmen is saved by a troupe of pint-sized dwarf bullfighters, the small group astounded by the woman's beauty and captivated by her charms. One thing leads to another and suddenly this lost child, the daughter of a Spanish legend, has somehow reinvented herself as "Blancanieves," otherwise known as Snow White. Soon events conspire to put her back inside the same ring where her father met with tragedy, a place where now her wickedly evil stepmother plots to do the young woman an equally lethal bit of harm.
An adaptation of the familiar Grimm fairy tale, director Pablo Berger's (Torremolinos 73) Blancanieves is a hypnotic revelation. A silent motion picture in the same vein as The Artist, the filmmaker paints dexterously inventive pictures using music, performance and camera as his principal guides. It's astonishing, electric and alive all the way through, the darkness of the Grimm staple never shied away from, the movie filled with malevolent gothic undertones that are as intriguing as they are unsettling.
Can it feel like a bit of an overly elaborate trick? Sure, of course it can, but that's not entirely unexpected. Yet Berger has crafted a unique homage to the cinematic pre-sound days that still feels of the here and now. He taps into the emotional center of the story with ease, allowing Carmen's journey, as heartbreaking as it might at times be, to soar in ways neither fellow 2012 Grimm adaptations Mirror Mirror or Snow White and the Huntsman did not come close to achieving.
Verdú dominates as the Wicked Queen, tapping into the silent film aesthetic with ease. She is a glossy, vibrant, shimmering, sex and feminine take on absolute evil, pin-wheeling through the story like a lipstick-clad firebrand not to be messed with. The veteran Spanish actress takes control of the motion picture and refuses to relinquish it, delivering a performance as complex as any, including her iconic turn in Y Tu Mamá También, that she has ever given before.
Alfonso de Vilallonga's (My Life Without Me) invigorating score is the perfect guide merrily leading the viewer through the proceedings, while Kiko de la Rica's (Sex and Lucia) sparkling B&W camerawork is a model of intimate visual majesty. Berger keeps the pace moving briskly, while his staging of the final act speaks with a heartbreaking surreal elegance that left me speechless, all of which makes Blancanieves a timeless one-of-a-kind spectacle the both brothers Grimm would have been proud to have called their own.
Film Rating: 3½ (out of 4)