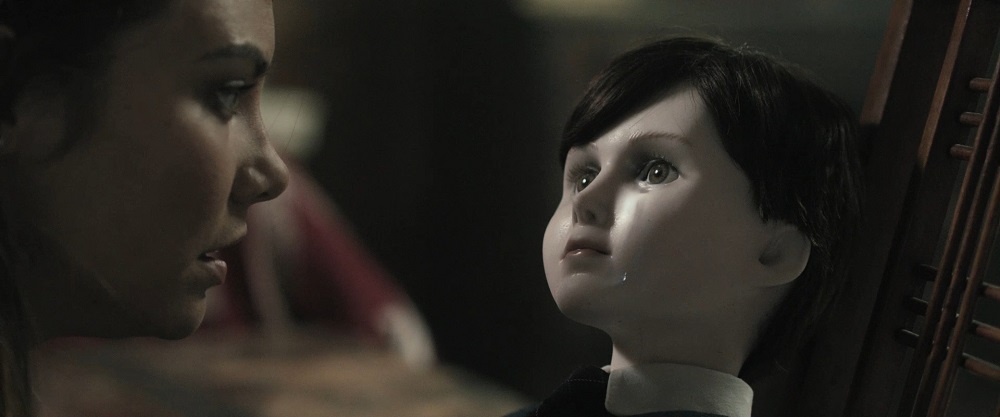 Creepy Boy Unveils a Twist Not Worth Sharing
American expat Greta Evans (Lauren Cohan) has come to an isolated mansion deep in the heart of the British countryside to escape a violent past filled with pain and tragedy. She has been hired by the wealthy Mr. and Mrs. Heelshire (Jim Norton, Diana Hardcastle) to be the nanny to their young son Brahms, to look after him while they are away on holiday, the pair's first in over 20 years. The young woman will be aided by the local grocery store owner, Malcolm (Rupert Evans); and not only will he drop by with food once a week, he'll also be the one making sure she gets paid.
Greta is looking forward to this adventure, sure it will ease the pain of past traumas and allow her to give her heart to a child hopefully worthy of it. Thing is, even though the Heelshires treat him as one, even though they have an extensive list of rules they implore the new nanny to follow to the absolute letter, Brahms is not a child. He is, in fact, a doll, an object of porcelain, plastic and cloth, and as such Greta is at something of a loss as to the best way to handle this seemingly absurd situation.
The Boy did not screen for the press in Seattle. As director William Brent Bell's last film was the found footage abomination The Devil Inside, one would be forgiven if they just assumed this one was all sorts of terrible and that the studio was afraid of letting the critical community get a look at it. Thing is, this creepy suspense-thriller isn't terrible, it isn't a waste of time, and, if anything, is rather solid, if admittedly a little silly, for the majority of its 97-minute running time.
So why play things so close to the vest? I can't help but think this had everything to do with the final 15-20 minutes of the film. There is a twist here, a big one, and while it isn't particularly difficult to figure it out, it's also so easy to ruin, trying to write about the film without doing so is like trying to tap dance on eggshells hoping none will break. It's an almost impossible proposition, so it makes sense why the studio would rather not have early reviews sitting out there, the potential to give away precious secrets exceptionally high.
Said secret is something of a moderate kiss of death, because, up until this extreme change of direction, The Boy is a fairly engaging B-grade chiller with supernatural overtones I was thoroughly enjoying. Bell's direction is crisp and confident, while Cohan is a strong heroine, "The Walking Dead" actress doing a nice job bringing all of Greta's various insecurities and fears to life, yet doing so with an underlying sense of strength that's terrific. Meanwhile, newcomer Stacey Menear's script manages to bristle with tension even if there's an undeniable amount of goofy silliness running throughout, the constant mystery whether or not the doll is truly possessed by Brahms' spirit far more effective than I anticipated it would be.
It's obvious early on that a character mentioned only in passing and with hushed, fearful tones will end up making their presence known at some point, so when they arrive it isn't much of a shock, nor is the effect they end up having on Greta's increasingly fractured psyche. Problem is, even if these moments are a little ham-fisted, not entirely meshing with what has previously transpired, they are not the reason the movie ends up flying off the rails. It's what happens after this individual's introduction, when they get potentially violent, when they force an unseen hand, that's when things go too nuts for their own good, taking the film in a direction it really shouldn't be going in.
I could tell you about the various horror films and thrillers this horror opus suddenly transforms into, but to do so would ruin the twist. I could talk about the various elements that make all that happens take a sudden left turn into the frustratingly absurd, but that, too, would spell things out far too clearly. What I can say is that, even though these climactic sequences are well directed, even though they're as well-produced as everything that preceded them, they just don't work. These moments take a spooky, nicely acted piece of genre hokum and make the film something it feels like it should never have been, adding a layer of exploitative superciliousness that's not so much distasteful as it is unfortunate.
Which sucks because, up until then, I liked this one. The movie is craftily shot by Daniel Pearl (No One Lives), crisply edited by Brian Berdan (The Signal) and beautifully scored by Bear McCreary (The Forest), while John Willett's (The Grey) suitably gothic production design sets the mood perfectly. But it's all for naught, and while I can't say what transpires ends up making The Boy a bad film, it does have the unfortunate effect of making it a less interesting one, one I'm not altogether certain is worthy of the second look a big part of me wants to grant it.
Review reprinted courtesy of the SGN in Seattle
Film Rating: 2 (out of 4)