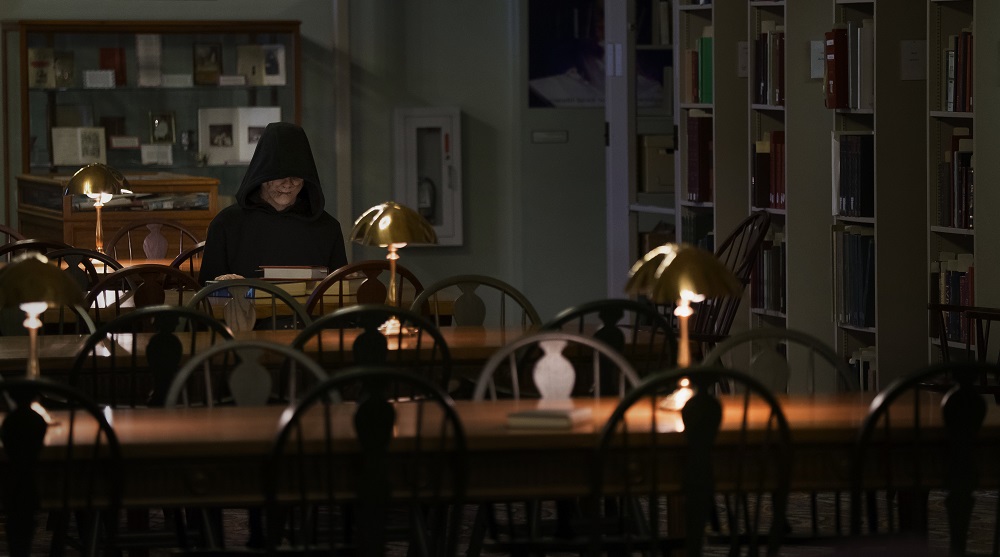 Forgettable Bye Bye Man Not Worth Saying Hello To
After Elliot (Douglas Smith), his bubbly girlfriend Sasha (Cressida Bonas) and athletic best friend John (Lucien Laviscount) move into an old, vacant house located near campus, the three college students are quickly weirded out by a number of strange occurrences that go bump in the night. On a whim, they attempt a séance with another friend, Kim (Jenna Kanell), who claims to be psychic, all of which leads to the revelation of a mysterious entity known only as "The Bye Bye Man." Now all four are being stalked by a malevolent entity and its gruesome hound, seeing things that are not there almost as if just knowing this creature's name is all it takes to drive the lot of them mad.
Back in 1995 director Stacy Title made The Last Supper, a nifty black comedy about a group of high-minded best friends who take it upon themselves to murder those they think the world could do without, granting them a final dinner where the condemned unknowingly plead their case for survival before being served a glass of tainted wine. The movie starred Cameron Diaz, Bill Paxton, Courtney B. Vance and Ron Eldard (amongst other notable names), with the great Ron Perlman delivering the climactic coup de grace as a potential victim who might be even more of a literal devil than the close-knit, well-intentioned young murderers initially realize. A deliciously dark piece of a brutal satire, while not exactly subtle Title's feature-length debut has held up remarkably well these past two decades, and it's a pity the film's relative success didn't lead to more directorial opportunities for the filmmaker.
Working from a script written by her husband and frequent collaborator Jonathan Penner (Let the Devil Wear Black), itself based on the book The Bridge to Body Island by occult historian Robert Damon Schneck that supposedly chronicled a real 1990 event involving three college students in Sun Prairie, Wisconsin, Title returns to theatrical filmmaking with the supernatural horror-thriller The Bye Bye Man. Sadly, the director's fourth film, and the first to receive a wide release since The Last Supper, wasn't worth the wait, and even though there is a solid idea fueling things there's precious little about any of this for genre fans (or Title supporters) to get excited about.
I do like the vibe the filmmaker is shooting for. There is an unsettling ambiance to this Candyman meets Nightmare on Elm Street meets Oculus madness that's suitably unnerving, a couple of the early red herring are-they-a-dream-or-aren't-they moments exceptional. Casting Pan's Labyrinth, Hellboy and Crimson Peak shape-shifter Doug Jones as the titular evil spirit was also a stroke of obvious genius. He's a River Styx boatman who leads his own personal Cerberus around via a very short leash, the gifted demonic mimic able to contort his body in a manner that ups the anxiety quotient every time he makes an impromptu appearance.
But Smith, Laviscount and Bonas have zero chemistry, and never for a second did I believe the bonds of friendship that supposedly existed between them were made of anything stronger than tissue paper. They aren't particularly appealing to be around, their collective emotional distress negligible at best. Bonas, a rising British starlet known more for her royal love life than she is her acting, notably struggles, the youngster never connecting with Sasha, making her devolving psychological status more unintentionally laughable than it is unfortunately anything else.
Veterans Cleo King, Carrie-Anne Moss and   Faye Dunaway (of all people) pop up in key supporting roles, adding a little gravitas to an enterprise that's otherwise lacking in any semblance of it. There's also a bizarre, fitfully amusing prologue (which later morphs into an impromptu flashback) featuring Leigh Whannell, the Saw and Insidious scribe having what appears to be a grand time hamming it up as a journalist who should have left a story involving a perplexing 1969 murder spree well enough alone. I should also say that genre veterans The Newton Brothers (Ouija: Origin of Evil, Proxy) once again provide a sensational score, their music during the otherwise ponderous and forgettable climax gifting the film with a sense of energy and tension it otherwise wouldn't have.
I guess it really isn't a gigantic shock that The Bye Bye Man isn't good. Its January release date coupled with a decided lack of a marketing push on the part of the studio aren't exactly omens that those holding the purse strings had a lot of faith in the project. Still, with Title on board as the director and with a somewhat disquieting premise that had me admittedly intrigued, I wanted to give this low budget shocker the benefit of the doubt, the likelihood it could have been right up my horror alley strong. But the three main actors have trouble delivering performances I could even somewhat feign interest in, while the script itself is a compendium of clichés and boneheaded lunacies that grew increasingly tiresome as the narrative progressed. It just doesn't work, and the likelihood I'll think or say this unremarkable film's name again anytime soon is nominal at best.
– Review reprinted courtesy of the SGN in Seattle
Film Rating: 1½ (out of 4)