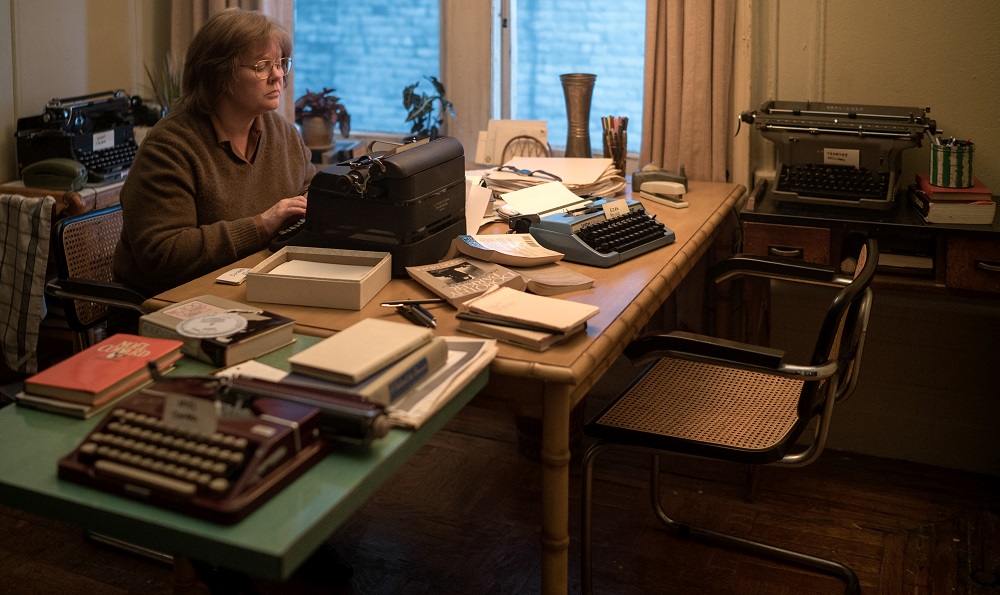 McCarthy and Grant Shine in Eloquently Moving Can You Ever Forgive Me?
Once upon a time Lee Israel (Melissa McCarthy) was a vaunted celebrity biographer who chronicled the lives of artists like Katherine Hepburn, Tallulah Bankhead and Estee Lauder. But now, in 1991, years after her heyday, the author barely has the money to keep a roof over her head and buy her beloved feline its favorite brand of cat food. It doesn't help that no one wants to hire her because she comes across as being mean and uncaring while also having something of a foul mouth. It also doesn't help that she's a raging alcoholic who refuses to admit she has a drinking problem. Heck, even Lee's agent (Jane Curtin), someone who believes in her talent, wants little to do with the author, their last one-on-one meeting devolving into a shouting match where far too many unkind, if still truthful, words ended up being splashed between them as if they were verbal neutron bombs.
And, seemingly just like that, everything changes. Almost by chance Lee lucks into a new money-making enterprise that not only puts food on the table, but also makes her feel like a successful writer again. Thanks to her intimate knowledge of various celebrities due to her biographical research skills, she discovers she has knack for crafting forged typed letters purportedly written by the likes of Dorothy Parker and Noël Coward (just to name two). She is so good at it she's able to turn her life around in a metaphorical blink of an eye. But when collectors grow suspicious that these letters might be something less than genuine, Lee is forced to bring friend and fellow drunkard Jack Hock (Richard E. Grant) into her confidence and utilize him as a middleman to help facilitate additional sales. All the while the FBI is getting closer to busting up the author's little impersonation game, and if she's not careful the next place she's going to be doing any writing will be behind bars at a federal penitentiary.
Adapted from Lee Israel's best-selling memoir Can You Ever Forgive Me?, director Marielle Heller (The Diary of a Teenage Girl) and screenwriters Nicole Holofcener (Enough Said, Lovely & Amazing) and Jeff Whitty have done a tremendous job bringing this fantastical story to the screen. Featuring a performance from McCarthy that's an undeniable triumph and arguably the Bridesmaids Academy Award-nominee's best work yet, the movie leaps over author biopic clichés to become something incredible. It's a tremendously entertaining motion picture overflowing in laughs, tears, insights and numerous other indelible moments, all of it centered on an unforgettable character whose larger-than-life antics confirm once again that truth truly is far stranger than fiction could ever hope to be.
The heart and soul of the movie is the relationship between Lee and Jack. Their "meet cute" moment is anything but, the two making fast friends in a local New York City gay bar as they get increasingly sloshed. What follows is a pure friendship with more than its fair share of speed bumps and potholes. This only makes their bond all the more believable, allowing their emotional fissuring as Lee's forgery scheme starts to fall apart to feel heartbreakingly authentic as they slowly turn on one another for reasons neither of them fully comprehend.
One of the great, unsung character actors of the past three-plus decades, Grant is gifted a role far beyond the ones he's typically been offered these past few years. It is a spectacular reminder of just how marvelously talented he's always been, and whether in films as varied as Robert Altman's Gosford Park, Jane Campion's The Portrait of a Lady, Philip Kaufman's Henry & June, Bruce Robinson's Withnail & I and even Michael Lehmann's Hudson Hawk, his ability to steal scenes from his oftentimes more vaunted costars as always been second to none. His Jack is more than an early '90s effete gay caricature. Instead, he is a soulful wanderer trapped in the middle of a world and a society that doesn't know what to do with him, his excessive neediness to assist Lee while battling his own self-destructive tendencies to undo anything good that might be happening to him a continual wonder to behold.
It helps that McCarthy burns up the screen as Lee Israel. A perfect melding of actress and role, after seemingly being content to slum in a handful of forgettable comedies like the harmless Life of the Party, the disastrous The Happytime Murders and the ghastly Identity Thief the talented comedian elevates her game to a level I don't think she's ever risen to before. McCarthy's performance is a brutal beauty, the level of regret, angst, anger and despair bubbling beneath the surface spectacular. But there is an underlying splendor to Lee that cracks through the façade of her distrusting and frightened exterior, the innate joy she feels as each letter brings unabashed happiness to those she's selling them to fueling her creative engine as it has never been energized before. The way McCarthy is able to bounce back and forth between so many assorted emotional plateaus is breathtaking, and I'd be lying if I didn't admit to being gobsmacked by just how much I was moved by a pair of climactic monologues that truthfully encapsulate all the various themes Heller, Holofcener and Whitty have been cleverly playing coy with for the majority of their film's briskly paced 106 minutes.
There were times where I was unexpectedly taken out of the story. While none of the supporting actors give a bad performance, a couple of them are so recognizable (most notably McCarthy's frequent collaborator and husband Ben Falcone) they unfortunately stand out inside the feature for reasons that have nothing to do with the narrative. They just don't vanish into the proceedings as easily as the two headlining stars do, and other than a spellbinding Dolly Wells as a bookshop owner who Lee has romantic longings for most of the secondary characters don't have that much room to live and breathe within the confines of this story. I'll also say that when the hammer falls and the FBI make their move, Heller rushes things a little, and I felt like the brutally sharp edge of the knife the majority of her film had been delicately dancing a jig upon was inadvertently dulled because of this.
Not that it matters. Brandon Trost's (The Disaster Artist) painterly cinematography is a constant revelation, while editor Anne McCabe (Margaret) cuts many of the signature scenes together in ways that are viscerally enthralling even when they're just showcasing quiet little moments of two people drinking scotch in a dimly lit bar. Much like she did with the criminally underappreciated The Diary of a Teenage Girl, Heller's empathetic attention to detail cuts through all the bull while also never allowing the crap to rise to the surface with any lasting urgency. Instead, she allows Can You Ever Forgive Me? to focus on the truth, in the end constructing a personalized drama of creativity, friendship and regret I'll be pondering every little facet of for quite some time to come.
– Review reprinted courtesy of the SGN in Seattle
Film Rating: 3½ (out of 4)