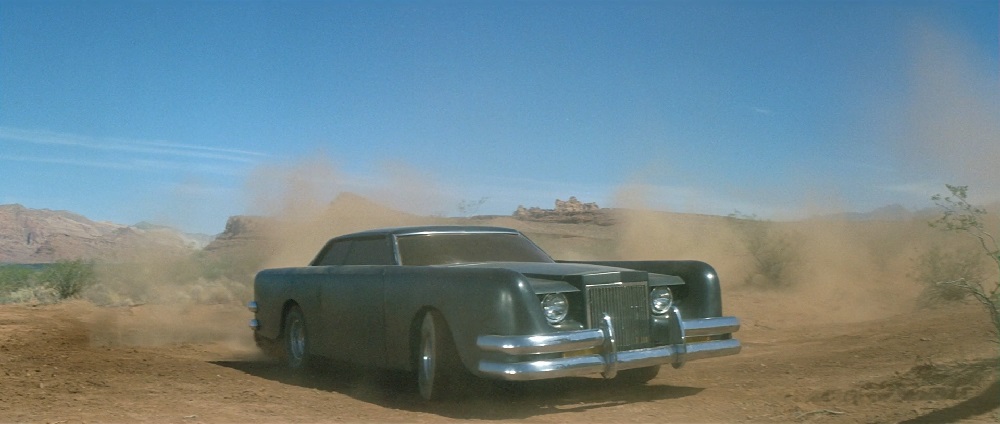 How does the Blu-ray/DVD Disc stack up? (all ratings out of 10.)
Movie
Video
Audio
Extras
Overall
SYNOPSIS
"Ten years of giving out traffic tickets, and all this in one day!"
–       Wade Parent 
CRITIQUE
I won't try to make the case that 1977's The Car is some unheralded, misunderstood, borderline lost B-movie classic about a supernaturally possessed tank-like motor vehicle assaulting the citizens of a small American town in the middle of the desert. It isn't, not by a long stretch, but that doesn't make it any less fun to watch. Director Elliot Silverstein's (Cat Ballou) opus, a movie he is more than willing to admit is an obvious attempt by studio bosses at Universal to make an on-land variation on Jaws, is pretty darn silly, there's no avoiding that, but it's also surprisingly well acted and exceedingly well put together, the veteran filmmaker engineering a number of solid suspense sequences that are far more effective than they arguably have any right to be.
The basics involve a small community under siege by the titular vehicle, new Sheriff Wade Parent (James Brolin) obsessed with stopping this mad killer while also trying to protect his two children and their beautiful elementary school teacher Lauren Humphries (Kathleen Lloyd) from being his next victims. His chief ally in this fight is a Deputy Sheriff named Luke (Ronny Cox), a recovering alcoholic who comes to believe the car is possessed by Satan himself.
What else is there to know? The movie is as ridiculous as it sounds. Yet, at the same time, it's kinetically shot by Gerald Hirschfeld (Young Frankenstein), stunningly edited by Michael McCroskey (Don't Be Afraid of the Dark) and lovingly scored by two-time Academy Award-winner Leonard Rosenman (Bound for Glory, Barry Lyndon). Silverstein manages to convince the entire cast to take things as seriously as if they were performing Shakespeare, while a couple of the death scenes are far more shocking and impactful than I could ever have remotely anticipated they would have been before watching the movie. For viewers in the right frame of mind, The Car is a heck of a lot of fun, and I for one can completely understand why it's developed such a passionate cult following ever since its initial 1977 theatrical release.
THE VIDEO
The Car is presented on a 50GB Blu-ray MPEG-4 AVC Video with a 2.35:1 1080p transfer.
THE AUDIO
This Blu-ray features English DTS-HD Master Audio 5.1 audio along with an English DTS-HD Master Audio 2.0 track along with optional English SDH subtitles.
THE EXTRAS
Extras here include:
Interview with Director Elliot Silverstein (9:16)
Interview with Actress Geraldine Keams (12:10)
Interview with Melody Thomas Scott (9:52)
Still Gallery (10:32)
Original Theatrical Trailer (2:15)
TV Spot (00:34)
Radio Spots (3:09)
All three interviews are up to usual Scream! Factory standards, but it's the one with Scott that's the undeniable standout. 
FINAL THOUGHTS
The Car is as silly as it sounds, yet it's also shockingly well made and, maybe even more surprising, a heck of a lot of fun to watch. It's barely a B-grade thriller, but Silverstein's hand is efficient and confident all the way through to the end, while the script is amazingly cutthroat offering up a couple of somewhat unexpected deaths that caught me moderately by surprise. Scream! Factory's Blu-ray is excellent from a technical perspective, the three interviews included as part of the package of extras also all worthy of a look. Recommended.