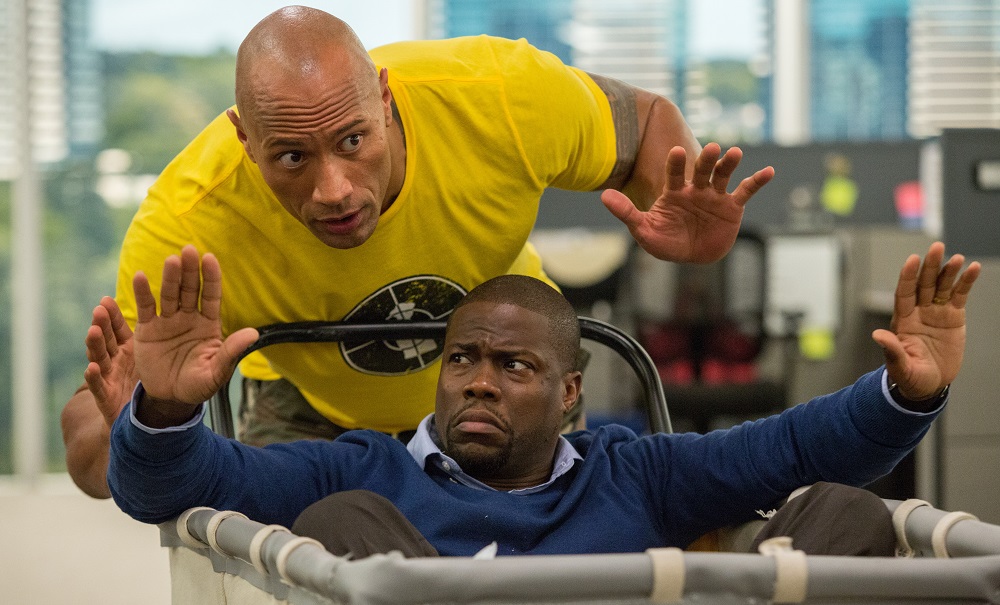 Hart, Johnson Comedy Giants in Otherwise Forgettable Central Intelligence
Mild-mannered accountant Calvin Joyner (Kevin Hart) never imagined just how much his life could change just from the accepting of a friend request from an old high school classmate on Facebook. But when he reconnects with Bob Stone (Dwayne Johnson) everything in Calvin's life suddenly gets thrown into a gigantic life-sized meat grinder. While 20 years ago he might have been an overweight loser mercilessly picked on by a number of the popular kids, now Bob is a muscular CIA operative who for some strange reasons needs his former classmate's assistance. More than that, he wants to reconnect with Calvin, looks up to him as some sort of big brother, an act of kindness two decades prior leading him to believe their friendship is far stronger than by all accounts it actually is.
The plot of the buddy action comedy Central Intelligence is as silly as one would probably expect it to be, especially when you take into account We're the Millers and Dodgeball director Rawson Marshall Thurber is the person calling all the shots. The script, written by Thurber, Ike Barinholtz and David Stassen (both of "The Mindy Project"), is a hodgepodge of loosely connected vignettes that help shepherd a story of international terrorism, arms dealing and treason that's as familiar as it is silly. The mechanics of it all are never particularly important, while the destination (Calvin and Bob's high school reunion), is never in doubt. There's not a lot in the way of mystery to any of this endeavor, so expecting a massive surprise to occur is nothing short of a pointless waste of time.
Yet Hart and Johnson, the latter in particular, somehow make sitting through this overlong meandering bit of absurdity remarkably easy to do, the pair showcasing an easygoing chemistry that's consistently winning. As the majority of the movie revolves entirely around them reacting off of one another and figuring out how to navigate any number of various travails they find themselves stranded dealing with, this is unquestionably a very good thing. Their initial reintroduction to one another at a local bar is a total hoot, while a rather long shootout inside Calvin's workplace is as funny as it is dynamically staged. There is a jovial irresponsibility to Hart and Johnson's antics that's charming, the pair getting me to laugh even I wasn't entirely sure I should have been doing so.
It is a whole lot of nonsense, on that point there isn't a lot of room to maneuver. The script works in a circular fashion. Calvin meets up with Bob, is taken in by his jocular camaraderie, is shocked by his playfully violent abilities, is then subsequently warned to wary of him by a seasoned, world-weary CIA supervisor (played with gritty tenacity by an underutilized Amy Ryan), instantly promises to stay away from the guy only to find himself repeating the entire scenario all over again. Through it all, Bob spins a yarn to Calvin involving stolen government secrets, a CIA mole and an international arms merchant, all of which sounds much too outlandish to be true yet, if it is, would likely mean unparalleled disaster for the United States military.
I'm finding it difficult to come up with anything substantive to add. Johnson, an undervalued comedian who has no problem making fun of his macho, imposingly masculine persona, is as funny here as he has ever been, making the most of each and every situation as they are presented. As for Hart, while he doesn't do anything we haven't seen before, he's toned down just enough to make his antics palatable, never rising to the state of histrionic obnoxiousness that made him so annoying in films like Ride Along and The Wedding Ringer. Thurber directs with the same relaxed confidence he brought to his previous endeavors, while a steady string of unanticipated cameos does up the wow factor, all of which keeps things somewhat interesting for many of the film's longish 114 minutes.
Personally, I am a little disappointed that Central Intelligence will likely find the audience and the box office that summertime genre compatriot The Nice Guys failed to generate back in May, Shane Black's witty, freewheeling and gloriously vulgar buddy effort the far superior motion picture. Still, Hart and Johnson got me to laugh, their antics just ridiculous enough to keep me entertained.  There's fun to be had, and here's hoping if the movie ends up being a massive hit someone writes a better script as it would pertain to the almost certainly inevitable sequel.
Film Rating: 2½ (out of 4)