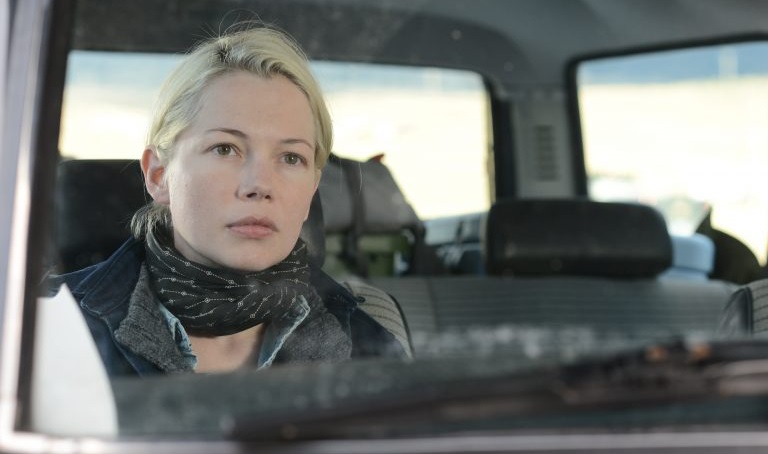 Reichardt's Certain Women an Intimately Humanistic Marvel
In a nondescript Montana town, lawyer Laura Wells (Laura Dern) is doing her best to get her latest client Mr. Fuller (Jared Harris), a contractor injured on the job, to understand that, while his claims against his employer are sound, his basis for bringing suit against them are sadly invalid due to his accepting an earlier cash settlement. Meanwhile, wife and mother Gina Lewis (Michelle Williams) is obsessing over a country home she intends to build with her husband Ryan (James Le Gros), burrowing through his apparent indifference with relaxed, if unamused, certainty. At the same time, young Beth Travis (Kristen Stewart), a law student fresh out of college, travels four hours once a week to teach a class to a room full of educators, ranch hand Jamie (Lily Gladstone) drawn to attend for reasons she can barely put words to.
Adapted from stories written by Montana author Maile Meloy, writer/director Kelly Reichardt's Certain Women ranks alongside her 2008 stunner Wendy and Lucy as an essential piece of modern cinematic excellence. A breathless entertainment, as simple and as straightforward as it is austere and ephemeral, this is a tale of life, of how that life is lived and of the connections that are made as one travels down its mysterious road. More specifically, it is a saga of four women from entirely different walks of life who are nowhere as dissimilar as they might appear, each trying to make the most of the situations they are in, the choices they have made and relationships they have forged every step along their respective journeys.
Essentially three short stories viewed as informal snapshots garnering insight into what is happening with Laura, Gina, Lily and Beth at the time each photo is taken, Reichardt isn't interested in overcomplicating matters, doesn't feel inclined to add extra bits of melodramatic convolution just for the sake of added emotional embellishment. She instead trusts both her cast as well as her audience, letting the mundane nature of everyday life become its own intensely enthralling spotlight that magnifies the nuances of the various situations each woman is currently in. There's no fat here, no extraneous filler, and as such the overall effect the film had on me while I watched it was close to breathtaking.
Dern's tale is probably the easiest to process, the parallels to current discussion about double-standards and sexism in the workplace plainly obvious. Even so, this segment, which also features a sublime, captivatingly complex turn from Harris, is absolutely enthralling. There is a pugnacious resilience to Dern's performance that's sensational, especially during an unforeseen twist that forces Laura to take a form of action she never could have anticipated having to take. But it's also the little things, the way she reacts to Harris sitting next to her in the car or her body movements when a male lawyer tells her client the exact same thing she's been saying for weeks as if speaking to a brick wall only to have them understand instantly when it isn't a woman speaking to them.
Williams' section is arguably the weakest, if only because it is seemingly the most banal. And yet, that would be missing the point, the dialogues Gina has with both her husband Ryan, their teenage daughter Guthrie (Sara Rodier) and a family friend, Albert (Rene Auberjonois), sitting on a wealth of unused stone speaking understated volumes. The directness of this sequence hides a number of telling secrets, many of which I didn't even realize were there until after the film had come to an end and I found myself mulling over its numerous ins and outs hours later.
But it is the segment chronicling Jamie and Beth that might just be Reichardt's finest single moment as a filmmaker. While it can appear to some tired eyes nothing is happening here, in reality the beauteous eloquence of this section is positively electrifying. Using Meloy's delicate prose as a starting point, what the director discovers during this unexpected meeting up of two exceedingly different personalities is a breathtaking union that defies simplistic characterization. Why are we drawn to do things we do? What are the repercussions of the choices we make? What scars can linger without our knowing? And is it sometimes better to make an intimate connection and potentially lose it than to never have attempted to make it happen in the first place? These questions and more haunt this climactic portion of the story, the superlative, naturalistic radiance of newcomer Gladstone sensationally juxtaposed alongside the jittery, angelic intensity of Stewart's authentically realized supporting turn.
Moving outside of Oregon for the first time, Reichardt utilizes her Montana locales with effortless confidence, Christopher Blauvelt's (The Bling Ring) intoxicating camerawork making the picturesque mountain ranges surrounding the town appear as if they were a snow-capped giant observing the four women from on high. The sound design is also something extraordinary, and from train whistles, to the gentle clomping of a horse's hooves on frozen asphalt, to voices on a radio talking about the day's events, all of it helps create a milieu of a lived-in ordinariness that's wondrous.
Reichardt makes good movies, some of which I've adored (Wendy and Lucy), others I've appreciated if not entirely enjoyed (Night Moves, Meek's Cutoff) and some I've never entirely warmed to even though I respected the craftsmanship that made them possible (Old Joy). But, make no mistake, every film this director has touched has been one discerning audiences owe it to themselves to see, each an original, idiosyncratic sojourn into the human condition that looks at life in ways that are personal, thought-provoking and sincere. With Certain Women, Reichardt has delivered something exemplary once again, the places it goes and the people it deals with as real as any sitting on the other side of the average person's living room window.
– Review reprinted courtesy of the SGN in Seattle
Film Rating: 4 (out of 4)