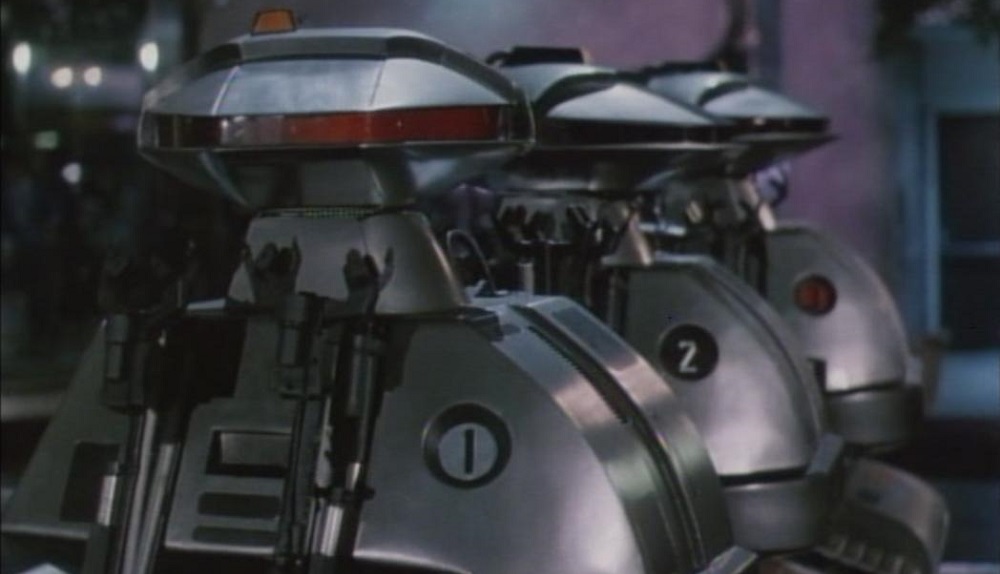 How does the Blu-ray/DVD Disc stack up? (all ratings out of 10.)
Movie
Video
Audio
Extras
Overall
SYNOPSIS
"Thank you…have a nice day."
– The Protector 101 Series Robots (a.k.a. "Killbots") 
CRITIQUE
Chopping Mall is the king of the 1980s underground cult favorite horror movies that were primarily discovered by viewers due to the rise of video stores and courtesy of its awesome VHS box art. Celebrating its 30th anniversary, it is a wondrous avalanche of genre tropes and ideas that director/co-writer Jim Wynorski and co-writer/2nd unit director Steve Mitchell ingeniously throw on their ear, poking fun at themselves and their story while at the same time still managing to deliver an imaginative action-horror opus that's an entertaining thrill ride pretty much start to finish. It's a good movie, and as such has rather surprisingly stood the test of time rather easily, building new generations of fans seemingly with each passing decade.
It's a simple enough premise. A group of happy-go-lucky twenty-somethings make merry in the downtown Los Angeles mall in which they work after hours, making use of a furniture store to get their collective sexy on. Unbeknownst to them, the three security robots that monitor things late at night have all malfunctioned, and what was supposed to be a few hours of juvenile debauchery has no transformed into an all-night fight for survival, the group forced to wage war against seemingly unstoppable adversaries who are intent on doing all of them in.
Staring the likes of Kelli Maroney (Night of the Comet), Barbara Crampton (Re-Animator, From Beyond), Russell Todd (Friday the 13th Part 2), Karrie Emerson (White Dog), Tony O'Dell (The Karate Kid) and John Terlesky (Deathstalker II), featuring cameos from Paul Bartel, Mary Woronov and Dick Miller, Chopping Mall never takes itself too seriously, leaving its tongue planted firmly in-cheek throughout its rambunctiously paced 77-minutes. But, the reason it's stood up so beautifully is that the movie is just plain good. Wynorski and Mitchell's script is exceedingly clever, and while the characters aren't more than they appear, they're all still complex enough to both pique the viewer's interest while also forcing an emotional response when they're all dispatched one-by-gruesome-one.
It's still a B-movie, and anyone expecting otherwise should leave those expectations at the door. But, as an example of what filmmakers were daring themselves to do back in the 1980s, how they were challenging convention inside these crazy little horror enterprises, Chopping Mall is one of the more entertaining efforts the era ever produced. The movie is flat-out fun, and there's little more that needs to be said.
That said, if one needs extra incentive, there's also the exploding head. It's awesome, maybe even better than the one from Scanners.
THE VIDEO
Chopping Mall is presented on a 50GB Blu-ray MPEG-4 AVC Video with a 1.85:1 1080p transfer. Other than some noticeable wear and tear during the opening credits, it's pretty significant, this new Blu-ray transfer is extraordinary. Lionsgate has outdone themselves, and calling the release "impressive" would be a significant understatement.
THE AUDIO
This Blu-ray features an English DTS-HD Master Audio Mono track and includes optional English SDH subtitles.
THE EXTRAS
Extras here include:
Audio Commentary with director/co-writer Jim Wynorski, actress Kelli Maroney and co-writer/2nd unit director Steve Mitchell – Fun, engaging commentary track that covers a lot of ground. Fans owe it to themselves to give this one a listen.
Audio Commentary with historians and authors Nathanial Thompson and Ryan Turek – The Mondo Video (Thompson) and Shock Till You Drop (Turek) mainstays deliver a fan-friendly commentary track that's as informative and it is engaging. Terrific stuff.
Audio Commentary with director/co-writer Jim Wynorski and co-writer/2nd unit director Steve Mitchell – Commentary track ported over from the previous DVD release with the two men most responsible for bringing Chopping Mall to life being oftentimes brutally honest about the making of their film.
Isolated Score – Chuck Cirino's deliriously silly score is given its due with an isolated track. A wonderful, totally anticipated addition to this disc's cavalcade of extras.
Back to the Mall (26:29) – Retrospective making-of featurette featuring almost every important member of the cast and crew, with Steve Mitchell, Barbara Crampton, Kelli Maroney and Tony O'Dell getting in the best quips.
Chopping Chopping Mall (8:19) – Great interview with editor Leslie Rosenthal, who obviously had an absolute blast making this movie.
Talkin' About…The Killbots (12:11) – Killbot creator and designer Robert Short on what it took to bring the film's malevolent mechanical killers to life.
Scoring Chopping Mall: An Interview with Composer Chuck Cirino (11:04) – Wonderful interview with Cirino, his observation that he thinks of the score as the music the Killbots have running through their circuits throughout the film amusingly spot-on.
The Robot Speaks! Ten Questions with the Killbot (2:12) – Not nearly amusing as it could have been. Moderately disappointing, even.
The Lost Scene (3:01) – Jim Wynorski and Steve Mitchell on an additional scene with Paul Bartel, Mary Woronov and a horse that they wanted to get into the film but never got the opportunity to shoot. "Roger Corman paying for a horse?" asks Wynorski. "I don't think so."
Army of One (6:01) – Interview with Chopping Mall's biggest fan, collector Carl Sampieri.
Chopping Mall: Creating the Killbots (15:41) – Older making-of featurette that centers, once again, on Killbot creator Robert Short.
Original Theatrical Trailer (00:50) – Old teaser trailer that more or less ruins the film's money shot. 
FINAL THOUGHTS
I still can't believe Lionsgate is actually – finally! – digging into their vaults to release some of these old VHS-era gems on Blu-ray that have been sitting in their archives for what feels like forever. That they're starting with Chopping Mall? That's even more surprising because, not only is the movie an underseen, undervalued gem with a diehard cult following, it's also, heaven's forbid, good. While a definite product of its era, Wynorski and Mitchell's labor of love has held up remarkably well over the past 30 years, filled with imaginative bits of whimsy and inspiration fans of this sort of thing can't help but love. Kicking of their Vestron Video series with this film is a stroke of genius, and if I'm being honest this might actually be one of my absolute favorite Blu-ray releases of the entire year.