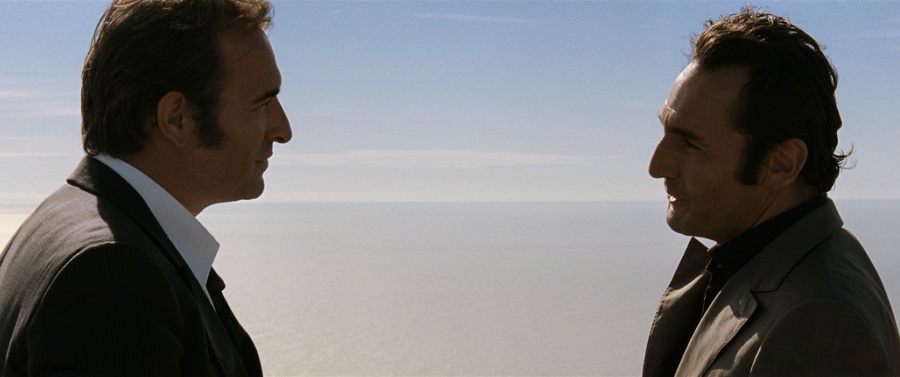 How does the Blu-ray/DVD Disc stack up? (all ratings out of 10.)
Movie
Video
Audio
Extras
Overall
SYNOPSIS
"It would be best we don't cross paths again."
–      Gatean 'Tany' Zampa 
"For you or for me?"
–      Pierre Michel
CRITIQUE
Here's what I wrote about The Connection in my original theatrical review:
"Marseilles magistrate Pierre Michel (Jean Dujardin) is upset. He's tired of watching as notorious drug kingpin Gatean 'Tany' Zampa (Gilles Lellouche) continue to grow his empire, recently moving into transporting lucrative shipments of heroin into the United States, right into the heart of New York City. Assembling a crackerjack taskforce, he's going to use any and all means necessary to bring the man down, blurring the line between law enforcement and criminal activity in the process.
Director Cédric Jimenez's The Connection is the French flipside to William Friedkin's Academy Award-winning 1971 classic The French Connection. It tells the story from the Gallic perspective, a true crime procedural that attempts to showcase all its various twists and turns in as intimate detail as it can in the context of a 135 minute running time. It moves decently, but not quickly, and there are moments where it runs a little bit in circles. But thanks to an electrifying performance from Dujardin and a kinetic vibe that got my nerves jangling every which way the fact the movie is a little on the longish side ends up being mostly okay.
While Michel is an obvious badass straight out of a Warner Bros gangster flick from the 1930s, I like the fact that Jimenez and his co-writer Audrey Diwan go out of their way to make sure the magistrate knows the value of building a cohesive team in order to bring someone as smart, yet still lethal, as Tany proves to be to justice. They emphasize the fact this lone wolf acknowledges he needs to be a member of a pack if he's going to win, and as such it allows those who come and go throughout to make a greater imprint on events than they otherwise would have.
At the same time, trying to emulate Friedkin (I'm guessing as I can't really be sure) Jimenez attempts to make Tany – known as "The French" to you and I who've watched The French Connection – an ephemeral evil, someone we watch mostly from afar allowing his brilliance, depravity and psychological gamesmanship to materialize bit by bit. But the filmmaker backs off too much, keeps things too distanced, and while Lellouche does what he can there's so little for him to work with it's not altogether shocking he can't make his character anything more than an intriguing figurehead and little else. The tension that needs to exist between Tany and Michel never materializes as completely as it should, making their grudge match moderately underwhelming as things progress.
Still, I like the aggressive machismo fueling the film, a trait Dujardin isn't afraid of embracing. He's a tornado tearing through the proceedings with fearless ferocity, becoming some sort of carnivorous, chain-smoking combination of Humphrey Bogart, Gene Hackman and Jean-Paul Belmondo all rolled into one. Jimenez also manages to stage a couple of electrifying set pieces, using motion, subterfuge and misdirection as allies in a driven quest to ratchet up tension. He's assisted considerably by Laurent Tangy's marvelous cinematography, the film's visual esthetic having a retro cool '70s-style vitality that's stunning throughout.
It doesn't come close to reaching the same heights as The French Connection, which, while not unexpected, doesn't help the film or its cause as it is essentially telling a purposefully similar story making comparisons unavoidable. None of which makes The Connection less enjoyable. Even with its flaws it's still a terrifically entertaining procedural, and while the destination is never in doubt getting there is hardly the challenge in lesser hands than Jimenez's it potentially could have been."
A solid procedural that only gets better the second time around, The Connection works beautifully at home, and I was continually struck by just how intimate and complex much of what Jimenez is visually continually proves to be. There are weaknesses, length being the most noticeable of them, but they are almost always overpowered by the depth and breadth of the procedural as a whole. This is solid stuff, fans of the genre certain to find a great deal to love about this Gallic 70s-style cops and robbers barnburner.
THE VIDEO
The Connection is presented on a dual-layer 50GB Blu-ray with a MPEG-4 AVC encode and a 2.40:1 1080p transfer.
THE AUDIO
This Blu-ray features a French DTS-HD Master Audio 5.1 soundtrack and comes with optional English subtitles.
THE EXTRAS
Extras here include:
The Making of The Connection (51:08) – Fantastic making-of piece featuring a number of interviews with the entire creative team, going into remarkable depth as to how this French procedural ended up coming to life.
Deleted Scenes (6:46)
Red Band Theatrical Trailer (1:11)
Original Theatrical Trailer (2:34)
Also included with this release is a 20-page booklet featuring a number of short interviews with the cast a crew as well as code to download a Digital HD Copy of the feature film.
FINAL THOUGHTS
The Connection isn't perfect, and I admit part of my feelings leaning in that direction probably have to do with my love for The French Connection, but that doesn't make it any less a solid, entertaining procedural that slowly builds to an emotionally shattering climax. Drafthouse Films' Blu-ray release for the French procedural is magnificent, and I can't help but think this is one motion picture that's going to hold up remarkably well as the years go by.