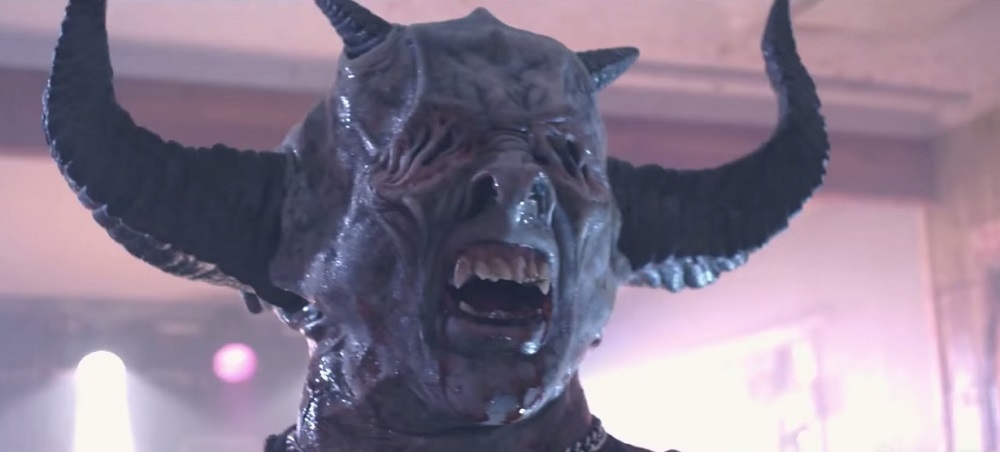 How does the Blu-ray/DVD Disc stack up? (all ratings out of 10.)
Movie
Video
Audio
Extras
Overall
SYNOPSIS
A New Zealand high school outcast forms a heavy metal band with some of his schoolmates and accidentally unleashes the demonic forces of the underworld; bloodshed and mayhem ensues. 
CRITIQUE
Here's what I wrote about this one in my original theatrical review:
"High School misfit and Heavy Metal enthusiast Brodie (Milo Cawthorne), sent to live with his Fundamentalist Christian Uncle Albert (Colin Moy) and Aunt Mary (Jodie Rimmer) when his mother checks into a mental institution, doesn't fit in. So much so, his jerk of a cousin David (Nick Hoskins-Smith) makes it his passion to torment his new housemate as often as he can, attempting to exert his dominance and control at every opportunity.
Not all is horrible for Brodie. After meeting fellow metal head Zakk (James Blake) in a used record store, the duo decides to start a band of their own along with fellow outcasts Dion (Sam Berkley) and Giles (Daniel Cresswell). Calling themselves 'Deathgasm,' the group becomes certain they're headed for the big time after an impromptu run-in with former superstar Rikki Daggers (Stephen Ure) in a dilapidated farmhouse leads to their being gifted sheet music guaranteed to change their lives. Excited, they immediately set to seeing what they can do with the material, the music they're able to create using it sending an electrical charge throughout their rehearsal space unlike anything any of the foursome has ever felt before.
One cannot watch Deathgasm without thinking that writer/director Jason Lei Howden isn't just a big time lover of old-school, 1980s-style heavy metal, but also a passionate devotee of filmmakers like Tobe Hooper, Sam Raimi, Stuart Gordon, Peter Jackson and Edgar Wright. Not only is his debut a deft, dare I say joyous homage to the music he undoubtedly adores, but it's a deliciously energetic and gory romp through monster, zombie and demon tropes so rambunctious it's as if the whole thing was engineered from the start to be a rollicking love letter to the entire genre. It's freewheeling and bizarre, pulsating with a driving, guitar-squealing electricity that's continually infectious.
The movie is presented almost like a John Hughes coming-of-age comedic melodrama in the vein of Pretty in Pink or Sixteen Candles only viewed through a warped, blood-splattered lens. There is an inherent sweetness at the center that's endearing. The only thing Brodie wants is for people to take him seriously as a musician and for his school's sexiest student, Medina (Kimberley Crossman), to see him as someone she'd like to hang out with. It's their relationship, along with the young man's complicated battle-of-wills with Zakk, that the crux of Howden's film revolves around. As such, no matter how out of control or nuts things might become, there's always a strong, personal hook at the center audiences can easily latch on to all the way through until the end.
And do things get out of control. The sheet music given to the band doesn't just unleash the demonic forces of Hell, there's also a megalomaniacal cult leader named Vadin (Tim Foley) whose primary henchwoman (Delaney Tabron) is both drop-dead sexy as well as criminally lethal. Once the town starts to get possessed by the forces unwittingly unleashed by Brodie and his crew, demons are dispatched in a number of creative ways, this grotesque bludgeoning utilizing tools as varied as sharpened axes, to Ben Wa balls, to gelatinous rubber dildos. It's all pretty ludicrous, and it isn't like Howden goes out of his way to flesh out any of the characters more than he needs to, everything always building to the next sequence of gore and mayhem and, in all actuality, little if anything else.
Not that this matters terribly much. After a somewhat slow start, once Howden gets the sheet music into Brodie and Zakk's hands things take off in delightfully disgusting ways, the director embracing the dopiness of the situation in exactly the same way Raimi did with The Evil Dead and Jackson emulated with Bad Taste. His ribald, uncouth sense of humor is on display throughout, and the core cast members follow the filmmaker's lead embracing the project's sweet, simple, goofily exuberant politically incorrect ghastliness no questions asked.
It will be interesting to see if Deathgasm can engender the same level of cult fandom and gross-out cinema longevity that more than a few of Raimi's, Gordon's and Jackson's scrumptiously vile camp horror opuses were able to craft for themselves. I'm also just as curious to discover where Howden goes from here, eager to see how he delivers on the promise showcased within this debut's pulse-pounding, heavy metal-charged narrative rhythms. What I can say is that, as slight as the film might be, it's so much blood-soaked fun many of its shortcomings never matter near as much as they otherwise could have, watching it a head-banging delight first guitar riff to last."
THE VIDEO
Deathgasm is presented on a 50GB Blu-ray MPEG-4 AVC Video with a 2.35:1 1080p transfer.
THE AUDIO
This Blu-ray features DTS-HD Master Audio 5.1 audio along with a secondary English LPCM 2.0 track and includes optional English SDH subtitles.
THE EXTRAS
Extras here include:
Audio Commentary with writer/director Jason Lei Howden – Solid commentary track with the director doing a fine job talking the nuts and bolts of the project, including the semi-autobiographical roots that led to its creation.
Brotherhood of Steel: The Cast of Deathgasm (5:02) – Solid featurette looking at engaging, charismatic lead actors Milo Cawthorne, James Blake and Kimberley Crossman.
Demonseed: An Interview with Jason Lei Howden (5:25) – There is some featurette crossover here, some of what Howden says repeated in the "Brotherhood of Steel" extra. Additionally, much of this is gone into much greater, and far more informative, detail in the audio commentary, making this interview short moderately worthless.
Gorgasm: The FX of Deathgasm (5:14) – Terrific featurette looking at the film's ingenious and creative gore effects, including a rather nice look at the process of transforming a stuntman into the demon king Aeloth.
Music Video: Bulletbelt – "Deathgasm" (4:20)
Original Teaser Trailer (00:59)
Original Theatrical Trailer (2:01) 
FINAL THOUGHTS
Deathgasm is a hoot, holding up beautifully on repeat viewing filled with a number of creative delights not necessarily noticed on first viewing. Howden shows a lot of promise with this debut, and while I'm not automatically excited about him tackling a reported sequel next and not something different, considering the talent he shows here I'm more than willing to keep an open mind. MPI's Blu-ray release is terrific across the board, and as such fans of this sort of thing are urged to give it a look at their earliest convenience.