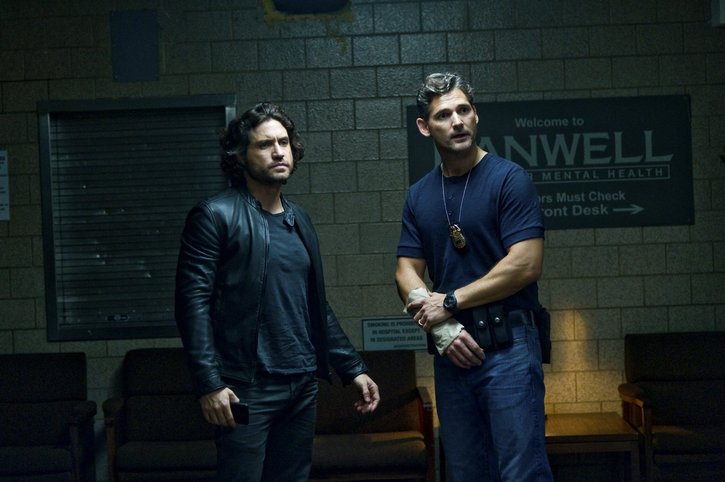 Unsettlingly Elegant Evil Offers No Deliverance from Cliché
Sergeant Ralph Sarchie (Eric Bana) is a veteran NYPD investigator working the chaotic streets of the South Bronx with his adrenaline junkie partner Detective Butler (Joel McHale). A lapsed Catholic, he nonetheless showers his wife Jen (Olivia Munn) and daughter Christina (Lulu Wilson) with love, never forgetting they're the light in his life keeping him from being consumed by the darkness he's battling each and every day.
His latest case will test that, a series of seemingly unconnected, horrifically tragic events placing Sarchie directly in some shockingly horrific crosshairs. The only one that seems to know anything about what's going on? A mysterious priest named Joe Mendoza (Édgar Ramírez), an undercover paranormal professional who claims the events assaulting the city are nothing short of demonic. The brutality that's already taken place is nothing compared to what he believes is to come, and if Mendoza is right Sarchie is going to have to re-find his lost faith because Hell is coming for both him and his family with designs on eviscerating them all down to the blood-drenched marrow.
Inspired by Sarchie's own best-selling memoir co-written with Lisa Collier Cool, Deliver Us from Evil is director Scott Derrickson's follows up his surprise hit Sinister. Working from a screenplay scribbled together with his The Exorcism of Emily Rose compatriot Paul Harris Boardman, Deliver Us from Evil is a compendium of a number of exorcist-themed features melded with a police procedural, everything moving along as anticipated building to a conclusion that's hardly surprising.
At the same time, it's obvious Derrickson has come a heck of a long way as a filmmaker since helming the instantly D.O.A. Hellraiser: Inferno back in 2000. There is a confidence here that's undeniable, the visual milieu and starkly unsettling atmosphere not so much groundbreaking as it is self-assured and entirely fitting to the narrative being explored. Even at 118 minutes the film doesn't feels long or padded, each part of the spiraling, interconnecting tale coming in contact with the next with suitably unnerving synchronicity.
The filmmaker's technical prowess has also come of age, Derrickson utilizing Scott Kevan's (The Darkest Hour) camerawork and Christopher Young's (Copycat) delicately insidious score to something near perfection. Unlike past efforts, he also allows some of the supporting players to shine and doesn't leave the heavy lifting only to his stars, McHale in particular standing out with an idiosyncratic, scene-stealing performance that's light years beyond the sarcasm-drenched comedic persona he's developed over the last decade or so.
Yet, truth be told, there is an underlying silliness to central events that was impossible for me to entirely get past. The level of interconnectivity between evil event one and the even more evil events to come border on absurd, Ramírez's priest popping up to explain what's going on just in case the audience isn't bright enough to figure it out for themselves. Heck, during one pivotal exorcism Mendoza doesn't just say what's about to take place he proceeds to do something akin to a play-by-play almost as if he's doing radio work for ESPN announcing a World Cup match. More often than not it's too much to take, especially near the end, the clichés and absurdities piling one up against the other making all the terrific stuff feel frustratingly minor.
Admittedly, the ghost of The Exorcist hovers over all of this like it does every film that's even remotely similar thematically, and those comparisons are going to hurt every imitator that comes down the pike just as they have since that classic's release 41 long years ago. There's nothing new, even the police procedural elements feeling a little freeze-dried thanks to umpteen seasons of "Law & Order" and its countless spinoffs. While Bana is solid as Sarchie, while Ramirez does yeoman's work in what is otherwise an untenable situation (Mendoza inherently difficult to take seriously), even with Sean Harris making for one heck of a terrifying villain, Deliver Us from Evil just doesn't work, no amount of prayer otherwise going to make the opposite miraculously come to pass.
Film Rating: 2 out of 4
Review reprinted courtesy of the SGN in Seattle