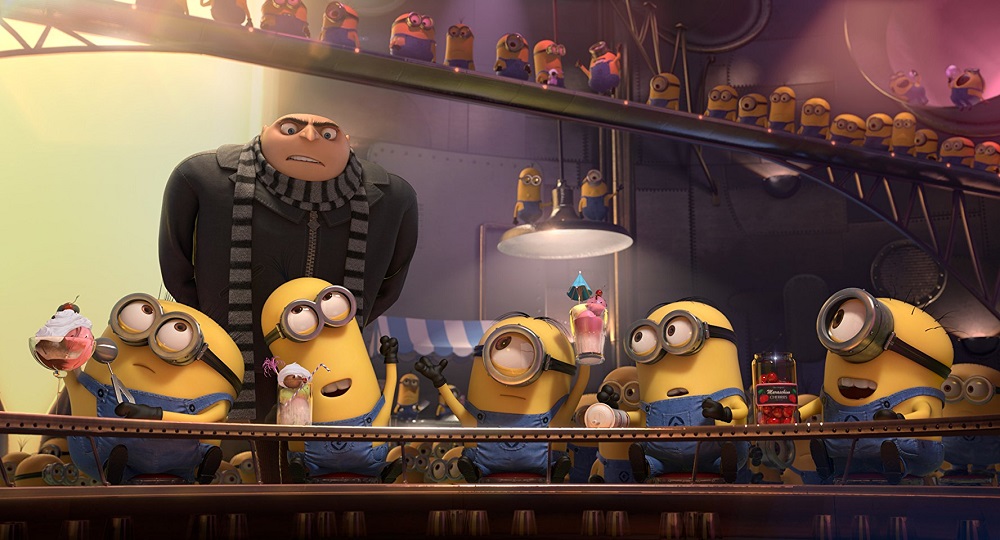 Despicable Me 2 Funny, if Not Exactly Memorable
It's been quite some time since Gru (voiced by Steve Carell) put his life as a villain behind him, instead choosing to be the best foster dad a former evil genius could ever be to his adopted kids Margo (Miranda Cosgrove), Edith (Dana Gaier) and Agnes (Elsie Fisher). But when the world is put in danger by a mysterious madman intent on chaos and destruction, the Anti-Villain League, AVL for short, sends Agent Lucy (Kristen Wiig) to recruit Gru to go under cover with her and discover the identity of the bad guy. With the aid of his devoted Minions, and with the constant input of his three little girls, this reformed outlaw will now put his most devious skills towards aiding the forces of justice, discovering he's got feelings for his new partner going way beyond platonic in the process.
Here's the deal: if you liked 2010's somewhat surprising box office smash Despicable Me you are more than likely going to enjoy Despicable Me 2. The energetic craziness that permeated that first adventure running through this follow-up as well, the movie a manic collage of comedic vignettes reminiscent of the hand-drawn animated golden age where pioneers like Chuck Jones, Friz Freleng and Max Fleischer did some of their best work. The plot is so thin it barely exists, the sequel nothing more than a series gags involving either the Minions, Gru, his trio of adopted daughters or a combination of all of the above, anything else that happens barely of any significance whatsoever.
And that's fine, I guess, but much like the first go-around attaching one's self emotionally to what's going on or to the characters themselves is impossible. Additionally, as entrancing and as cute as they still might be, the three kids aren't given near as much to do this time, only the diminutive Agnes standing out thanks to a few exuberant exclamations and endearing bits of commentary that undeniably charmed the socks right off of me. But in the end I'm not sure why I'd ever want to watch this comedy again, at least in its entirety, which isn't exactly a trait that makes this animated effort all that easy to recommend.
Still, Despicable Me 2 is incredibly difficult to dislike. There are some hysterical sequences, most of course involving the Minions, but set pieces involving Gru and Lucy sneaking through a booby-trapped Mexican Restaurant and an extended bit involving a guacamole-filled sombrero do produce numerous chuckles. The climactic scenes involving seas of demonically transformed purple Minions, a giant shark, gallons of transmutative jelly and an erupting volcano are also kind of a hoot, while an opening sequence set during Agnes's birthday party had me grinning like a giddy Cheshire Cat.
The supporting vocal work is also once again strong, Benjamin Bratt a standout presence, while returnee Russell Brand, still unrecognizable as mad scientist Dr. Nefario, does more with less than just about anyone else. As for the animation, it may not be as stunning or as intricately nuanced as that crafted for something like Pixar's Monsters University or DreamWorks's The Croods yet it is still oftentimes impressive, the film having an old school Saturday morning cartoon fluidity that's comfortably appealing.
Despicable Me 2 isn't the greatest animated film. Much like its predecessor, it is also one I seriously doubt I'll take the time to watch for a second time anytime soon. Be that as it may, once again kids are going to adore it and adults aren't going to feel like their time sitting in the theatre next to them is anything approaching a chore. There are some major laughs, and as trivial as the story might be that fact the film entertains as much as it does with such effortless enthusiasm is admittedly surprising. So if spending time with Gru, his adoptive children and his many Minions is your idea of a good time, it's hard to imagine anyone who feels like that will be even moderately disappointed in this somewhat charming sequel.
Film Rating: 2½ (out of 4)