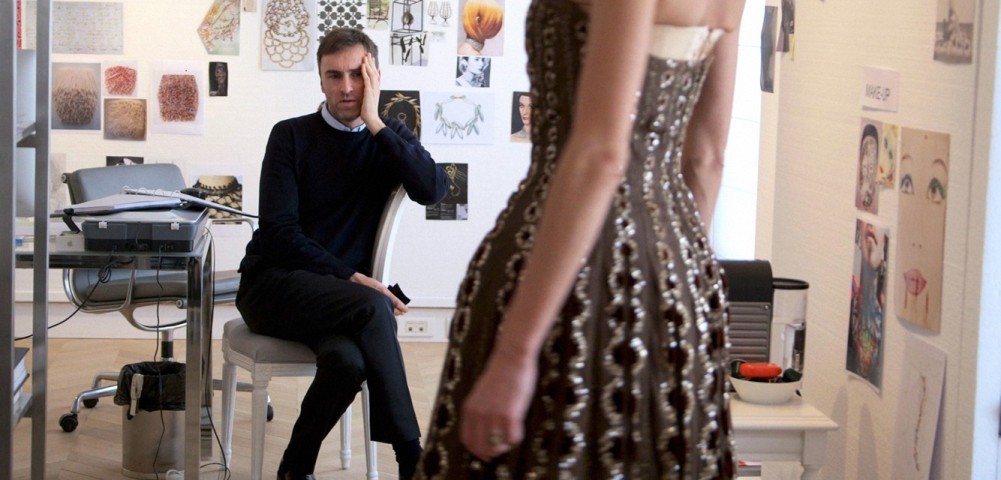 Riveting Dior Puts Haute Couture Under the Microscope
The somewhat secretive world of Haute Couture, i.e. the major high fashion houses responsible for the dresses celebrities and their like wear on various Red Carpets the world over, hasn't been so mysterious this past decade-plus. This is due in large part to the explosion of reality television, especially the double-whammy of "America's Next Top Model" and "Project Runway." Same time, most don't know what goes on in a lot of these utopias of dressmaking, while others are prone to roll their eyes and turn their head the other direction when others start waxing poetic about various designers and the outfits they've created.
Frédéric Tcheng's (Diana Vreeland: The Eye Has to Travel) dazzling documentary Dior and I looks to change this perspective, focusing on designer Raf Simons' and his first haute couture line of dresses for iconic Parisian fashion house Christian Dior. Starting with his taking over as artistic director in 2012, the film looks at how the Belgian-born designer deals with the various weights and pressures of having to put his imprint on one of the most influential purveyors of taste and culture in the entire world. Short version? The picture isn't near as pretty as the dresses being worn by the models walking down the runway.
What makes the film genius isn't how it makes the world of high fashion relatable to the masses and not just the one-percent that can actually afford the clothing (which, shockingly, it does) but more in how in-depth it chooses to document a work place in transition. Simons is under unimaginable pressure, trying to throw together an entire line in six weeks not the normal six months, and while the stress does get to him – how could it not – his strengths as a leader come through time and time again. His ability to delegate, to reason, to allow his people to make their own decisions and choices, trusting they will help make the line a success, this is how we like to imagine major companies are run. More than that, it also shows how communication and dialogue can facilitate any working relationship, big or small, analyzing how success isn't just lucked into but earned every difficult step of the way.
The best bits involve the Belgian understanding just how much of an outsider he is to his Parisian workers, namely the talented seamstresses and clothiers who are responsible for assembling his vision first stitch to last. He has to win them over, get them on his side, knowing if he does not his tenure as leader of Dior will be decidedly short-lived. How he navigates these relationships is the heart and soul of the motion picture, Tcheng rightfully keeping the focus there, allowing the remainder of the chaos and inspiration happening throughout to speak for itself without additional embellishment on his part.
Does the film speak to those outside the haute couture world? I think it does, the way the filmmaker analyzes and dissects workplaces and their power structures is utterly fascinating. But there's an inside baseball aspect to this foray into Dior that's understandably unavoidable, and those with a fondness for high fashion are certain to respond to all that Tcheng is detailing with far more passion and excitement than those who do not. For my part, I was suitably impressed by Dior and I, and can't help but feel that those willing to take a chance on the documentary will undoubtedly feel the same after it ends.
Review reprinted courtesy of the SGN in Seattle
Film Rating: 3 out of 4