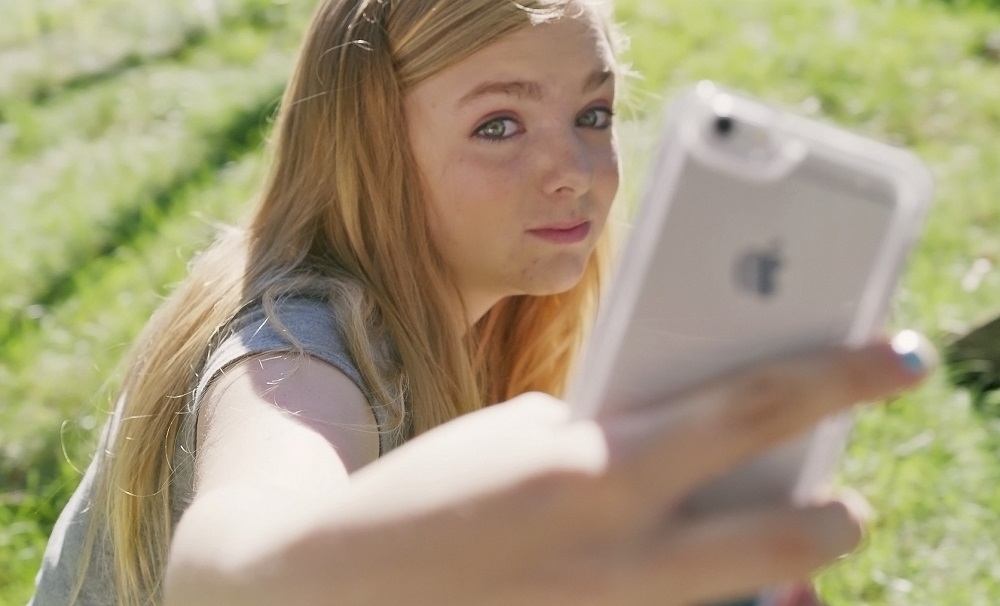 a SIFF 2018 review
Introspectively Incisive Eighth Grade an A-plus Stunner
Standup comedian and actor Bo Burnham makes his directorial debut with the shockingly astute, movingly introspective coming-of-age drama Eighth Grade. A look into the life of middle school student Kayla (Elsie Fisher) just days before she graduates for the summer and can look forward to high school next fall, the film is a spellbinding high wire act of insight and empathy, the final minutes achieving a form of kindhearted grace that left me breathless. This is a movie that refuses to shy away from some fairly dark realities yet at the same time doesn't dwell on them in ways that feel exploitive or supercilious. Instead, it's the bigger picture that matters, Kayla's journey so acutely haunting it's likely I'll be thinking about it in intense, fascinated detail for some time to come.
There are so many easy melodramatic outs to this story, yet Burnham somehow finds a way to avoid almost all of them. Kayla isn't so much bullied as she is invisible. She's smart. She's intuitive. But she's also shy, pensive and appears to be loath to stand out in ways that might get her recognized. Yet, just as clearly, Kayla does yearn to be noticed. She makes videos for her YouTube channel about the power of positivity and self-belief, urging her viewers to cherish their power and not be afraid of showing their true selves to the world. Yet she ends each one practically begging for likes and for viewers to share her videos before signing off with her catchphrase of, "Gucci," a clear cry for acknowledgment if there ever was one.
It's likely Fisher is best known for voicing unicorn-loving, "It's so fluffy!!!" exclaiming Agnes in both of the first two Despicable Me hits. That's about to change. Her Agnes is a benevolent, knowingly brittle firebrand of untapped resilience and strength, Fisher finding her way with such a delicately self-assured grace she held me spellbound for every second of the film's briskly paced 93-minutes. This is as fearless a portrait of early teenage angst and uncertainty as any I can immediately recollect, the talented actress utilizing her purposefully awkward physicality to give things an extra layer of pensive validity that's striking.
But at least one-third of the film's humane, if still brusquely honest, effectiveness is directly due to the father-daughter story that plays out right alongside Kayla's attempts to finish her final days of middle school. Mark (a sublime, understated Josh Hamilton) can tell there's something going on with his child and knows she's feeling a type of pain that he hasn't the first clue as to how to help her ease it. But just by being there, just by letting her know he'll listen if she wants to talk, just by saying nothing he adds a hope chest of sensitivity that's there whether his daughter realizes it or not, all of which helps give this story an extra layer of poignant wisdom that's wondrous.
There's honestly not a ton of plot. Kayla goes through her days at school, utilizes social media and yearns to be seen. She makes unexpected friends with one her school's popular kids, Olivia (Emily Robinson), and ends up going to a pool party and proceeds to do the type of embarrassing things kids often do when they're trying to make an impression on those they long to impress. It's awkward and weird but also endearing and adorable, all of which makes this youngster's day-to-day journey uncomfortably prescient and lovably unctuous.
I can't say I've seen a lot of Burnham's standup comedy. I'm not familiar with him or his work. But this movie is such a startling, intelligently nuanced debut overflowing in observational expressiveness I'm all but ready to go opening night to whatever it is the filmmaker decides to bring our way next. Shot with documentary-like exactitude by Andrew Wehde and edited to within an inch of its shrewdly eloquent life by Jennifer Lilly (The One I Love), Burnham's film is marvelous. While my own middle school experiences aren't ones I'd want to relive, watching Eighth Grade is a trip back to school I'd be happy to take whenever the opportunity to do so might arise.
– Review reprinted courtesy of the SGN in Seattle
Film Rating: 3½ (out of 4)
Additional Links:
Interview with writer/director Bo Burnham and actress Elsie Fisher