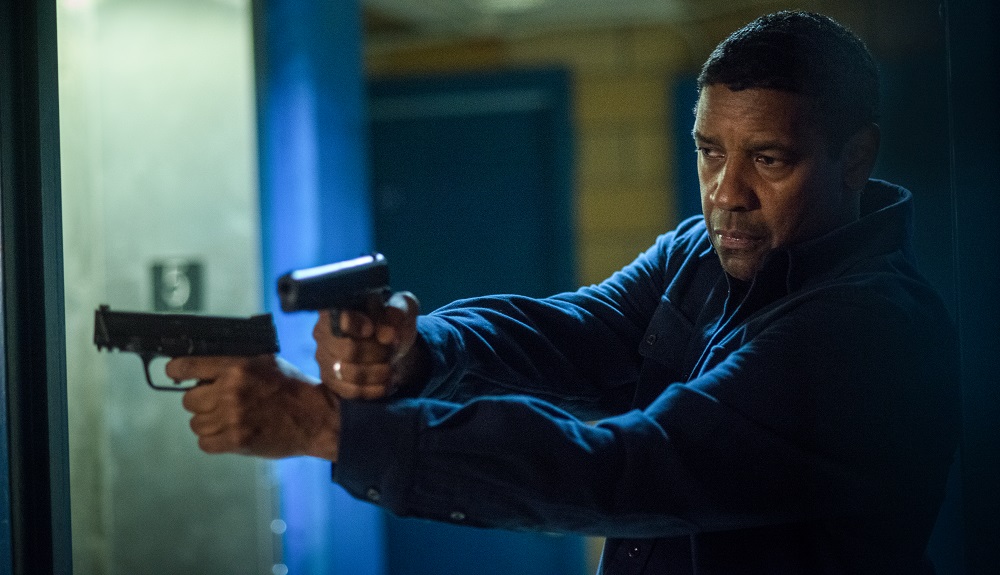 Suitably Violent Equalizer II Satisfyingly Predictable
Currently residing in Boston, Robert McCall (Denzel Washington) is masquerading as a mild-mannered Lyft driver while still following through on his newfound calling of righting wrongs for people dealing with hopeless situations who otherwise would never see justice accomplished. He lives in a nondescript apartment building and makes nice with the other residents, paying particular attention to Miles Whitaker (Ashton Sanders), a young artist with potential who he doesn't want to see go down the wrong path.
Robert's best friend remains his former government handler Susan Plummer (Melissa Leo). She and her academic husband Brian (Bill Pullman) are the only two people that know he is still alive. Heck, Susan's even been assisting Robert in his little egalitarian side business, providing him information on many of the cases he's hoping to solve. But when she becomes the target of lethal hired guns, the former assassin's ferocity will not be contained. Seeking out his former partner and Susan's most recent lieutenant Dave York (Pedro Pascal) for help, Robert will learn the identities of those involved in wanting to see his friend harmed and, when he does, nothing on this planet will stop him from delivering his own brand of lethal retribution.
The Equalizer II is the first sequel of Oscar-winning megastar Denzel Washington's career. A follow-up to the 2014 first film, itself a big screen update of the 1980s television series starring Edward Woodward, this second chapter in Robert McCall's story of redemption and violence is actually a slight improvement over its predecessor. Once again directed by frequent Washington collaborator Antoine Fuqua (Training Day, The Magnificent Seven) and scripted by returning writer Richard Wenk (16 Blocks, The Mechanic), the movie is a relatively easygoing action-thriller with a solid, if not exactly original, premise and features a small handful of craftily violent set piece of mayhem and mischief that certainly do a good job of getting the blood flowing.
Not that there are any surprises. There was never a point I didn't know how things were going to turn out. I knew instantly who the bad guys were. I knew what was going to happen to the various individuals who came into McCall's orbit. After an early discussion between Robert and Susan I even knew where Fuqua and Wenk were going to stage the climax. If anything, the only thing I didn't know was that they'd set this final showdown in the middle of a hurricane. But even that minor twist isn't as interesting or as sensational as it sounds like it likely would be, and while the wind blows, the rain falls and the waves crash there was never any doubt in what order the bad guys would do or how things would eventually turn out.
Yet I still liked this sequel. Washington is great as this character, slipping into McCall's skin with a stoic confidence that suits this commanding righter of wrongs perfectly. He glides through events with a determined precision that's almost Michael Myers-like in its unstoppable intensity, tapping into the emotional tragedies that have helped shape him into he currently is with a pinpoint sincerity that only materializes when absolutely necessary. McCall might not be a stretch for Washington and yet he clearly enjoys playing him, and if The Equalizer II ends up being a success it won't surprise me at all if the actor decides to portray the character for a third time sooner rather than later.
Wenk's script doesn't do the film a lot of favors, and the event that gets McCall's blood boiling for revenge is as cliché as it is formulaic (not to mention does a huge disservice to Leo, who up until the point in question is excellent), while our hero's moralistic sermonizing as it pertains to Miles is oftentimes tiresome. But there is a cutthroat finality to the way in which events steamroll towards a conclusion that's effectively startling, and I did love the stark simplicity of many of the key sequences, the screenplay viciously bleak in its depiction of violence and its aftereffects in ways few big budget Hollywood spectacles ever are.
It's far from perfect, and as much as the first The Equalizer left me rather indifferent there's nothing in this sequel that ever comes close to equaling the crackerjack, cartoonishly absurd Home Depot set climax of that original. Even though he never shies away from showcasing the exploitive bloody carnage McCall so effortlessly unleashes upon his foes, Fuqua is still far more restrained behind the camera than anticipated. There is a tonal consistency to The Equalizer II its predecessor never had. Coupled with Washington's magnetically stalwart performance, I ended up enjoying this sequel just enough to exit the theatre smiling, and as mid-afternoon matinees are concerned there's just enough that works here to make this predictably explosive thriller easy to recommend.
Film Rating: 2½ (out of 4)