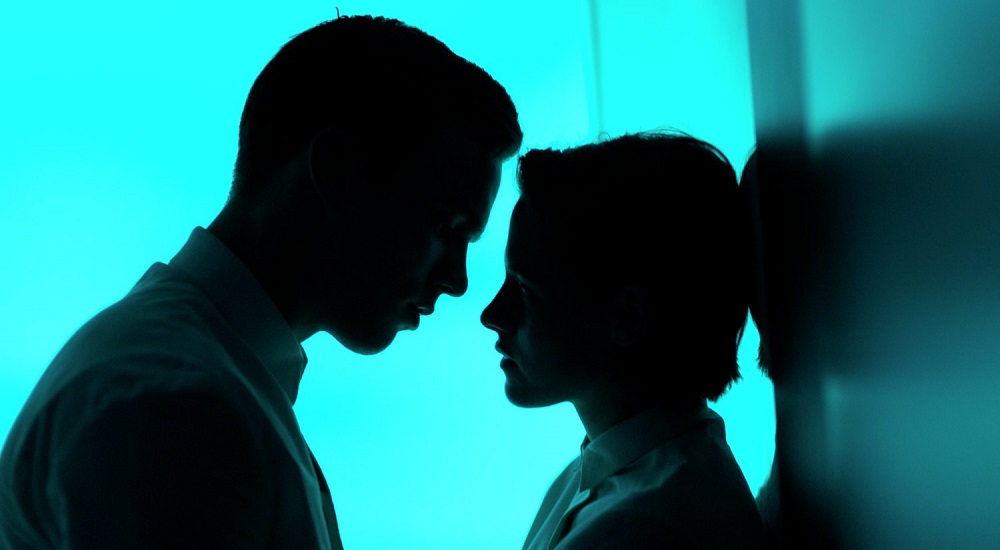 How does the Blu-ray/DVD Disc stack up? (all ratings out of 10.)
Movie
Video
Audio
Extras
Overall
SYNOPSIS
At some point in the very near future, a perfect society is achieved by getting rid of all emotion. But when illustrators Silas (Nicholas Hoult) coworker Nia (Kristen Stewart) become afflicted with what is commonly referred to as "Switched On Syndrome" or "SOS," their lives start to spiral out of control, their growing love for one another throwing this supposed utopia out of whack in ways the powers that be want to eradicate as quickly as possible. 
CRITIQUE
So, yeah, Equals is not exactly original, echoes of George Orwell sprinkled liberally throughout acclaimed director Drake Doremus' latest drama. But unlike his previous two spellbinders, the superb Like Crazy and the mesmerizingly explo
sive Breathe In, this potentially tragic science fiction romance never comes to life, the underlying emotions as cold and as static as the emotionless world he and screenwriter Nathan Parker (Moon) for the characters to wander around in.
Not that the cast, especially Stewart, Hoult and an excellent Guy Pearce (he and Jacki Weaver both portraying characters I'd rather say very little about), don't give it their best efforts. They're all-in here, throwing themselves completely into Doremus' capable hands, doing their best to give the world he and Parker have fashioned a semblance of blossoming life. Stewart, in particular, is breathtaking at times, her later scenes having a quietly passionate ferocity that intimately affecting.
Sadly, it just isn't enough. Doremus and Parker don't bring enough new to the table. Additionally, while the former's directorial restraint is laudable, and while I applaud just how much he leaves up to the viewer's imagination, finding a consistent pulse to anything that is going on is next to impossible. Equals looks terrific, and the acting is superb, but the execution is just a little bit off, making the film an emotionally stilted curiosity and sadly not all that much more than that.
THE VIDEO
Equals is presented on a 50GB Blu-ray MPEG-4 AVC Video with a 1.85:1 1080p transfer.
THE AUDIO
This Blu-ray features an English DTS-HD Master Audio 5.1 soundtrack and includes English SDH and Spanish subtitles.
THE EXTRAS
Extras here include:
Audio Commentary with Director Drake Doremus, Cinematographer John Guleserian and Editor Jonathan Alberts – Informative, if exceedingly clinical, commentary track, with Doremus unsurprisingly doing the majority of the speaking.
Switched On (8:15) – Fairly standard making-of piece with a number of moderately interesting interviews with the cast and crew. Nothing special.
The Collective (13:35) – Better featurette featuring a little more depth from Kristin Stewart and Nicholas Hoult. Solid.
Utopia (30:11) – Wonderful piece looking at the production design and other aspects of the film's visual components. Excellent.
A Digital HD Copy of the film is included with this release. 
FINAL THOUGHTS
Equals features superb performances, nice production design and some solid moments, but overall is something of a moderate disappointment. At this point, I expect more from director Drake Doremus, his latest film never engaging me on an emotional level, the premise just too overly familiar and the presentation just a little too clinical for that to be the case. Still, Lionsgate's Blu-ray presentation is superb, and even if the film didn't work for me I do hope those curious about the title still give it a shot.