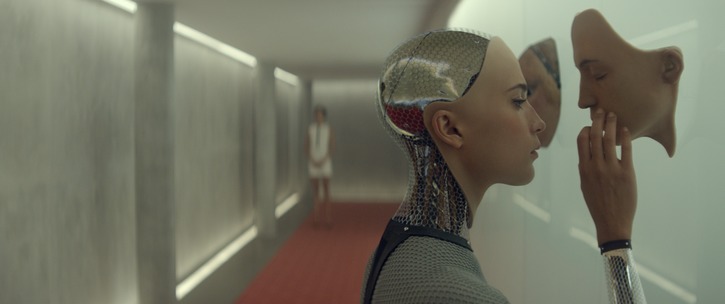 Eerie Ex Machina Blurs the Line Between Human and Machine
Caleb (Domhnall Gleeson), an up and coming programmer at search engine tech giant Bluebook, wins an internal, company-wide contest to spend a week with CEO Nathan Bateman (Oscar Isaac) at his secluded compound hidden deep within an icy wilderness. Initially excited, his enthusiasm is magnified when he learns why he's been asked to join the cybernetic genius at his home, realizing immediately that his ending up in the man's living room wasn't as random as everyone else at the company was led to believe.
Why is he here? Turns out Nathan has done the impossible, invented a machine that has achieved the singularity or, in other words, is certifiably artificially intelligent. At least, that's what he wants to prove, Caleb selected to test his humanoid machine, dubbed Ava (Alicia Vikander), and ascertain without a shadow of a doubt that it – she – exhibits human behavior so exactly it's impossible to tell the difference between flesh and circuitry.
Frequent Danny Boyle collaborator Alex Garland (Sunshine, 28 Days Later) makes the jump from screenwriting to directing with his astonishing science fiction opus Ex Machina, a smartly constructed three-character drama that deftly asks complex questions with marvelous, disquieting intimacy. Drawing inspiration from any number of sources ranging from the Spielberg/Kubrick collaboration A.I., Fritz Lang's immortal Metropolis and the writings of Harlan Ellison and Philip K. Dick (not to mention any number of episodes of "The Twilight Zone") just to name a scant few, the movie is a thought-provoking miracle that is suspenseful, terrifying, illuminating and edifying all at the exact same time. It's a magically entertaining experience, a dollop of pure cinema that works just as well for the tech obsessed as it does for the clueless layman just looking to have a good time.
A lot of films have admittedly tackled this subject of late, all to varying degrees of success. TRON: Legacy, Transcendence, Her, Lucy, Chappie, Eva, these are only a small handful of the motion pictures that have taken a gander at the singularity of artificial intelligence. Some have been hits, received Academy Award nominations and met with acclaim. Others have either been released to moderate success or turned out to be nothing more than outright disasters, each trying to make sense of the subject matter in their own way, acting as smart as they can, but not wanting to be so much so they'll turn away a mass audience. The upcoming The Avengers: Age of Ultron will undoubtedly be the biggest hit of them all as far as this new wave of A.I. centered pictures are concerned, but even if it's awesome, I seriously doubt it will rise to the same heights as Garland's effort does.
And, make no mistake, Ex Machina soars. Garland might structure his picture like some sort of informal theatrical think piece, might on the surface have made the science fiction equivalent of My Dinner with Andre, but in reality he's done so much more. The interactions between the three characters is believable, authentic, crackling with heat and intelligence, yet never losing an innate sense of humor. He also manages to structure things as if he were making a futuristic film noir in the vein of Gilda or Laura, the secrets Nathan and Ava are holding close to their respective vests never as obvious as they might initially appear.
Isaac follows up Oscar-worthy turns in Inside Llewyn Davis and A Most Violent Year with another stellar bit of work here, creating a portrait of frazzled genius breaking at the seams that's mesmeric. It's impossible to tell if Nathan is ecstatic by what it is he's created or terrified as he ponders the consequences, and that's exactly as it should be, the genius an alcoholic workaholic who hides his various anxieties behind a mask of humor, sarcasm, athleticism and psychotic mind games. It's marvelously dexterous, everything culminating in a shared look with Ava that speaks volumes without ever saying a single word.
While most only know Gleeson as one half of the Harry Potter Weasley twins (that would be Bill Weasley), he's quietly been turning in luminous performances for a number of years now, doing yeoman's work in films as varied as About Time, Unbroken, Frank and Calvary. The actor is just as strong here, and while he could be looked at as the foil unknowingly under Nathan's thumb, he never allows Caleb to come across as being so innocent he can't recognize the forest for the trees. At the same time, he deftly showcases how someone could easily fall under Ava's spell, making his inability to ascertain whether she is femme fatale or wounded angel (or something entirely uniquely in-between) carry a poignant bathos to it that feels entirely natural.
But the true breakout performance comes from Vikander. So good in A Royal Affair. Making the most of debacles like Seventh Son. Stealing scenes with heartbreaking eloquence from Keira Knightley in Anna Karenina. She's done all of that and more in her relatively short career, none of which prepared me for the depth, scope and multifaceted brilliance of her work as Ava. She is showcased in a fashion that's magnetically extraordinary, shaping a character who is not a villain and not a heroine, yet is still decidedly mortal all the same. There is purpose to everything Ava does, whether it be the manner in which she speaks or the moment she chooses to hide her robotic interior in decidedly feminine outerwear. Vikander brings her to life with eloquent naturalism, allowing the film to build to its major wow of a conclusion with salient expressiveness.
Garland writes himself into a corner a couple of times, using narrative shorthand to get out of them by having his characters say something glib or silly instead of attempting to explain the mechanics of all that's going on and why. He's also not above getting dramaturgical where it comes to the more suspenseful aspects of the scenario, reveling in horror sleight of hand tropes in order to get a cheap scare or a shocked gasp from the audience.
Yet even these work more often than not, the whole last 20 minutes building in ferocious intensity before unleashing its shattering, emotionally complex conclusion. Aided in no small part by Geoff Barrow and Ben Salisbury's (Exit Through the Gift Shop) sensational score and Rob Hardy's (Shadow Dancer) gracefully unnerving cinematography, Garland shows himself to be a director whose control of his various plot strands is self-assured and confident. Ex Machina looks at the ghost in the machine in a way I can't say I've seen before, the line between human and artificial blurred to the point it unsettlingly no longer exists.
Review reprinted courtesy of the SGN in Seattle
Film Rating: 3½ (out of 4)