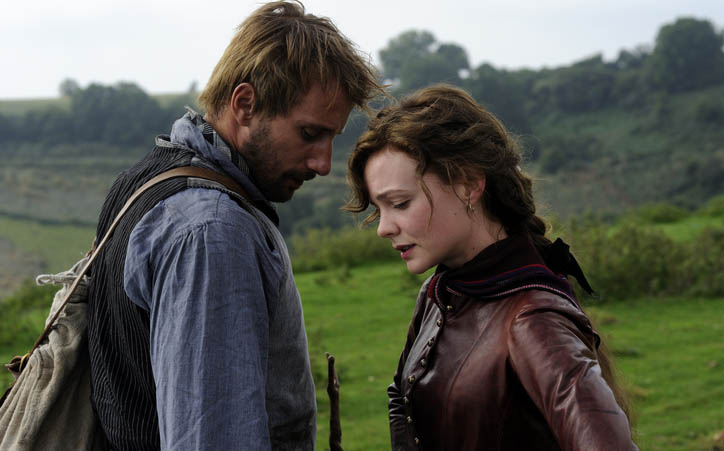 An Elegant Madding Crowd Brings Hardy to Life
Thomas Hardy's Far From the Madding Crowd isn't exactly the easiest piece of 19th century literature to adapt. The most notable attempt up to now was director John Schlesinger's massive, 168-minute epic starring Julie Christie as feminist heroine Bathsheba Everdeen, Peter Finch as wealthy landowner William Boldwood, Terrence Stamp as dashing soldier Sergeant Troy and Alan Bates as soulful farmer Gabriel Oak. Released in 1967, the film is a picturesque, visually sumptuous slog, moving at a snail's pace as it attempts to navigate every facet of Hardy's labyrinthine tale.
Now comes director Thomas Vinterberg's (The Hunt) and screenwriter David Nicholls' (Starter for 10) attempt to adapt the classic novel, streamlining things as much as they can, producing a relatively brisk 118-minute love story that hopes to do Hardy proud. And, by and large, the pair succeeds, and even if there are large swaths of narrative missing from the hardscrabble affair, the basic character arcs remain multifaceted, full-bodied and inflexibly distinct. These are four people stuck in their own world, their own points of view, each fighting for what they think they want most when what they need is readily apparent to all but them.
Bathsheba Everdeen (Carey Mulligan) is now the owner of a massive country farm. The kindly shepherd Gabriel Oak (Matthias Schoenaerts), a man who once asked for her hand in marriage, is now at the single woman's doorstep asking for a job. She is also courted by wealthy landowner William Boldwood (Michael Sheen). An older gentleman, he sees in Bathsheba a fiercely independent, fiery idiosyncratic kindred spirit he longs to take care of and comfort, becoming so infatuated with her he's willing to do almost anything to see her become his wife.
But Bathsheba wants to be conquered, to be taken, and it is in flamboyant soldier Sergeant Francis Troy (Tom Sturridge) for whom she allows her guard to be dropped and her heart to be stolen. Against the advice of Mr. Oak, breaking Mr. Boldwood's heart, she marries the military man, inadvertently and unintentionally putting her farm and the livelihoods of all she employs in jeopardy in the process.
Vinterberg's film moves with a passionate precision that suits its heroine perfectly. At the same time, the intricacies and intimacies of Hardy's source material are somewhat lost in this matter-of-fact, straightforward adaptation by Nicholls, a lot of the nuances that make the novel what it is sadly absent. Sergeant Troy is given the shortest shrift as far as the core quartet is concerned, and it is only thanks to Sturridge's ferocious, intimately self-destructive performance that the character comes off near as well as he ultimately does. Key subplots, most notably the one involving the doomed Fanny Robin (Juno Temple), are also frustratingly threadbare, never given the depth or the complexity they need in order to resonate emotionally.
Yet Mulligan is absolute perfection as Bathsheba, revealing endearing idiosyncratic convolutions with every facial tick and body movement. She is a magnetic presence, impossible to take one's eyes off of, reveling in her character's interior fears and desires, allowing unspoken longings to shout as loudly as any exhalations of love ever could. It's a determined, elegantly composed performance filled with nuance, Mulligan showing once again she's one of the singular talents of her generation, her award-worthy performances in pictures as diverse as An Education, Shame and Inside Llewyn Davis hardly a fluke.
Schoenaerts is ruggedly captivating himself, making Mr. Oak's dedication to Bathsheba feel more intricate and concrete than just a form of protective puppy love keeping the man from living up to his fullest potential. As for Sheen, he's as magnificent as ever, and while large swaths of his story are sadly absent he nonetheless makes Mr. Boldwood's tragic obsession with his beauteous neighbor have a weight and a pathos that are tearfully heartbreaking. Both actors do splendid work, and while their respective characters are nowhere near as fleshed out or as fully realized as Mulligan's central heroine might be that doesn't make either of them any less enthralling.
Vinterberg directs with confident authority, no piece of this sprawling puzzle feeling out of place. The film is stunningly shot by Charlotte Bruus Christensen (The Hunt), the cinematographer using differing degrees of natural light and shadow to bring the lived-in beauty of the piece to startling, eye-popping life. Best of all is Craig Armstrong's (The Great Gatsby) lively, multilayered score, the veteran composer crafting an almost perfect soundscape for the picture that augments Bathsheba's story beautifully.
It's doubtful anyone will adapt Hardy's novel in a way that brings it to life in a way that is totally satisfying. Even so, thanks to Mulligan's spellbinding central performance and impressive turns by the three actors supporting her, Vinterberg and Nicholls manage to come remarkably close to doing it all the same. They tap into the author's sensibilities and mindset in a way that feels freshly authentic, Bathsheba Everdeen's quest for independence as magnetic and as fascinating up on the screen as it ever was on the page, thus making Far From the Madding Crowd a passionately literate piece of cinematic entertainment well worth seeing.
Review reprinted courtesy of the SGN in Seattle
Film Rating: 3½ (out of 4)