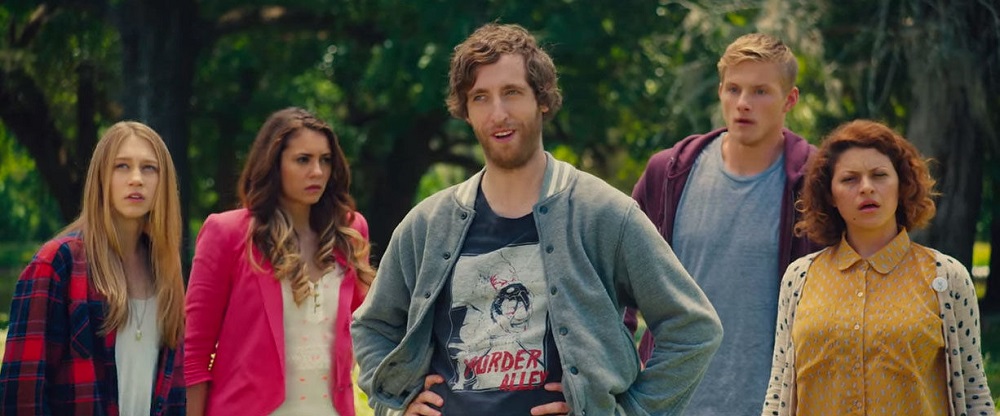 How does the Blu-ray/DVD Disc stack up? (all ratings out of 10.)
Movie
Video
Audio
Extras
Overall
SYNOPSIS
"Today's the anniversary of her death. At least I get to see her. Even if she is being chased by a psycho with a machete."
–       Max Cartwright 
CRITIQUE
Here's what I wrote about this film in my theatrical review:
"After the death of her actress mother Amanda (Malin Akerman), the last thing High School senior Max (Taissa Farmiga) wants to think about is 1980s slasher cult favorite 'Camp Bloodbath.' See, her mom was the chief 'Scream Queen' from that little gem, playing one of the counselors brutally butchered by a deranged madman hacking and slashing his way through the camp with a blood-stained machete. It's the role that made her famous yet also left her hopelessly typecast, handicapping Amanda's career in ways she was never able to overcome.
Still, on the anniversary of the film's original release, Max is talked into making a personal appearance at a special screening by her best friend Gertie's (Alia Shawkat) older brother Duncan (Thomas Middleditch). After a freak accident sees the theatre burst into flame, the teenager literally cuts the screen in two in hopes she and her friends can escape. Thing is, she's inadvertently sent them all stumbling literally inside the movie itself, Max, Gertie, Duncan, potential boyfriend Chris (Alexander Ludwig) and his narcissistic ex-girlfriend Vicki (Nina Dobrev) face-to-face with the world of 'Camp Bloodbath,' and that includes the character portrayed by Amanda, the perpetually cheery (yet still doomed) camp counselor Nancy.
Director Todd Strauss-Schulson's (A Very Harold & Kumar 3D Christmas) and screenwriters M.A. Fortin and Joshua John Miller's The Final Girls isn't the first film to utilize a movie-within-a-movie scenario where the main characters discover themselves on the other side of the celluloid screen (Disney's just used this conceit twice, in fact, for its insanely popular Teen Beach Movie series), but that doesn't make it any less inventive. Working as both an irreverent, giggly eccentric homage to the '80s slasher movie craze as well as a solid little scare flick in its own right, it's the somewhat surprising poignant maturity and warmth at the center of this lunacy that makes this anarchic hybrid memorable. The relationship between Max and Nancy, how the very real daughter of a not-particularly-successful actress relates to the fictional character she was best known for, that stuff is marvelous, giving the film an infectious energetic kick.
There are a lot of wonderful touches sprinkled throughout, not the least of which is the way Strauss-Schulson and company play with genre conventions, doing so in a way that's intrinsically humorous yet still also shows reverence and respect for films like Friday the 13th, Sleepaway Camp, Madman and The Burning. The key group portraying the doomed set of counselors, Pitch Perfect favorite Adam DeVine, freewheeling comedian Angela Trimbur, firebrand Chloe Bridges and relative newcomer Tory N. Thompson, are all superb, while Shawkat, Middleditch, Ludwig and especially 'The Vampire Diaries' starlet Dobrev all add agreeably able support as the 21st century youngsters stranded in an alien, and innately artificial, cinematic world.
None of this works, however, if neither Farmiga nor Akerman were up to the challenge, and to say both are anything less than divine would be an outright falsehood. The former, so good in her older sister Vera Farmiga's Higher Ground as well as in Sofia Coppola's The Bling Ring, is just delightful, adding a level of realism and human decency I can't say I saw coming. As for Akerman, she's incredible, the way she navigates the emotional interiors of a fictional character coming to grips with her own inauthenticity yet still grows to have motherly feelings for a stranger she's learned the most unfathomable of truths from touchingly sublime.
The movie goes on a little long, overstaying its welcome if only by the tiniest, most infinitesimal of margins. Even so, the climax is just plain terrific, while a closing hospital sequence recalling a certain classic slasher sequel (of the non summer camp variety) is close to perfect. Strauss-Schulson does a nice job handling this absurdist mayhem, balancing humor, action and scares with confidence. The Final Girls is an impressive little love letter to 1980s teen slasher horror of yore, and I for one can't help but think it's a movie I'm going to be watching again relatively soon."
The Final Girls is a total hoot, start to finish, beginning to end, and I admit to having watched it about four or five times since the Blu-ray arrived for review. It's a genre-bending smash that gets better with each viewing, the film a glorious comedy-horror hodgepodge featuring stellar performances from Malin Akerman and Taissa Farmiga ranking as two of 2015's finest.
THE VIDEO
The Final Girls is presented on a 50GB Blu-ray MPEG-4 AVC Video with a 2.40:1 1080p transfer.
THE AUDIO
This Blu-ray features an English DTS-HD Master Audio 5.1 track along with a Portuguese DTS-HD Master Audio 5.1 track and French, Spanish and Thai Dolby Digital 5.1 tracks and includes optional English, English SDH, French, Spanish, Portuguese, Indonesian, Korean, Mandarin (Traditional) and Thai subtitles.
THE EXTRAS
Extras here include:
Audio Commentary with director Todd Strauss-Schulson, production designer Katie Byron, director of photography Elie Smolkin and actors Thomas Middleditch and Taissa Farmiga
Audio Commentary with writers M.A. Fortin and Joshua John Miller
Deleted, Extended and Alternate Scenes with Optional Director's Commentary
Pre-Vis Animation
Visual Effects Progression Reel
Director's Shooting Notes (BD-ROM only) 
The commentary tracks are the highlight here, and while both are good it's the one with writers Fortin and Miller that makes the biggest impact. The rest of the stuff is interesting, but doesn't make much of an impact when all is finally said and done, the deleted, extended and alternate scenes something of a minor highlight (even if none of the additional stuff should have been left in the finished film).
FINAL THOUGHTS
I really like The Final Girls. It's a strong genre hybrid that proves to be remarkably entertaining whether one is fond of '80s horror films or not. It also features performances of a much higher caliber than these sort of efforts usually contain, Akerman, in particular, so good I'm close to proclaiming it one of the best supporting turns I've seen in all of 2015.