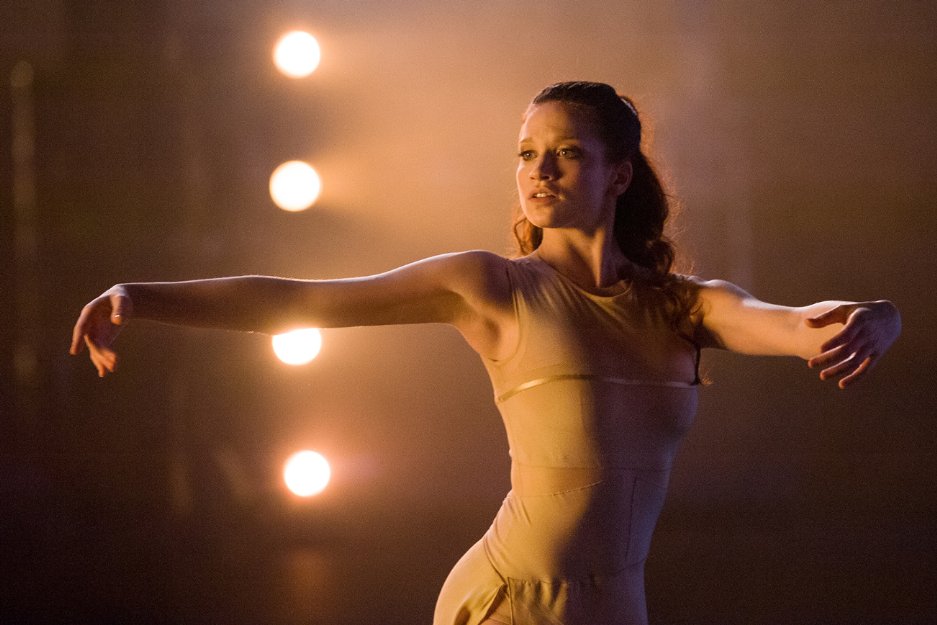 How does the Blu-ray/DVD Disc stack up? (all ratings out of 10.)
Movie
Video
Audio
Extras
Overall
SYNOPSIS
A talented dancer with a troubled background filled with emotional scars runs away from home to head to New York City with dreams of becoming a star ballerina. The life of a professional dancer is not what she expected it to be. 
CRITIQUE
Moira Walley-Beckett was one of the driving forces that helped make "Breaking Bad" a sensation, and while she didn't create that show, it's safe Vince Gilligin's baby would not have been what it was without her. I bring this up because, whatever it was she learned while helping make that show happen, she puts it all to grand use with her limited series Flesh and Bone, a cutthroat look at the world of professional ballet that unapologetically takes no prisoners, none at all, as it builds to its suitably bleak – yet oddly transcendent and eerily inspiring – conclusion.
The show follows Claire Robbins (Sarah Hay), a young runaway with massive personal problems who comes to New York to try out for the American Ballet Company, run by the temperamental – if brilliant – Paul Grayson (Ben Daniels). While quickly proving herself to be an incomparable talent, she's also so psychologically unbalanced it's a continuous question as to whether or not she'll be able to emotionally survive the highs, lows and frustrating, inconsolable in-betweens that come with being a professional dancer.
That's the show. That's pretty much it. Yes, there are subplots involving other members of the company, while another tangent focuses on Claire's protective ex-soldier Bryan (Josh Helman) who ends up in New York searching for his little sis, but neither of them mean near as much as the relationship that develops and grows between the young dancer and the genius impresario who can be as compassionate and loving as he abusive and loathsome. In some ways you can compare what transpires between the two of them to the central dynamics found in Whiplash or An Officer and Gentleman, but Walley-Backet isn't interested in playing to melodramatic platitude, and just when you think things are going to irrevocably twist into cliché she manages to have her talented cadre of writers craft something hard-hitting, dynamic and, most importantly, authentic.
The ace in the hole is Hay. While the entire series is populated with actual dancers, she also proves to be one heck of an actress as well, holding her own with Daniels in ways that consistently and constantly impress. Her progression through all eight episodes is marvelous, her transformation glorious, Hay hitting each note with hypnotic ferocity and elegance hinting at truly spectacular things to come from the youngster in what one hopes is the very near future.
The histrionics can get a little loud at times, and as terrific as Daniels is he does overplay his hand a time or two, going just slightly enough over the top to be moderately noticeable. Overall, however, Flesh and Bone is shockingly terrific, Walley-Backet shepherding things to a place that, while not entirely original, is still so emotionally pure the overall effect is shattering. This is quality television, to be sure, and the fact there are no plans – at the moment, at least – for a follow-up season can't help but make me somewhat sad.
THE VIDEO
Flesh and Bone is presented on two 50GB Blu-rays with MPEG-4 AVC Video each sporting a 1.78:1 1080p transfer.
THE AUDIO
Flesh and Bone features English Dolby TrueHD 5.1 audio along with a Spanish Dolby Digital track and includes optional English SDH and Spanish subtitles.
THE EXTRAS
Extras here include:
Creating the World of 'Flesh and Bone' (6:37) – This featurette can be found on disc two and it's nothing special, just your typical EPK-style fodder that aired on STARZ and Encore before (and during) the show's limited series run. Passable, nothing more. 
FINAL THOUGHTS
Flesh and Bone is outstanding. For STARZ, it might just be the best limited series the cable channel has produced yet, creator and showrunner Moira Walley-Beckett crafting a mesmerizing descent into the world of ballet that's as dark and bleak – yet also as energizing and beautiful – as anything television has seen in quite some time. Lack of special features aside (which really is a tragedy), this is an outstanding Blu-ray set, fans urged to add it to their collection at their earliest convenience.