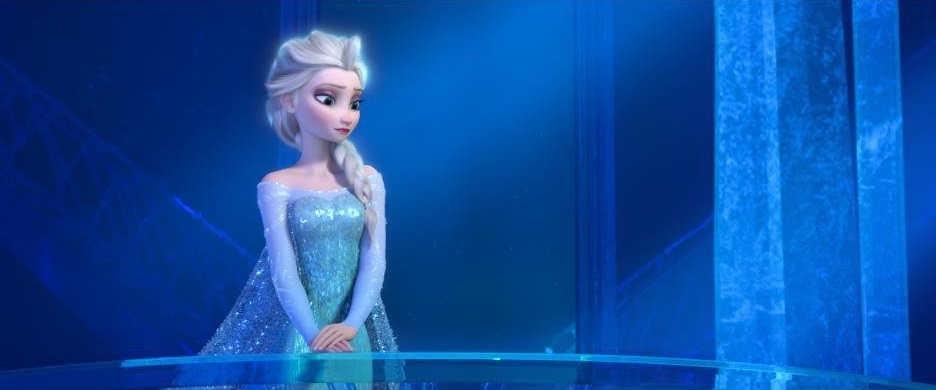 Enchanting Frozen Overflowing in Magic
Inspired in large part by Hans Christian Andersen's The Snow Queen, Walt Disney Studio's latest animated musical adventure Frozen is an utter delight. The story of two sisters, eldest Elsa (voiced by Idina Menzel) and her energetic sibling Anna (Kristen Bell), princesses living in the far off land of Arendelle, the movie is a wondrous coming-of-age fairy tale about love, family, commitment and sacrifice overflowing in inspiration. It is an imaginative tale that takes a tried and true storyline and makes something fresh out of it, the movie an empowering saga of sisterly devotion as well as a beguiling testament to the best angels lurking within us all sure to enchant viewers of all genders and age groups just about equally.
What's most interesting is that, strictly speaking, there aren't any true villains lurking at the center of all of this. Yes, there are some bad guys, and without question they have their own designs on what it is they want and how it is they can use both Elsa and Anna, but in most respects they are completely superfluous to the main narrative scenario being presented. As stories go, this is outside the typical Disney animated wheelhouse even though numerous familiar elements (talking supernatural creatures, Broadway-styled musical numbers, human-like animals stealing scenes, etc., etc.) dot the landscape, the primary focus on the two sisters and their relationship with everything else insignificant when stacked against that.
Directed by Chris Buck (Tarzan) and Jennifer Lee (Wreck-It Ralph),who also wrote the screenplay, working from a story she helped craft with Buck and newcomer writer Shane Morris, the film takes no time easing viewers into its world and what it is that is going to happen. See, Elsa has been gifted, some would say cursed, with the magical ability to create snowy wonders with just the swift movements of her hands, and what originally was a grand device for frolic and play becomes anything but when she accidentally wounds Anna with her power. Urged by her father to hide her abilities from the world, counseled by wizened troll (Ciarán Hinds) to gain control of them lest she fall prey to calamity, the sisters are put into a state of forced separation for what appears to be their own good, a situation that does not sit well with the playful, open-hearted extrovert Anna.
Years pass, a tragedy claiming the lives of the princesses' parents, and during that time the castle remains closed to the outside world as well as to the people living in Arendelle itself. But on the day Elsa is crowned as ruler of all the lands, with the doors finally open to citizen and visitor alike, an argument between the two siblings involving a sexy visiting monarch has inadvertently brought her powers into the open. Suddenly all the land is drenched in never ending snow and ice, Anna taking it upon herself to go into the wilderness to find her sister's whereabouts – she's fled in perceived disgrace – and save them all from a frigidly frozen fate.
A heroic ice merchant named Kristoff (Jonathan Groff) is thrust into the mix along with his trusty reindeer sidekick Sven, as is an extremely animated snowman calling himself Olaf (Josh Gad), the three of them joining forces with Anna to stop Elsa before it's too late. Oh, sure, there are some behind-the-scenes shenanigans clouding the issue, not everyone involved exactly as they appear to be, and a certain warning spout from the mouth a learned troll at the beginning is certain to play a part in the proceedings as events near their end, but that's par for the course. Overall, this is basic stuff, the surprises not coming so much with the twist of the plot but in the decisions the key characters make to extricate themselves from the situation and help the ones they love no matter what the cost.
And it's wonderful, the film rising to the exact same heights as the studio's last out-and-out instant classic Tangled back in 2010 (maybe even exceeding them), and in many ways this could be the finest piece of animated musical family-friendly material the studio (Pixar notwithstanding) has produced since Beauty and the Beast way back in 1991. Better than that, Buck and Lee present female role models, their Barbie-friendly physiques aside, parents should stand up and cheer, the lengths these two young women go to in order to protect, serve and love the other as heartbreaking as it is rapturous. While the boys play a part this fairy tale is all about the girls, their mutual empowerment the crux Arendelle's survival will end up depending on.
There's so much more, we still haven't talked about the animation (stunning!), the vocal work (outstanding!) or the music (Oscar worthy!), but I find myself wanting audiences to experience Frozen with the same wide-eyed rapturous surprise that I did. This isn't just the year's best animated film, it's one of 2013's finest motion pictures period, and as someone who has already seen, and loved, it twice I cannot wait to head out to the theatre and see it again before happily adding it to my personal library when it comes out on DVD and Blu-ray a few months hence.
Review reprinted courtesy of the SGN in Seattle
Film Rating: 4 (out of 4)