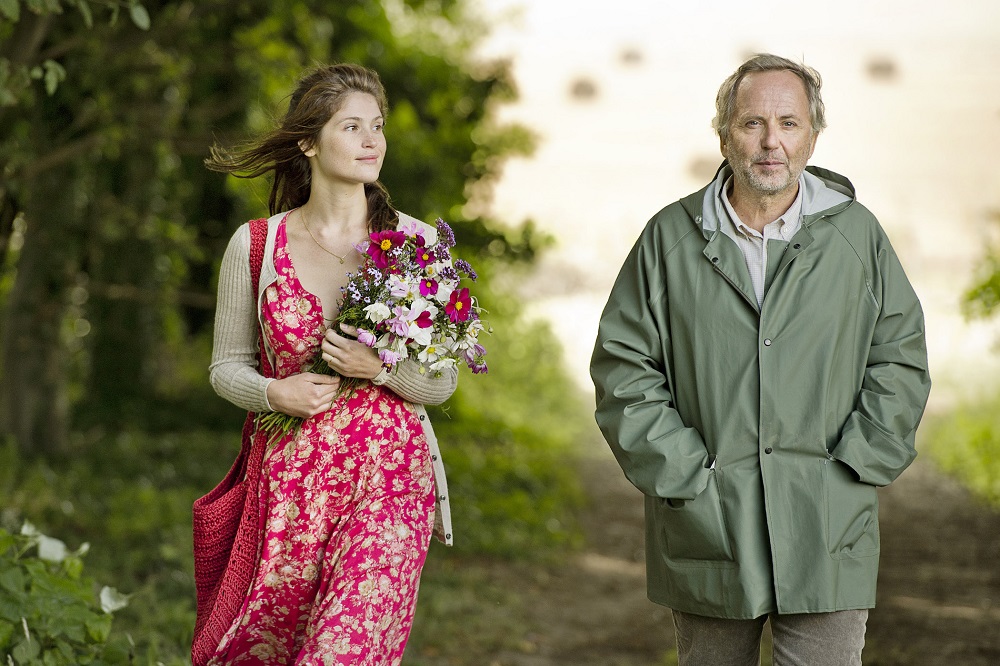 a SIFF 2015 review
Arterton Shines in Imaginatively Crafted Gemma Bovery
Martin Joubert (Fabrice Luchini) has taken up residence in a small provincial town and, with his wife Valérie's (Isabelle Candelier) blessing and assistance, become a well-respected baker. His literary passions are numerous, his infatuation with classic French literature, especially the works of Gustave Flaubert, legendary to the point of being comical, and as such he delights in finding connections to these works in modern everyday life.
His dreams appear to be answered in when British expats Charles Bovery (Jason Flemyng), a furniture restoration expert, and his beautiful wife Gemma (Gemma Arterton) move to town. At first, it's just the names that make him him curious. But when he meets Gemma, the comparisons with her literary namesake become impossible to miss, especially after she catches the eye of wealthy local playboy Hervé de Bressigny (Niels Schneider). Martin begins to worry about the woman, fearful she'll suffer the same sort of fate as Flaubert's heroine, the smitten yet befuddled baker going to increasing lengths to see it does not happen.
Based on the graphic novel by Posy Simmonds, who just so happens also wrote the source material for another darkly acerbic comedy-drama starring the lovely Arterton, Stephen Frears' 2010 misfire Tamara Drewe, co-writer/director Anne Fontaine's Gemma Bovery is an absolute delight. Anchored by a stupendous, marvelously intricate performance from its star, the film is a sprightly, introspectively fearless wonder that goes to some pretty dark places yet does so with a somewhat surprising amount of levity. It's an odd amalgamation of comedy, drama and tragedy all melded into one gleefully anarchic whole, and as such it's a joy to watch opening frame to last.
Fontaine, best known for Coco Before Chanel, has written a melodious script with co-screenwriter Pascal Bonitzer (The Duchess of Langeais), their adaptation of Simmonds' source material rarely moving in directions I anticipated. It builds to a fitting shocker of a conclusion, one that is played for both tears and for laughs almost in equal measure. There is astonishing balance between the light and the dark, the playful and the serious, nothing happening that doesn't feel honest, authentic and, no matter how painful, no matter how shocking, justifiably merited.
This is still something a weird enterprise, and there are plenty of facets to it that are just going to strike some the wrong way and there's nothing at all nyone involved can do about that. Gemma isn't always the most likeable of characters, and considering her intelligence the fact she allows herself to fall into a relationship that can't help but end in disappointment is frustrating. But it is also that way on purpose, Martin's reactions as he both aids her subterfuge and warns her against getting too close to de Bressigny perfect, making the place all of this ends up at even more breathlessly startling when all is said and done.
Not that it would work without Arterton. As terrific as Luchini is, as sneakily sublime a job as Flemyng ultimately does, this is her showcase, make no mistake. This is complex performance that mines territories great and small, finding the magical crevices and hilltops hiding within the grey areas. She's an intoxicating sprite attempting to float above the fray certain there's no way the currents can pull her down, making her realizations that there's real danger she might be about to drown all the more affecting. It's a beautiful performance, an intimate, multifaceted reminder just how fine an actress Arterton is, and it's truly a pity no one in Hollywood has found a way to satisfactorily use her talents in anything close to resembling a meaningful way.
Schneider is something of a minor problem, the actor just not oozing the kind of sexually-charged charm and ferocity the role calls for. Fontaine's use of flashbacks to showcase what happens and why at a certain point during the third act is also unnecessarily flamboyant, more a way for the filmmaker to call attention to herself and what it is she is doing pulling focus, even if only for a second, away from Gemma and Martin's stories. There's also a graveside conversation that feels uncomfortably flippant, and while it does fit the tone of the motion picture surrounding it the scene still hit me in a way I didn't particularly care for.
Even so, I almost can't help but love Gemma Bovery. This movie made me smile, got me to laugh and brought a tear to my eye way more often than I should admit. Fontaine's direction is confident and self-assured, while Arterton's performance is as terrific as any I've seen this year. The movie does its source material as well as Flaubert proud, fans of both almost certain to be pleased by this imaginatively cheery, beatifically cinematic adaptation.
Film Rating: 3½ (out of 4)