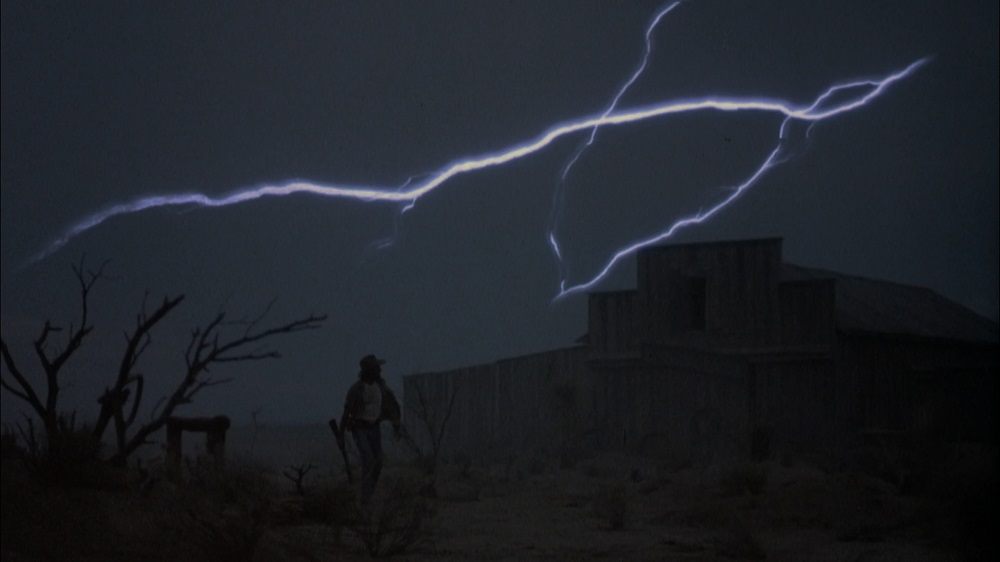 How does the Blu-ray/DVD Disc stack up? (all ratings out of 10.)
SYNOPSIS 
Small town Deputy Sheriff Langley (Franc Luz) finds himself in the middle of strange, ethereal happenings when he heads off into the desert to find missing local heiress – and current runaway bride – Kate Barrett (Catherine Hickland) only to discover they're both trapped in a deserted Wild West ghost town, its ghostly residents stuck in limbo thanks to the bloodthirsty machinations of the evil gunslinger Devlin (Jimmie F. Skaggs). 
CRITIQUE
I admit I'm honestly not sure how I'd never seen directors Mac Ahlberg (uncredited, the veteran cinematographer apparently taking over at some point during the shoot) and Richard Governor's 1988 horror/western hybrid Ghost Town. It had one of the most recognizable box covers in VHS history. I love the plot synopsis. All-in-all, it had the makings of being a film right up my low rent B-grade schlock horror-loving alley, so the fact I'd never taken the time to give it a look is something of a minor surprise.
I'm glad I finally did. While not really much more than a (barely) feature-length riff on something that would have made sense for an episode of the "Twilight Zone," Duke Sandefur and David Schmoeller's script is still fairly witty and fun, bringing together a number of horror and western tropes that feel far fresher and more original than they by all accounts should. At a brisk 85-minutes, the film never overstays its welcome, while Skaggs is a deliciously nasty villain while Luz makes for a magnetically masculine hero.
There are some noticeable shifts in tone, while Hickland is hardly worthy of all the fuss being spent on her. But there are some great supporting turns by Bruce Glover and Penelope Windust, and I have to say Ahlberg's camerawork is suitably lived-in and authentic in that grand retro John Ford/Howard Hawks style giving the film a little more visual heft than it otherwise would have had without his efforts. There's also a great score by Harvey R. Cohen that's difficult not to love, his compositions adding just the right touch augmenting the on-screen action nicely.
It all builds to a requisitely bullet-riddled showdown between hero and villain that's as old school as they come and, in most respects, just as giddily enjoyable. Ghost Town isn't some sort of lost independent low budget classic, but it is grandly entertaining all the same, and I for one am exceedingly happy I've finally taken the time to give it a look as well as been given the opportunity to add Scream! Factory's Blu-ray to my own personal library.
THE VIDEO 
Ghost Town is presented on a single-layer 25GB Blu-ray MPEG-4 AVC Video with a 1.78:1/1080p transfer.
THE AUDIO 
Ghost Town shoots its way onto Blu-ray with an English DTS-HD Master Audio 2.0 track and includes optional English subtitles.
THE EXTRAS
There are no extras included with this released. 
FINAL THOUGHTS
I'm not sure I'd tell anyone to pay full price for this Scream! Factory release, the lack of extras are definite downer. But the moment Ghost Town went on sale I'd snatch directors Mac Ahlberg and Richard Governor's underrated little 1988 gem up as fast as I could, this horror/western hybrid far more entertaining than it arguably has any right to be.