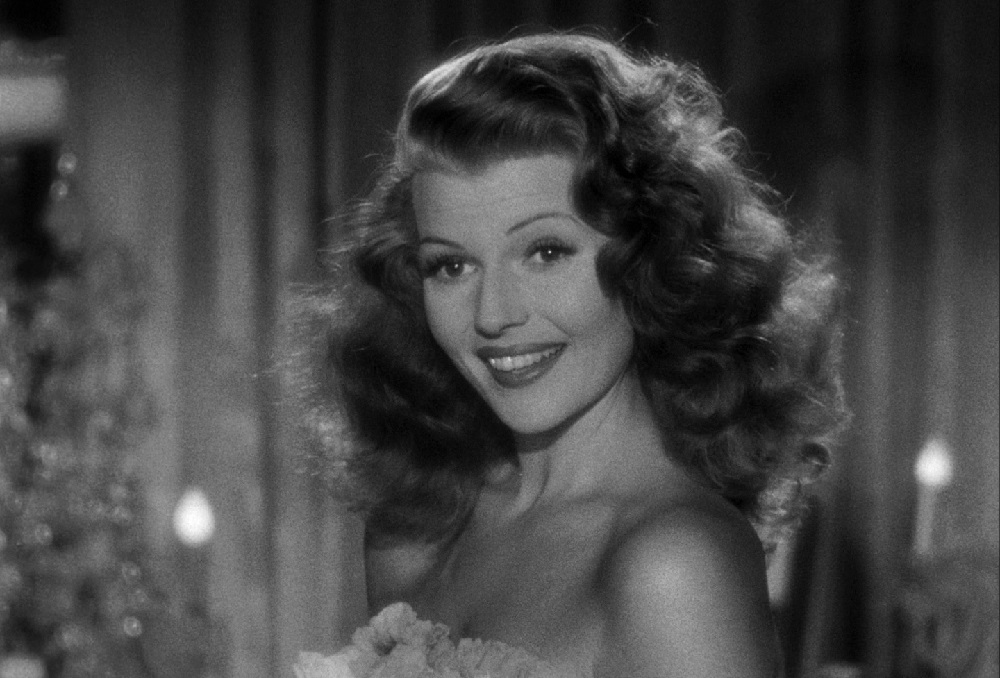 How does the Blu-ray/DVD Disc stack up? (all ratings out of 10.)
Movie
Video
Audio
Extras
Overall
SYNOPSIS
"I've got some news for you, Johnny. I'm going to do exactly what I please, when I please. I was true to one man once…and look what happened."
–       Gilda 
CRITIQUE
Trying to describe the plot of the 1946 Charles Vidor's (Cover Girl) delectably nasty film noir Gilda is virtually impossible, so I'm not even going to try to write a full synopsis. Just know that it contains what is almost certainly regarded as Rita Hayworth's signature role, features one of the absolute best performances of Glenn Ford's career and blurs the line between gender, sexuality and obsession to such an astonishing degree it's hard to believe a Hollywood studio would have the guts to greenlight the darn thing in today's environment, let alone the one that existed 70 years ago.
There are some basics one should probably know going into a viewing of the film. Set in a post-war Buenos Aires, the film is a battle of wills between gambling kingpin Ballin Mundson (George Macready), his protective right-hand man American expat Johnny Farrell (Ford) and his sexy, vivacious new wife Gilda (Hayworth), the latter two having a past connection the criminal mastermind didn't know about when he married her on a brief trip to the United States. Alliances shift, while lust between the trio (but who is wanting to take who to bed is always a constant question, gender notwithstanding) permeates every decision and conversation.
There's also a subplot dealing with a potential international cartel with ties back to Germany, but it's a bit of red herring when all is ultimately taken into consideration. The big conflict is between Johnny and Gilda, she doing whatever she can to get under his skin while at the same time he seems more concerned with Ballin's well-being and comfort than he is anything having to do with her. It's all smoke and mirrors, Vidor balancing it all with consummate confidence and skill, Hayworth dominating every scene with a scorching elegance that's hypnotic and terrifying, usually both at the exact same time. Gilda is one of the greats, and as such should be seen at the earliest possible convenience.
THE VIDEO
Gilda is presented on a 50GB Blu-ray MPEG-4 AVC Video with a 1.33:1 1080p transfer. As stated in the included booklet: "This new high-definition digital transfer was created on a Spirit DataCine film scanner from a 35mm fine-grain master made from the original camera negative."
THE AUDIO
This Blu-ray features English LPCM Mono audio and includes optional English SDH subtitles. Again, from the included booklet: "The original monaural soundtrack was remastered at 24-bit from the 35mm soundtrack negative. Clicks, thumps, hiss, hum and crackle were manually removed using Pro Tools HD, AudioCube's integrated workstation and iZotope RX 4."
THE EXTRAS
Extras here include:
Audio Commentary with film critic Richard Schickel – Recorded in 2010, this outstanding critical analysis (and unabashed love) of the classic film is an essential listen, Schickel's insights, thoughts and reminisces nearly as wonderful as Gilda itself is.
Martin Scorsese and Baz Luhrmann (16:06) – The two directors, recorded separately in 2010, talk about their love and appreciation for the film, as well as the influence it has had – both directly and indirectly – on their own motion pictures.
Hollywood and the Stars: "The Odyssey of Rita Hayworth" (25:11) – Narrated by Joseph Cotton, this 1964 episode of the once popular television series is focused almost entirely on enigmatic and beauteous star Rita Hayworth, the program spending a great deal of time examining, no surprise here, her 1946 triumph Gilda.
Eddie Muller Interview (22:14) – Superb interview with the film noir historian looking at all of Gilda's nooks and crannies, including the not-so-subtle homoerotic content as it pertains to Johnny Farrell and Ballin Mundson, played to absolute perfection by stars Glenn Ford and George Macready.
Theatrical Trailer (2:09)
Also included is a Collectible Illustrated Leaflet featuring an essay by critic Sheila O'Malley as well as a reproduction of the film's most indelible and iconic image featuring a smoldering Rita Hayworth. 
FINAL THOUGHTS
Gilda is a classic, no ifs, ands or buts about it. Whether it is really "noir" or not is continually up for debate (I lean towards the "yes" category as far as that goes), but no matter how one chooses to look at it director Charles Vidor's 1946 effort is essential viewing. More than that, though, it's just a damn entertaining movie, Rita Hayworth and Glenn Ford sensational, while the film itself is a fun, bewilderingly sexy, heartlessly dark frolic into obsession and lust so far ahead of its time 70 years later it still feels risqué and groundbreaking.