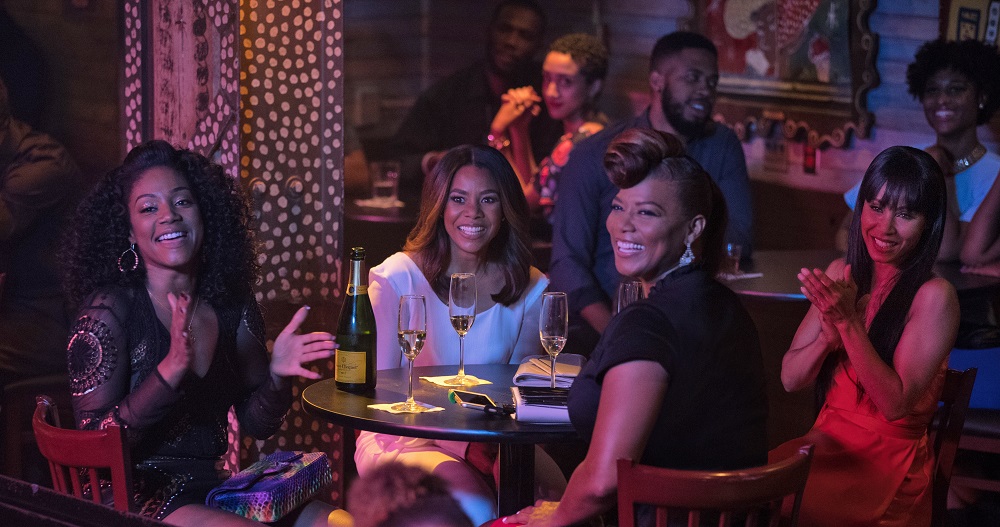 Girls Night Stars Hall, Latifah, Haddish and Smith a Comedic Dream Team
Best-selling author Ryan Pierce (Regina Hall) is on the verge of becoming the next Oprah. She's about to sign a major deal to host her own talk show alongside husband and former NFL star Stewart (Mike Colter) and is a key note speaker at the annual Essence Fest in New Orleans. In other words, all seems perfect. But Ryan misses her girls, the self-described "Flossy Posse," and it's been a long five years since she, Sasha (Queen Latifah), Lisa (Jada Pinkett Smith) and Dina (Tiffany Haddish) were all together, this fact starting to noticeably weigh on her.
That all changes in Girls Trip, the latest melodramatic comedic confection from writer/director Malcolm D. Lee (The Best Man Holiday, Undercover Brother). Ryan doesn't just reunite with her girls, they show New Orleans a type of party they city has never seen before. Parallel to this they also repair frayed friendships and put down building blocks that will help make their collective friendship stronger going forward, and while nothing that happens is a surprise it's equally never boring. Better, it's all pretty darn funny, all four actresses doing a bang-up job bringing their respective characters to life while also ensuring the lifelong bond being depicted is refreshingly authentic.
Not that the movie isn't as problematic as anything else Lee has ever made. He's fond of bashing his points home with a cartoon sledgehammer, and as per normal subtlety isn't in his vocabulary. He remains fond of broad, over-sensationalized emotions that are often bludgeoning, while his pacing skills leave a great deal to be desired, his films frequently losing their momentum as they inch closer to their conclusions. Lee also loves to paint in moralistic black and whites as if he refuses to admit a grey area might exist save when it might grant him a belly laugh or two, undercutting any chance for complexity his otherwise nicely developed characters may have exhibited.
But he's also very good with actors, and his casting ability is second to none. I doubt I'd have enjoyed this movie at all if it were not for the combined enthusiastic star power Hall, Latifah, Haddish and especially Smith exhibit throughout. This quartet of feminine dynamos are electrifying, willing to do whatever it takes to make their characters worth caring about no matter how horrible any of their respective decisions might prove to be. Ryan, Sasha, Lisa and Dina are easy to fall in love with, each helping make the majority of my misgivings in regards to the script vanish as if they never existed in the first place.
Hall has the most difficult task. The stuff Lee asks her to do are sometimes just too exaggeratedly stupid to be believed. Additionally, she's forced to deliver a climactic monolog during her keynote address that in lesser hands would have been unbearable. Instead, Hall finds a way to make the words resonate in ways they probably shouldn't, finding the heart and the emotion residing in Lee's stilted and obvious platitudes, making them sing with far more passionate grace then they deserve to. Latifah also has a number of strong scenes, while Haddish's unbridled craziness brings a certain spunk to the proceedings that's absolutely wonderful.
But it is Smith who shines the brightest. After turning in career-best work in Magic Mike XXL, she steals the show at here. She gives Lisa layers the script only hints at, watching her blossom back into the wild child of her youth without sacrificing all she's learned as a divorced mother of two children wondrous to behold. Even when Lee forces her into some crazy, pointlessly juvenile scenes of bathroom gross-out nastiness Smith continues to soar, her performance a thing of comedic beauty that grows in resonance as events progress towards their readily expected climax.
I said jokingly back in May that every summer has at least one breakout R-rated comedy that sets the box office ablaze while also doing moderately well with critics. After Snatched (which I admittedly enjoyed), Baywatch, Rough Night and The House all went home empty on both fronts, I was starting to believe 2017 was going to prove that adage wrong. Thankfully, Lee's Girls Trip is more than up to the task, and some obvious pandering aside, this movie proves to be so persistently hilarious I cannot imagine a scenario where audiences don't transform it into a hit. The whole thing is a heck of a lot of fun and that's all there really is to say on the matter, Hall, Latifah, Haddish and Smith a comedic dream team I hope get the opportunity to reunite soon.
Film Rating: 3 (out of 4)