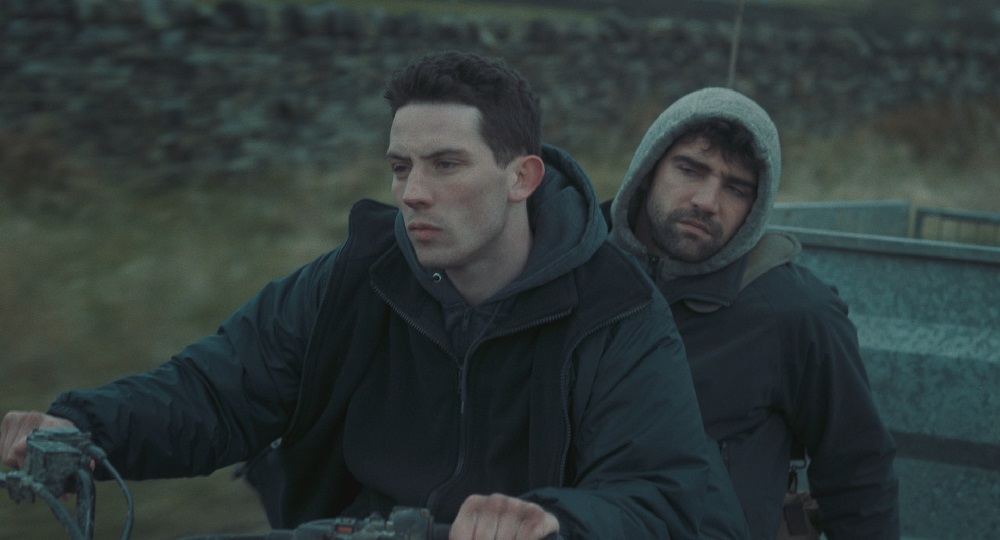 Heartfelt God's Country a Grounded Romantic Drama
In a remote corner of Yorkshire, Johnny Saxby (Josh O'Connor) works his family's desolate sheep farm in what appears to be a constant state of disgust. Having to take on almost all of the major duties of keeping the place up and running in the wake of his father Martin's (Ian Hart) debilitating stroke, barely on speaking terms with his tersely direct grandmother Deidre (Gemma Jones), the young man spends much of his time in a alcohol-fueled haze, numbing any additional pain with cheap, dirty sex when the opportunity arises. He's unhappy, and it's hard to say if that is going to change anytime soon.
During an especially hectic part of the farming season, Romanian migrant worker Gheorghe (Alec Secareanu) arrives to assist with growing list of tasks Johnny isn't capable of keeping up with all on his own. When the two men head up to one of the furthest out paddocks up on the moors, the pair discovers they have far more in common with one another than they initially surmised. For the first time in ages, Johnny imagines it might be possible to find happiness, this blossoming relationship with Gheorghe bringing out emotions buried deep within that had been cruelly suppressed for quite some time now.
The basic mechanics of writer/director Francis Lee's love story God's Own Country are fairly routine, calling this drama Brokeback Mountain set in the furthest outreaches of the British moors not too far off the mark. But Lee's feature-length debut is frank about its sexuality in ways a lot of these coming out tales seldom are, reminding me in many ways of Andrew Haigh's Weekend in that respect. It is also endearingly hopeful, and while the emotions hit pretty hard and aren't always particularly uplifting, the idea that love can indeed conquer all and that the world is ready to embrace relationships like the one Johnny and Gheorghe end up sharing grows in captivating power as events progress to their conclusion.
I loved the lived-in nature of this story, the way Lee is able to cement his film's time and place in ways that are palpably concrete. He treats all his characters with a level of respect and admiration that is laudable, understanding that their flaws and their missteps are essential to our caring about what is going to happen to them. This level of complexity allows all the relationships in Johnny's life, not just with Gheorghe but also with Martin and Deidre as well, to ring with an air of truth that's thrilling. There aren't any loose ends here, no extraneous subplots or pointless red herrings that force the attention away from the core narrative at the center of things. Each character is directly connected to all the other ones who inhabit this tale, making Johnny's journey all the more affecting because of this.
Not that I was ever especially surprised by anything that happened. It seemed fairly obvious to me how Johnny and Gheorghe would go about getting ensnarled into one another's arms, while the dynamics of the sheep farmer's relationship with his father and grandmother aren't exactly overflowing in anything original. But the reason all of this works is because Lee infuses things with a gentle grit and an unrefined gravitas that fits the world all of these characters inhabit perfectly. The director is content to observe and report, and as such it almost feels as if we're eavesdropping on this family as if we were a voyeur peaking through a hole in the tent or crouched at the window seal peeking through the glass hoping not be seen. This is human drama as shot through an unfiltered lens, God's Own Country a strong debut hinting at future greatness to come from the undeniably talented Lee.
– Review reprinted courtesy of the SGN in Seattle
Film Rating: 3 (out of 4)