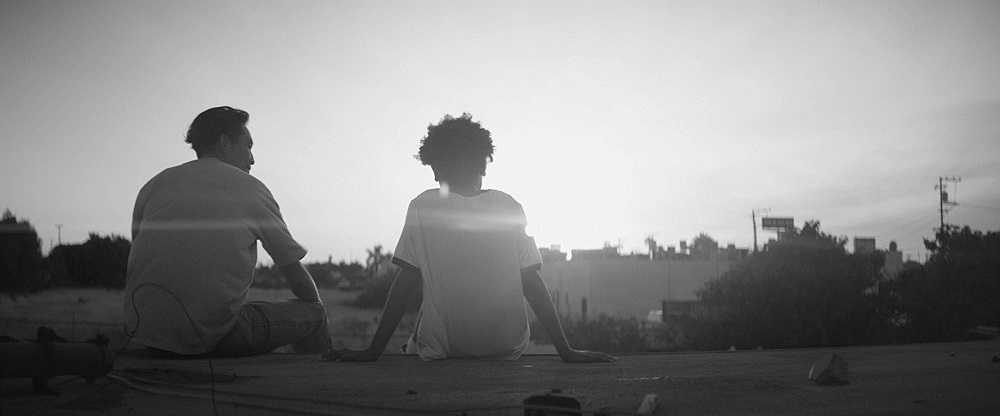 a SIFF 2017 review
Captivating Gook a Lively L.A. Riots Drama
It is April 29, 1992. Today is the day the verdict in the Rodney King trial is going to come in, all of Los Angeles on pins and needles wondering what it is going to be. But at the rundown women's shoe store run by Korean American brothers Eli (Justin Chon) and Daniel (David So), it's another morning like any other, the pair bickering back and forth in a somewhat playful manner with both themselves and customer alike. Even their unofficial shop assistant, 11-year-old Kamilla (Simone Baker), shows up for work, and while her older siblings Regina (Omono Okojie) and Keith (Curtiss Cook Jr.) urge her to stop going to the shop, she keeps going back each day to spend time with the two close-knit brothers all the same.
There's not a lot more in the way of plot as far as writer, director and star Chon's latest outing behind the camera Gook is concerned, the talented filmmaker's sophomore effort an ambitious and thought-provoking comedy-drama hybrid that captured my attention right from the first frame. Shot in richly evocative black and white by Ante Cheng and centered on a performance from marvelous newcomer Baker that's stunning, the movie has an energetic vitality I instantly respond to. This is a very good film, sometimes a great one, and even when it stumbles and loses its way towards the end I still found myself eagerly interested to discover everything Chon's opus was aching to show me.
The movie is exceedingly frank as far as its central conversations are concerned. Chon doesn't try to soften any blows, going right to the heart of the racial questions posited early on, allowing them to expand in complexity and purpose as Los Angeles begins to explode after the Rodney King verdict is announced. Even though things are set during an event that happened a quarter century ago, it's apparent the filmmaker is keenly aware he's also telling a story that's as much about the here and now as it is this specific moment in recent history. The racial discussions happening throughout are far from simplistic or rudimentary, this fearless multidimensionality giving Chon's script an impressive edge that's invigorating.
It can feel a little uneven at times, bursts of low-brow comedy bursting through at random moments that don't always work. There's also the matter of why exactly Regina and Keith are uncomfortable with Kamilla spending so much time at Eli and Daniel's shoe store, the key to solving that particular mystery fairly easy to decipher. It all gets a little structurally lumpy as the narrative winds its way towards conclusion, the last act overflowing in convenience and coincidence, all of which allows things to get wrapped up in a tidy little bow that's not altogether believable.
Even so, Gook was a very easy for me to fall in love with. Playing out like some sort of imaginatively structured combination of Spike Lee's Do the Right Thing, Kevin Smith's Clerks, Andrea Arnold's Fish Tank, Mathieu Kassovitz's La Haine and August Wilson's Fences, Chon does a grand job of crafting a piece of spirited pop entertainment that also plays just as well as dynamically scripted social commentary in the exact same breath. Best of all, he's found a beguilingly talented rising star in Baker, the youngster giving a dexterous, emotionally astute performance that feels like it should be well beyond her years, happily proving not to be. This is quite the little movie, and I cannot wait to discover what other stories Chon feels like exploring next.
Film Rating: 3 (out of 4)