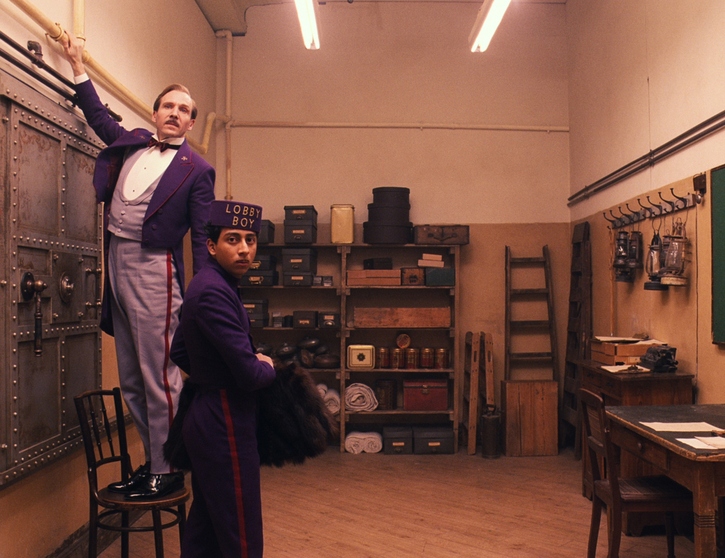 Anderson's Budapest Hotel a Comedic Masterwork
I've said more than a handful of times in the past that the works of Wes Anderson are arguably made for certain palates, each motion picture a fanciful journey into a highly stylized world acquired tastes adore while everyone else scratches their collective chins wondering what all the fuss is about. Thing is, based on the director's past few efforts, most notably Fantastic Mr. Fox and Moonrise Kingdom, I've started to heavily rethink those sentiments. As with most things, good is good, great is great and magnificent, well, magnificent sort of speaks for itself. I don't care what one's taste buds typically salivate over if those two films don't have one's mouth watering in glee once they're finished then I can't help but question whether they have any feeling left in them whatsoever.
Those sentiments of mine I feel are confirmed with the release of Anderson's eighth feature, the beguiling, effortlessly charming The Grand Budapest Hotel, a sensational comedy of errors, intrigue, mistaken identities, murder, love, camaraderie and friendship that's far more lyrically and emotionally complex than anticipated. Inspired by the writings of Viennese author Stefan Zweig (whom I've admittedly never read), coming from an ethos born of the carefree days of a pre-Production Code Hollywood of the 1930s (think Ernst Lubitsch, the man behind To Be or Not To Be, Ninotchka and Design for Living), the movie is a consistent charmer that's far more than the sum of its individual parts. The stuff bubbling beneath surface, the subtext augmenting even the most inconsequential seeming of scenes, everything bursts forth at the most unlikely of moments making the resulting motion picture as grandiloquent an effort as anything Anderson has ever constructed (including Rushmore and The Royal Tenenbaums).
The movie is set up as a series of flashbacks as told by a pair of loquacious narrators eager to get their thoughts into the open. The first is an aging author (Tom Wilkinson) who in younger days (Jude Law) stayed at the deteriorating, if still opulently decadent, Grand Budapest Hotel, making friends with the ragtag gaggle of aged guests as well the sardonic, presumably lazy, unpredictably watchful concierge M. Jean (Jason Schwartzman). It is his good fortune to also make the acquaintance of the resort's eccentric owner, the reclusive Mr. Moustafa, (F. Murray Abraham), the two hitting it off agreeing to have dinner at which long held secrets will finally have all their mysteries revealed.
It is Moustafa who then tells the next, most important story, taking the author back to the days between the great wars when the Grand Budapest Hotel was a European hotspot all the influential movers and shakers called their home away from home. It is here where all-knowing, ever-watchful concierge M. Gustave (Ralph Fiennes) made a name for himself, taking a teenage immigrant nicknamed Zero (Tony Revolori) under his wing teaching him the tricks of the trade.
Not that said tricks were meant to include a murder involving wealthy dowager countess Madame Céline Villeneuve Desgoffe und Taxis (Tilda Swinton), her conniving son (Adrien Brody), his menacing aid (Willem Dafoe), a fastidious tax and probate lawyer (Jeff Goldblum), a fidgety butler (Mathieu Amalric), a sexily duplicitous maid (Léa Seydoux), a hardened prison inmate with a talent for crafting escape plans (Harvey Keitel), the by-the-book Captain of the Lutz Military Police (Edward Norton), a sweetly innocent baker with a Mexico-shaped birthmark (Saoirse Ronan) and the mysterious members of an elite concierge underground sect known The Society of the Crossed Keys (Bill Murray, Bob Balaban, Fisher Stevens, Waris Ahluwalia,Wally Wolodarsky). At the end of the day it's pretty convoluted, incredibly wacky stuff, a screwball farce of epic proportions revolving around memories of lost loves, unfulfilled dreams, coming of age benchmarks and melancholic remembrances of times gone by.
If all one is interested in is the artifice then a great deal of what is going on will zip by sadly unnoticed, which is a pity because, much like Moonrise Kingdom, the things Anderson (as well as co-story writer Hugo Guinness) are exploring are much deeper, far more profound than they look out of the gate. There is a depth to this that goes beyond the Agatha Christie-like mystery, beyond bubbly comedic prison break escapades and starry-eyed coming of age romance. There is a wrought-iron backbone bracing this whacky, visually inventive lollapalooza, allowing for a depth of meaning and a level of emotional maturity that caught me entirely off guard.
Anchoring it all is Fiennes, delivering one of the best performances of his entire, award-worthy career. There is a melodious complexity to his portrayal that's intoxicating, the actor delicately dancing around traits of darkness and light revealing facets of a multifaceted personality that are never, ever, as they initially appear. Fiennes doesn't hold back, doesn't give in, allowing circumstance, necessity and moment to fuel his actions but not to define who he is and what it is that he is all about.
The technical aspects are what we have come to expect from an Anderson enterprise, and from Robert D. Yeoman's (The Darjeeling Limited) sublime camerawork (in three different aspect ratios, no less), to Adam Stockhausen's (12 Years a Slave) ingenious production design, to Barney Pilling's (An Education) exquisite editing, every aspect is excellence incarnate. But the real superstar is composer Alexandre Desplat (Zero Dark Thirty), the frequent Anderson collaborator crafting a magnificent score that augments everything that's taking place, his themes and motifs superbly enchanting.
I'm done with saying the films of Wes Anderson are for acquired tastes. I'm finished making statements that they only appeal to certain kinds of viewers. The simple truth is, when you make a movie as marvelous and as wonderful as The Grand Budapest Hotel the only prerequisite to watching it is a fondness for great stories told with skill, confidence, intelligence and flair, which is exactly what we have here.
Review reprinted courtesy of the SGN in Seattle
Film Rating: 4 out of 4