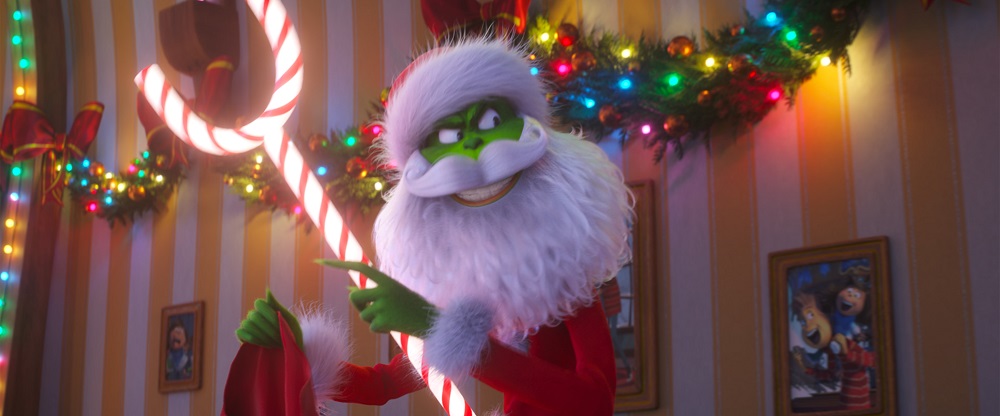 New Grinch a Bland Yuletide Disappointment
Can't say I'm much of a fan of The Grinch. This is Universal Pictures second attempt to transform the Dr. Seuss classic into a feature-length motion picture. The first was a live action version released in 2000 starring Jim Carrey as the iconic character in a suitably larger-than-life performance. But director Ron Howard's film, while a massive hit, was ugly and obnoxious, the whole thing an overblown, ungainly comedic travesty that I didn't particularly care for at the time of its release and I have only grown to despise even more these past 18 years.
This new variation, this time an animated effort courtesy of the folks behind Despicable Me, Minions and The Secret Life of Pets, isn't nearly as terrible. There are some winning sight gags, and I can't say directors Yarrow Cheney and Scott Mosier don't at least make a somewhat heartfelt attempt to do both Dr. Seuss as well as the classic 1966 animated holiday special both justice with their take. Screenwriters Michael LeSieur (Keeping Up with the Joneses) and Tommy Swerdlow (Snow Dogs) have attempted to update things for today's audiences while also staying relatively true to the source material, and their efforts aren't entirely in vain.
Yet this movie is so shockingly bland, so immediately forgettable, so pedestrian in its plotting, that I found watching it to be fairly laborious. It also makes some bizarre changes to Seuss' story that are perplexing. Even though the Grinch's heart is still supposed to be "two sizes, too small," with what ends up being depicted I honestly can't say I felt this was the case. He's a loving owner to Max, his trusty dog. He actually goes into Whoville on a regular basis to buy groceries and to interact with the citizens. He ends up making friends with an overweight reindeer he charmingly nicknames, "Fred." He shows elements of kindness and compassion throughout.
I'm not saying this is inherently a bad idea to make these changes. I get that the screenwriters are trying to add layers of complexity to the Grinch that make him more relatable and easier to emotionally connect with. Problem is, it undercuts the whole point of Seuss' story in regards to how kindness, love, community and family can fundamentally change someone right at their core. If the Grinch is already a fairly decent guy, if he's just lonely and misunderstood, then it makes his transformation and his heart (which grows two sizes) overflowing with Christmas Spirit that less of a big deal. It's still nice, of course, just not as affecting or meaningful, and because of that I found it difficult to be moved in the same way I am whenever I read Dr. Seuss' book to my nieces or when I watch that classic animated special.
There's some lovely animation, and an extended sequence where the Grinch is trying to get a hold of some reindeer only to make friends with Fred instead is undeniably amusing. There's also a great bit of visual ingenuity during a scene where the cantankerous curmudgeon absconds with a gigantic red sleigh from one of Whoville's jolliest citizens, the whole scene from start to finish pretty wonderful. I also thought the vocal work from Benedict Cumberbatch as the title character, newcomer Cameron Seely as little Cindy Lou Who and Rashida Jones as her harried but always still cheerful and loving mother Donna Lou Who was top-notch. I also kind of loved "Saturday Night Live" cast member Kenan Thompson as that perpetually happy Whovillite, a few of his one-liners getting me to chuckle out loud more than once.
But the overall movie still left me cold. While I'm all but certain little kids will enjoy it, The Grinch just didn't do a lot for me. It's dull and boring, and on more than one occasion it spends more time having someone, usually the Grinch himself, give a long-winded speech explaining what we've either just watched or been told about by the Narrator (Pharrell Williams, who sadly won't make anyone forget about Boris Karloff; not that anyone could). Maybe my heart needs to grow a size or two, but this newest take on the Dr. Seuss classic ended up being a pre-Thanksgiving present I honestly wish I'd never taken the time to open.
Film Rating: 2 (out of 4)