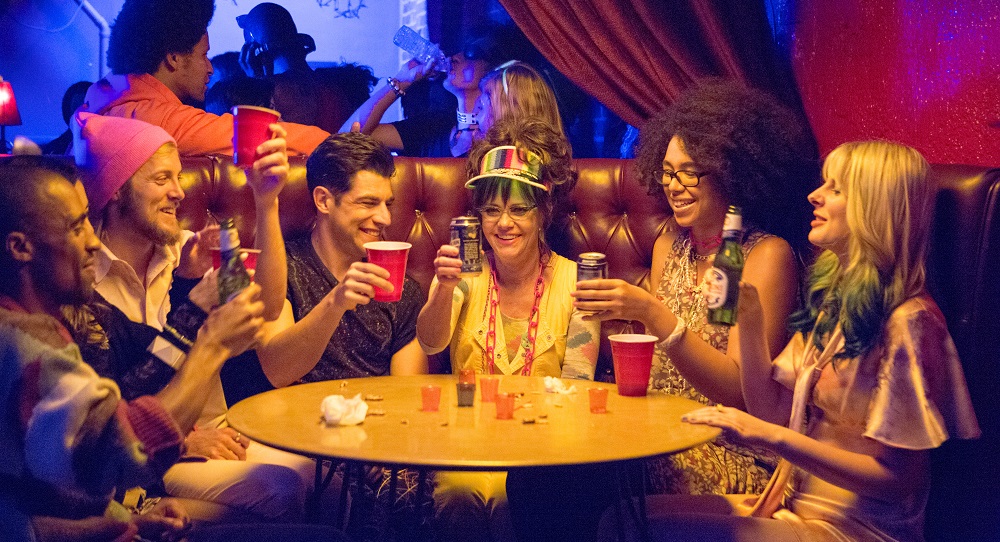 Field's Brilliance Makes Doris Easy to Say Hello To
If nothing else, director Michael Showalter's (The Baxter) film festival favorite Hello, My Name Is Doris is a sensational showcase for star Sally Field. Co-writing the script with Laura Terruso, upon whose short Doris & the Intern all of this is based on, the movie is a glorious reminder that Field is a bona fide two-time Academy Award-winner who, not all that long ago, was considered one of America's greatest living actresses. They have gifted her with a role equal to her talents, and as such she goes above and beyond in order to bring the titular Doris to life.
Doris Miller (Field) is a sixty-something single woman who has spent the past 40-plus years caring for her mother out on Staten Island, allowing her younger brother Todd (Stephen Root) the freedom to get an education, get married and start a family of his own. She works as an accountant at a Manhattan clothing company, disappearing more and more inside the cubical she's called home for decades. In short, she's lonely, a fact made more apparent when mom succumbs to old age leaving her with few companions other than best friend Roz (Tyne Daly), a cantankerous, plain-spoken widow looking after her free-spirited teenage granddaughter Vivian (Isabella Acres).
With Todd urging her to sell the Staten Island house and move into the city closer to both him and to her job, Doris isn't so certain this is something she wants to do. While his insistence on this matter has put her understandably on edge, it is the arrival of a new art director, John Freemont (Max Greenfield), that has her completely out of sorts. Doris can't explain it, but she's attracted to this much younger man, so much so he has her feeling like a twitterpated schoolgirl willing to do just about anything to get him to notice her.
Hello, My Name Is Doris easily could have drowned in silliness. It could have gone off the rails in ways both obnoxious and uncomfortable, saturating itself in ageist observations bordering on offensive. But Showalter and Terruso never cross over that line, instead depicting things with a refreshing, unhurried candor and authenticity that is as touching as it is humorous. They're also not afraid to let things get awkwardly bleak, the reality of Doris' situation always on display no matter how quirky or absurd things might be on the road to becoming. This gives events a quiet eloquence that brought a quiet tear to my eyes, a knowing wink of understanding that makes our heroine's journey of self-discovery even more poignant as it moves along.
Field, so delicate, so charming, so willing to be let Doris' insecurities shine as she sheds her emotional baggage, learning things about herself she never dared to believe were there until these feeling for John began to wash over her, is stunning. This is the Places in the Heart and Norma Rae Oscar-winner at her best, giving herself over completely to a role to the point her movie star persona vanishes entirely and only Doris remains. A scene between her and Root in their family home late in the film is marvelous, while an important moment of honesty involving Greenfield in a diner took my breath away entirely. But the actress is astonishing throughout, and no matter how simplistic things might get or how superficial events become there is never a point where Field isn't amazing, delivering the kind of performance I'll be thinking about for the remainder of 2016.
As for missteps, unfortunately there are a few of them. Scenes between Doris and a therapist (Elizabeth Reaser) specializing in helping hoarders deal with their addiction never goes anywhere consequential, while a subplot involving Todd's self-centered, materialistic wife (a grating Wendi McLendon-Covey) is just plain bad. Supporting actors Natasha Lyonne, Kumail Nanjiani and Rich Sommer do little but pop in occasionally to deliver a wisecrack or two, none of them utilized in a fashion that potentially could have made their appearances means something as far as the bigger picture is concerned. There's also too much contrived coincidence as it pertains to a subplot involving John and his perky girlfriend Brooklyn (Beth Behrs), but saying more on that front spoils some of the climactic developments so I'll just admit to being left a little colder on this front than I honestly would have liked and be done.
But a closing montage inside Doris' home is touching, while any moment between Field and Daly, especially one late at night after what was supposed to be a happy Thanksgiving has gone painfully awry, is a reason for celebration. Best of all is the last scene itself, Showalter navigating things in such a way that he's able to pay off early jokes in a way that feels cathartic and genuine, yet is still humorous, while also allowing for an aura of jovial possibility that's positively joyous. In the end, though, it is Field and Field alone who makes Hello, My Name Is Doris what it is, my affinity for the motion picture growing in leaps and bounds the more I think about her almost effortless brilliance which brings both the character, and the movie itself, to vivacious life.
Review reprinted courtesy of the SGN in Seattle
Film Rating: 3 (out of 4)