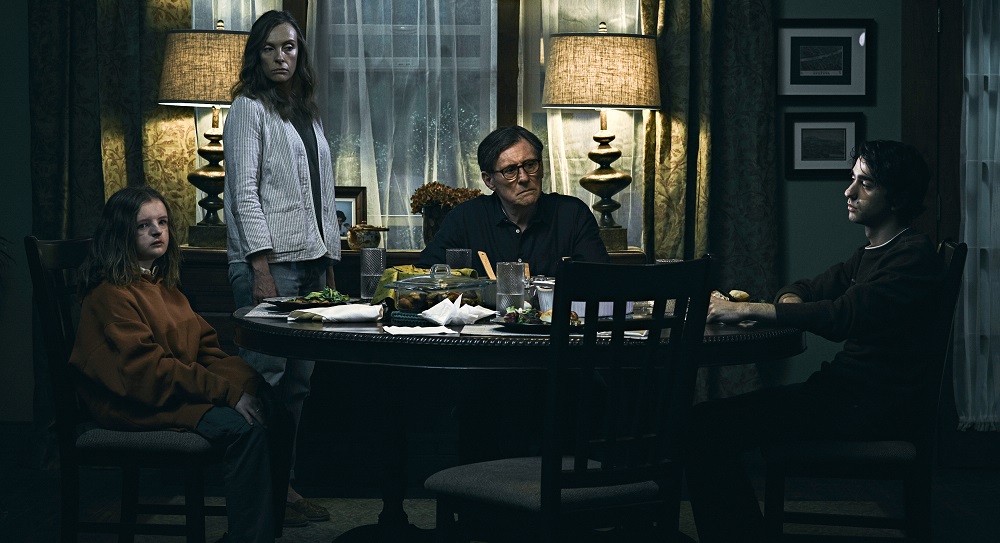 Beautifully Abhorrent Hereditary a Terrifying Jolt of Madness
Artist Annie Graham's (Toni Collette) mother is dead. She's conflicted as to how she should feel, the two of them not very close. However, the woman was especially kind and attentive to Annie and husband Steve's (Gabriel Byrne) youngest child Charlie (Milly Shapiro), the two of them sharing a bond that seemed to transcend normal grandmother-granddaughter relationships. As for oldest child Peter (Alex Wolff), it's hard to know what he is feeling, the quiet, soft-spoken teenager happier to crush on one of his pretty classmates or sneak a joint with one of his few friends behind the high school gym than he is to talk with his parents about any of his emotional upheavals.
It all sounds normal enough. Still, there is a surreal air of plaintive mystery residing inside the Graham house, and Annie finds herself absolutely unable to shake the sense that there is something tragically terrible coming their way. After an unbelievable accident rocks the entire family, this artist, wife and parent begins to crumble inside of herself like she never has before, obsessing over her late mother's history of mental illness and spending an inordinate amount of time with a new friend she met at a grief support group named Joan (Ann Dowd) then could potentially be healthy. Much to Steve's chagrin and to Peter's growing terror, Annie also claims to be conversing with someone from beyond the grave, and it soon becomes an open question as to whether she is losing her mind or if she really is making paranormal contact with spirits from the other side of death's door.
As if trying to see if it would be possible to combine Ordinary People, The Shining, Don't Look Back, The Ice Storm, Repulsion, Little Children, The Innocents, In the Bedroom and Rosemary's Baby into one cohesive, terrifyingly intimate narrative, writer/director Ari Aster makes a noteworthy debut with the powerfully unsettling, emotionally dexterous horror melodrama Hereditary. Propelled forward by an austere, perfectly calibrated score by musician Colin Stetson (Blue Caprice) and featuring unnerving, beautifully disquieting cinematography from newcomer Pawel Pogorzelski (Tragedy Girls), this movie gets off on the right foot immediately. But it is Collette's stunning, career-best performance that is the anchor point all events happening here are born from, the veteran actress so dialed into the style and tone of Aster's story imaging it without her is frankly impossible.
How do people deal with their grief? Is tragedy like an aggressive disease, and once it grabs hold of the familial nervous system is there no treatment or cure that will eradicate it without causing additional pain? What are the ways people try and communicate with one another after death strikes and the survivors are left to pick up the pieces? Does fate play a part? Is there a higher power? Does God exist? Does the Devil? Is the supernatural real? Or is it only another bit of fluffy nonsense we delude ourselves into believing in order to ease a pain born out of a deep-rooted inability to forgive one's own self for missteps taken walking upon life's seemingly never-ending highway?
I can't say all of those questions are asked in Aster's debut, but there are times throughout the story where it feels as if they are. The director has his mind set on a fairly expansive set of themes and ideas, and the way he attempts to sort through them all is as freewheeling and as imprecise as Annie's failing psychological grasp as to all that may or may not be happening inside the secluded house she and her family call home. There is a growing dread that permeates things right down into the roots, the evil attempting to blossom so expansive and destructive it will burn the souls of all who encounter it right down to ash.
There is a point where the center is modified, where Annie is no longer standing in the spotlight and another is reluctantly forced to take her place. It's a somewhat jarring tonal shift, and I'm not certain that I feel Aster pulls it off. Part of this is because Collette is just so spectacular, so magnificent, having her no longer be the driving influence on what is transpiring takes getting used to. This had a great deal to do with the fact that my emotional attachment to other members of the Graham family wasn't as strong as it was with Annie. She was the one I cared about. She was the one I wanted desperately to understand. Even so, the place Aster ultimately takes things to, while not entirely unexpected, is still gut-wrenching in its power to unnerve and startle, the last scene so fundamentally ghastly in its gorgeous abhorrence I was almost struck dumb by what it was I just had sat there and witnessed.
In the end I'm forced to be vague about a lot of what goes on here. Aster's debut not only gives Collette a spellbinding showcase that by all rights should earn her an Oscar nomination (but because this is a horror movie frustratingly probably will not do so), it also marks the arrival of a major filmmaker whose follow-up will immediately vault to the top of my must-see list for whatever calendar year it ends up being released in. This is high-octane nightmare fuel that had me shivering all the way home with my stomach twisted into a series of painful knots I had trouble believing I was ever going to be able to unwind, Hereditary a go-for-broke stunner overflowing in a myriad of petrifying mysteries many will be attempting to decipher for a number of years to come.
Film Rating: 3½ (out of 4)