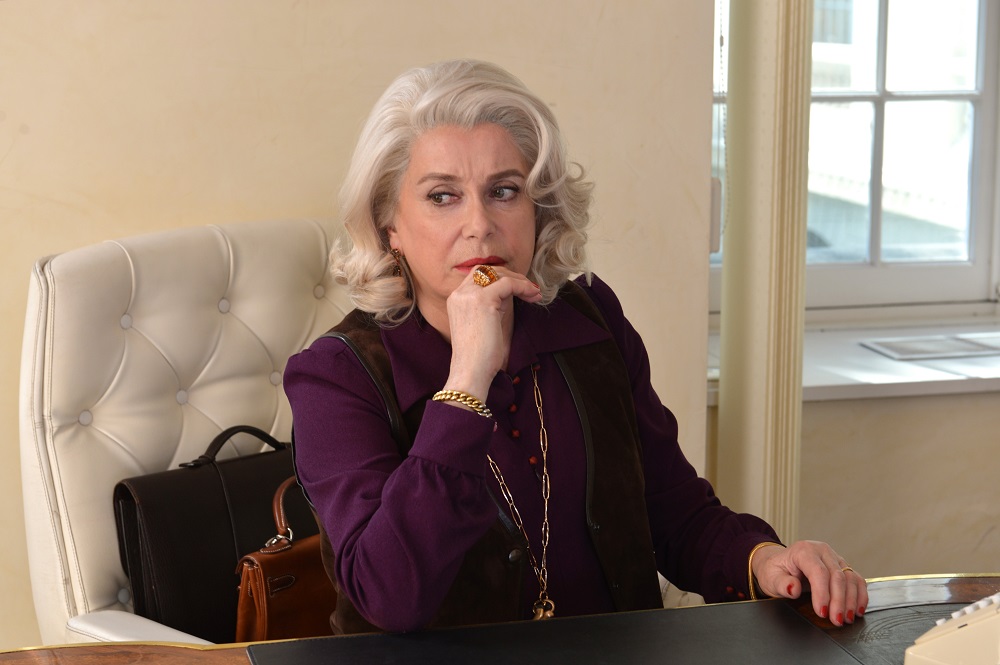 How does the Blu-ray/DVD Disc stack up? (all ratings out of 10.)
Movie
Video
Audio
Extras
Overall
SYNOPSIS
Based-on-fact historical thriller chronicling the rise and fall of Madame Renee Le Roux (Catherine Deneuve), owner of the Palais de la Mediterranee, who during the 1970s saw her fortunes deteriorate when she becomes the last casino magnate to lose control of her business to the mafia, in this instance due in no small part to the board room betrayal of her heiress daughter Agnes (Adèle Haenel). Both end up involved with the angry and mysterious Maurice Agnelet (Guillaume Canet), the man both literally and figuratively leading to the great, terrible tragedy that would bring both women to ruin.
CRITIQUE
The latest film from French auteur André Téchiné (My Favorite Season, Wild Reeds), the decades-spanning thriller In the Name of My Daughter is an odd, distant, wildly inconsistent disappointment. Flitting between two different decades, focusing almost entirely upon Madame Renee as she deals with the loss of her casino, the disappearance of her daughter and then her fight years after the fact to see this mystery solved and those responsible brought to justice, the filmmaker seems peculiarly detached from the central drama, instead more interested in playing with cinematic language and engaging quirky narrative decisions to determent of building tension and emotion. It's a frustrating affair that kept me at arm's length throughout, and just when things should be exploding in heartfelt tragedy the overall effect it had on me as I sat there watching was nothing more than a feeling of moderately curious indifference.
Not that any of this matters as it concerns Deneuve. The legendary actress and icon reminds us all once again just how amazing she continues to be, delivering a complex, not entirely likeably performance that burns with a passionate intensity for the entire length of the film's running time. She's fascinating, the way she develops Madame Renee's intricate, hardly wholesome relationship with Agnes bordering on wondrous, the pair of actresses (newcomer Haenel is equally superb) making the most of every moment they share together allowing for a palpable sense of intense grief fueling much of what ends up happening to the both of them that simply would not exist without their efforts.
Sadly, Maurice is never fleshed out in ways that could allow the crux of the tragic mysteries empowering the drama to resonate, and as great as an actor Canet might be he simply appears more than a little lost as to the best way to navigate things here. Téchiné, as always, has crafted a visually sumptuous motion picture, but many of these eye-popping tricks do not serve a purpose, the way he plays with time and how he allows editor Hervé de Luze (The Pianist) to eccentrically tie scenes together equally so. In the Name of My Mother certainly has much to recommend, but on the whole the film just doesn't cut it, ending up as one of the year's more curious disappoints I'm more frustrated by than I am anything else.
THE VIDEO
In the Name of My Daughter is presented on a dual-layer 50GB Blu-ray with a MPEG-4 AVC encode and a 2.40:1 1080p transfer.
THE AUDIO
This Blu-ray feature a French DTS-HD Master Audio 5.1 soundtrack and comes with optional English subtitles.
THE EXTRAS
Extras here include:
Q&A with Star Guillaume Canet – Kent Jones moderates a Lincoln Center Q&A with the film's male lead; some great stuff on what it is to work with legends like Téchiné and Deneuve.
Original Theatrical Trailer
FINAL THOUGHTS
In the Name of My Daughter isn't essential André Téchiné, it's too unfocused and pointlessly sprawling for that sadly to be the case. But as another reminder of the continued magnetic cinematic glory that is Catherine Deneuve it is a winner on all fronts, the actress almost entirely on her own making the movie an essential piece of cryptic international entertainment fans of the actress should definitely make it a point to see.