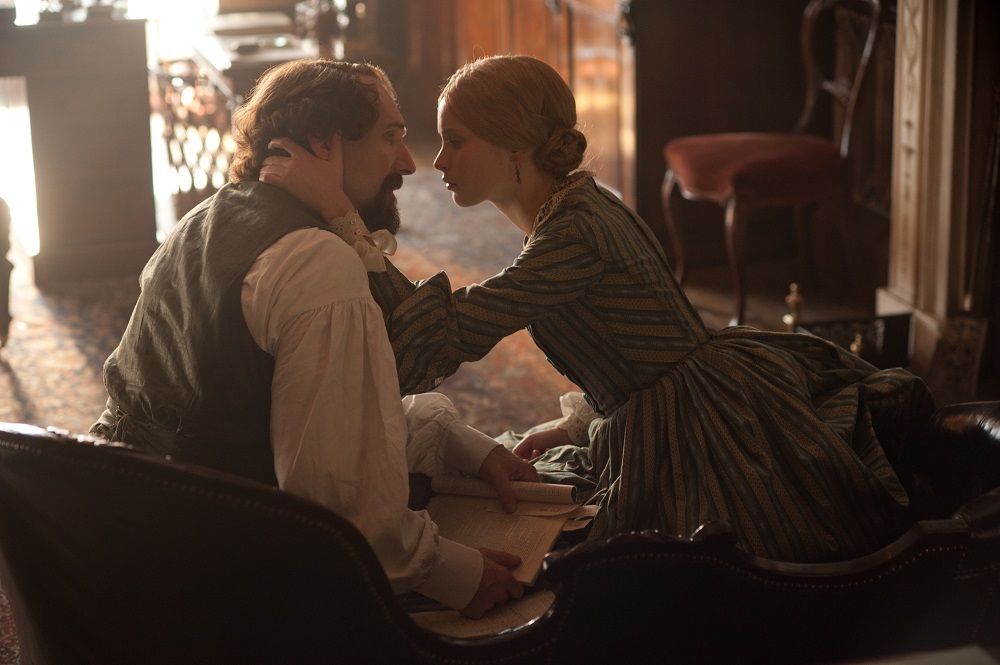 Nothing Invisible About this Particular Woman
Nelly Wharton Robinson (Felicity Jones) is not everything she appears to be. The loving wife and inspirational teacher is directing a production of No Thoroughfare: A Drama in Five Acts, a play written by the late Charles Dickens and frequent collaborator Wilkie Collins, for the boys school her husband George Wharton Robinson (Tom Burke) is headmaster of. She catches the eye of Reverend William Benham (John Kavanagh), a fellow Dickens enthusiast he catches on to the young woman's unease whenever the topic of the author and his literary works is broached.
There's a reason for this. Once upon a time Nelly was Ellen Ternan, and at 18 years of age she had the good fortune to make Dickens' (Ralph Fiennes) acquaintance during the rehearsals of a staging of one of Collins' (Tom Hollander) plays, The Frozen Deep. She, her sisters and her mother Frances (Kristin Scott Thomas) are appearing in the production, and while all are happy to make friends with the author it is the youngest of the Ternans who has captured his attentions. Soon they pair are spending all of their spare time together, entering into a complicated relationship where it is impossible for the world to ever know the true depths of their mutual passions even if all both want is to be together as often as they can.
Based on the book by Claire Tomalin and adapted by screenwriter Abi Morgan (Shame, The Iron Lady), Fiennes' sophomore directorial outing The Invisible Woman shines a light on a bit of history few know a darn thing about. It attempts to showcase Dickens stripped of his fame, showing him as a man with as many flaws and foibles as he has unassailable attributes. This story does not shy away from his failings just as it strives to showcase his selfless side, his intelligently witty acumen continually on display even when words, ironically the very things he makes his living stringing together into popular works of literary fiction, begin to fail him.
It is all seen through Nelly/Ellen's eyes, the young woman looking back at a time in her life full of pain and suffering yet just as overflowing with friendship, camaraderie and love. When he is unwilling to deal with the stigma associated with either an affair or a divorce from his longtime wife Catherine (Joanna Scanlan) she is put into the dubious position of being made invisible, having to decide whether their being together is worth removing herself from public life virtually altogether.
The movie is a handsomely constructed enterprise, intimately shot by cinematographer Rob Hardy (Shadow Dancer) and meticulously brought to life by production designer Maria Djurkovic (Tinker Tailor Soldier Spy). Fiennes keeps the pace measured and methodical but the movie itself never feels slow or plodding, everything building with an authentic intimacy that feels completely genuine. Nothing is over the top, histrionics kept to a minimum, even a semi-climactic tragedy treated with methodically reserved respect that fits both the characters as well as the story itself rather beautifully.
As nice as all of this is, and it is rather wonderful, there are still moments where the film itself can't help but feel like a bigger budget British television production than a fully realized theatrical motion picture. As larger than life as the emotions might be the story itself at times can seem rather small, Fiennes so intent on maintaining respect and showcasing restraint he short-circuits pivotal dramatic moments in ways that feel entirely unintentional. There is an inadvertent sabotaging of the climactic twists and turns I found somewhat dispiriting, and as strong as the majority of the film might be there were times where I almost couldn't help but feel slightly underwhelmed.
What ultimately makes the movie an unmitigated success is the presence of Jones. As good as Fiennes is as Dickens, and he's terrific, none of this would matter in the slightest if the actress at the center of all the dramatics wasn't up to the challenge. Jones is and then some, crafting a complicated, delicately intimate portrait of a headstrong, whip smart young woman faced with choices most of us can hardly fathom let alone relate to. Yet she puts us right into the center of Nelly' shoes, never asking for the viewer's forgiveness even as her performance delicately aches for their understanding. It's a mesmerizing portrait, one that continually surprises, everything building towards revelations that, while not surprising, can't help but devastate, Jones delivering it all with a magnetic ease that's oftentimes breathtaking.
From a directorial standpoint, Fiennes continues to grow, and as nicely handled as Coriolanus was this is a more fully realized enterprise in all the ways that matter. He has an old school touch that allows the viewer to connect many of the dots for themselves without having the more melodramatic or schmaltzy elements of the story pushed down their throat with an iron first. He likes to let things breathe of their own accord, not over-sentimentalizing elements in order to generate a few unnecessary tears.
The movie can be a bit too prim, a bit too proper, echoing the time period's moralistic ethos in ways that can seem stilted and obtuse. Yet Fiennes' eye is a dynamic one, seeing right to the heart of Morgan's dexterous script with sharply acute meticulousness. When Jones' stupendous performance is thrown into the mix The Invisible Woman materializes into greatness, the best of times to be found sifting through its romantic quagmire as gifted author and imprudent admirer look up into one another's eyes and wonder where the mutual infatuations will lead them.
Film Rating: 3 (out of 4)